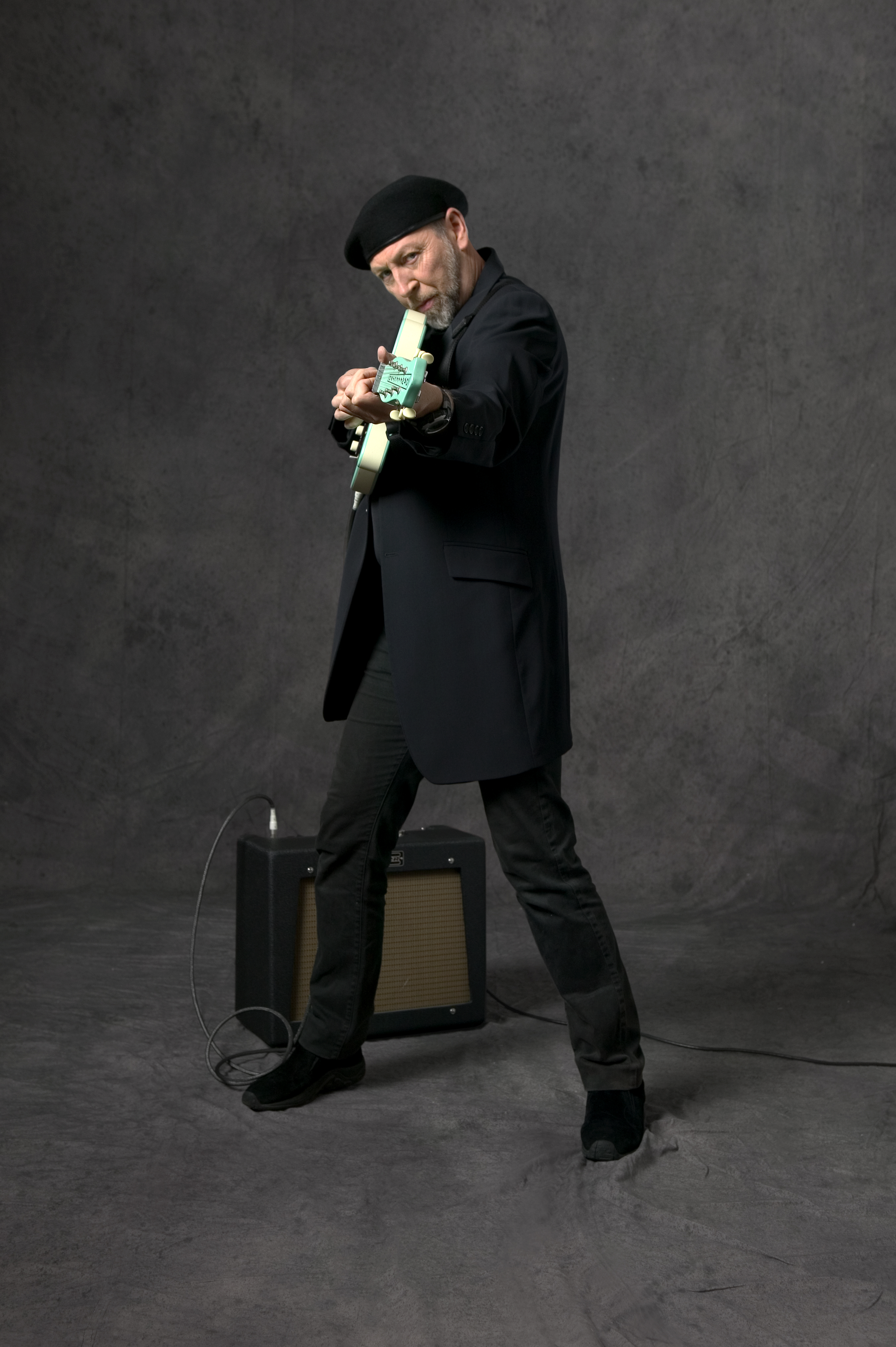 Richard Thompson, photo © Ron Sleznak via Richard Thompson Music
If you already know, and love the music of, Richard Thompson, then I'm singing to the choir. If you don't, then prepare for proselytizing. Such religious words and phrases aren't too much for Thompson's longtime and fiercely devoted fans, who have followed the singer/songwriter/stringman since his earliest days -- as a teenager -- with the Fairport Convention in the late 1960s. One of the founding members of the London-born group, Thompson played lead guitar for the band on traditional and folk songs past and present, from ancient Highland ballads like Matty Groves to songs by Leonard Cohen and Bob Dylan (the latter, most celebratedly, in French in 1969). Thompson began writing songs for the group, including the 1968 song that became their signature, Meet on the Ledge.
Thompson left Fairport Convention in early 1971 and would tour, intermittently, over the next decade with Linda Peters, soon Linda Thompson. Richard and Linda Thompson performed together hits like the title track of their first album, I Want to See The Bright Lights Tonight, and had two children, Teddy and Kamila -- both musicians now. Since 1982, Thompson has performed largely solo -- though recent concerts have been more like family gatherings, with Teddy, son Jack Thompson, and grandson Zak Hobbs joining him on stage at venues like the Bearsville Theater in Woodstock, NY. He's toured the United States with Loudon Wainwright (as Loud & Rich), scored documentaries for Werner Herzog, been the artistic director of London's Southbank Centre Meltdown Festival, and begun a songwriting and guitar camp in the Catskills called Frets & Refrains. This summer, Happy Traum, Martin Simpson and Sloan Wainwright were among the musicians joining Thompson as instructors at Frets & Refrains.
His concert tours of England have long been received with love and joy, from Thompson's regular appearances at summer music festivals to full-band tours and gigs like the sold-out Thompson Family Christmas of 2007, in London's Queen Elizabeth Hall (with proceeds from the show going to Amnesty International). On the East Coast, Thompson is beloved for regular solo shows at Princeton's McCarter Theatre, New York's Town Hall and City Winery, and other venues where, if you're lucky and move on tickets early, you can sit where you can watch his fingers as he plays. Thompson can make a 12-string guitar (or a six-string, for that matter) sound like a symphony orchestra, and in performance he is genial and witty with his audiences -- joking about all the "depressing ballads" he plays for us.
Those ballads are Thompson's favorite traditional songs, and his own greatest hits. Many are love songs -- sad love songs where things end badly, as is almost always the case with a ballad. Take Beeswing, the story of two young lovers grown apart and old, the brown-haired girl with "animal in her eyes" now faded from "hard weather and hard booze / But maybe that's just the price you pay for the chains that you refuse." It regularly brings tears at Thompson's concerts, as does his other most celebrated ballad, also the story of two young lovers with a more violent end. James Adie, with his 1952 Vincent Black Lightning motorcycle, and Red Molly have only one stanza together before James is shot while trying to commit armed robbery, and Molly is left with his ring -- and his motorcycle. At Thompson's all-request shows at City Winery NYC last year, I saw a woman drawing a motorcycle on her request slip. Others just wrote "52 VBL." 1952 Vincent Black Lightning, from Thompson's Rumor and Sigh (1991), is a soaring stunning song that, though locked in a particular time, cannot age.
Thompson's own command of the ballad is like few other contemporary songwriters' -- no coincidence that he's currently on tour in the Midwest with America's top balladeer of these past fifty years, and counting, Bob Dylan. Reviews have been raves, from St. Paul to Duluth, Cincinnati to Memphis. The AmericanaramA Tour, with WILCO, My Morning Jacket, Richard Thompson Electric Trio, and Dylan, rolls into Peoria, Illinois on July 11th, Chicago on July 12th, Clarkston, Michigan on July 13th, and Toronto on July 15th. If you live in or near these cities, go. Get there early, so you can hear Thompson's full set. If you're not close by, make the effort to hear him live the next time Thompson is near you -- and get his new record, Richard Thompson Electric, available now.