An Interview with Margaret Robertson, Managing Director, Withers LLP
This interview is part of a series on Trailblazing Women role models (Entrepreneurs and Leaders) from around the world and first appeared on Global Invest Her and Linked IN. You have to see what you can be.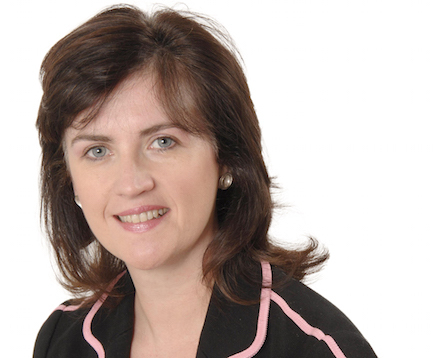 "Have confidence in yourself and just do it! There are impediments out there, but for the most part it's just about saying I can do this, and getting on with it."
Margaret Robertson trained with Withers and became Head of Litigation in 1992. She was the firm's Strategy Partner from 2000 and steered it through its US merger and conversion to LLP status in 2002 when she became Joint Managing Director. In 2007 she became sole Managing Director. During the past 10 years, she has overseen the opening of ten new offices in America, Asia and Europe. The firm now has over 700 people globally and is ranked within the top 30 law firms in the UK.
Visit the Withers website at http://www.withersworldwide.com and follow the Firm on Twitter @WithersLLP
Who is your role model as a leader?
I have two: my mother and Diana Parker the former Chairman of this firm. Diana became the first woman Senior Partner of any City Law Firm when she was only 40. I had the privilege of working with her for a number of years, first as Head of Litigation, then as Staff and Administration Partner, and finally as Strategy Partner. Apart from being unusual in that position in a firm, she taught me that you must not be too cautious and must make many decisions.
If you make many decisions, probably 80% of those will be right but if you make few decisions you probably won't achieve very much. You always have imperfect knowledge when running a business.
You just have to trust your judgement, get on and move fast. My mother was also a role model to me. She didn't get married until later and worked and supported herself until she was almost 40. That was in the 1950's when she got paid 1/3 of what her male colleagues got for doing the same job. She always told me when I was growing up, 'you have to make sure you are economically self-sufficient and don't have to depend on anyone else. In that way you will have a much more secure and satisfying life'. That early expectation that I would always be independent has been very important in my life.
What is your greatest achievement to date?
In 2002, Withers was a one office firm based in one location, and culturally very homogeneous. We now have 14 offices worldwide, and even though we are still not a huge firm, we are 3-4 times bigger than before and are clearly the market leaders in what we do.
What I am particularly proud of is that we still have a one firm feel about us. People are very cooperative with each other. When you have 14 offices around the globe, you can get to a situation where you have fiefdoms, where people are reluctant to share work across different offices, have different profit centres and are not working for the firm as a whole. We have worked very hard to make sure that our teams know each other and that a call from another office is treated just as importantly as something that is happening in your home office.
That has happened thanks to different factors. We are very fortunate that the group of us at the start agreed that we would have one profit sharing 'pot' worldwide, where everyone was remunerated against how well the firm did as a whole. There can be an issue in law firms about how people get credited for what they do and how that relates to pay. What we have done allows people to take joint credit for things. When we win new clients, across offices, everyone who is involved gets credit for that. That culture fosters a spirit of collaboration and cross-selling which is both beneficial to individuals and the firm as a whole.
The other factor, is that we also developed a very strong Learning and Development function, to teach business skills. We have development centres for people at different stages in their career (from junior to mid to senior level), where we bring people together from all around the world and it helps create a unified feeling. You meet your peers so that when you go back to your offices, you know who you are dealing with. The growing challenge, is keeping that knowledge and bond going around the world. We are moving more towards using new collaborative technologies which is very helpful. But there is no substitute for getting people together and we put a lot of effort into that. If you want to have a common level of quality regarding customer service, you need to make sure our people are aligned through our 1 firm culture and teamwork. It is a challenge coming up with a system that holds different people together. Value in an organization has many components, but making sure people feel valued because you spend time with them and because they are fairly remunerated is very important.
The Sunday Times award we won as one of the Top 100 companies (not just law firms, but companies) to work for is the award I most care about, because it is based on individual employees answering questions confidentially about how we treat them. People feel that the organization does care about them and we need to continue to combine that with rigor and being the best at what we do.
What has been your biggest challenge as a woman leader?
In some ways, I've always felt it was easier to stand out as woman while coming up the ranks in the legal field because you were a woman and therefore, in my early years, unusual. I found it helpful to be remembered. However, it's also about making sure you are resilient. There are two interesting, formative experiences from early in my career:
1) When I was interviewing at big law firms, more than once a partner would say to me 'women are conscientious and diligent but very conservative and lacking in flair. Why would we employ you?' I answered, 'well why am I here then?' I didn't get that from Withers and when those other firms called me back for second interview, and by then I had an offer from Withers and thought, why would I even bother calling those other firms back?
2) As a young litigation solicitor, someone once rang my boss and said 'I didn't want a young woman. I wanted a sharp, male, jewish lawyer.' My boss, who was a man, didn't take me off the case, told me to instruct a female barrister and said I'd better win! Having somebody who backs you and tells you to get on with it and do a good job does build your confidence going forward.
I wasn't in M&A for public companies and to be fair to other women in other firms, they would have had a much tougher time than I did. I found that being a woman in our milieu is as a helpful, distinguishing feature.
I have two daughters. There is a time when your children are young and it's very tough, working on your career and raising a family. It's hard work physically and emotionally and that for anybody is a challenge. When my daughters were young, we were doing the first merger with the US firm and I did a lot of international travel. Knowing you will be away for the whole week and that it will be upsetting when you walk out the door is something you have to get over. That's true of dads as well as mums.
What is very important is transparency. When people say to me they are going to their child's school play, that's great. Men do that as well as women. What isn't fine is if they pretend they are working and do something else. I know that if one our team needs to take two hours out for a personal commitment, they will definitely put that time back in somewhere else and I don't need to worry about it.
Technology has really helped us too, enabling remote and flexible working.
How do you grow people in your organisation?
We have always given people autonomy - lawyers value that. We have a clear direction but we create an environment where people can come up with new ideas e.g. regarding recruiting a certain person, moving to a location or creating a new service. If you give people autonomy and encourage them to do more, on the whole they do. The more you force people into too narrow a specialism, the less useful they become to the organisation. The way things change so fast these days, people need to reinvent themselves and change all the time. If you spoon-feed them too much, they can't do that.
The reason I have stayed so long at Withers, is because I always had autonomy, did different roles and had different careers within the organization. Our culture is one where, if you tell us about a good idea, you can tell us what you want us to do and we will implement it.
If you could do 1 thing differently, what would it be?
I wish I were the sort of person who could comfortably walk into a room full of strangers and enjoy it! But I really can't. I am an introvert by nature and have had to become an extrovert because of the nature of my job and there are aspects of the job which are harder as a result. Equally, it's quite good, because when you are dealing with younger lawyers who are trying to build their profiles and careers, I can genuinely say to them, 'it doesn't really matter whether you are introvert or extrovert, it's just a personality trait. You can do different things to build your career in different ways. If I could be more of a big party animal, I would probably have more fun!
How would you describe your leadership style?
Consensual, and pace-setting. That is not uncommon in law firms, because you can't be too directive because of lawyer's desire for autonomy. They don't believe you just because you say something. You have to demonstrate something to earn respect for what you do or are seen to do. It can be dangerous, because if you are too pace-setting, people can step back and let you do it all for them. I do allow people to make mistakes and learn from them. My colleagues would say that I am consultative and that I don't come down on people like a tonne of bricks if they make mistakes. With direct reports, I do have quite a coaching style. In general, I am pretty straight and don't wrap things up either. If people aren't pulling their weight or things are not going well, then I can be very direct indeed.
How would you describe the difference between men and women's leadership styles?
It's easy to stereotype, but in general when women make decisions quickly, they tend to be seen as bossy, whereas when men do it, they tend to be seen as strong.
One of the things you tend to find when dealing with younger people, is that there is a tendency for young men to assume they are right, and if things go wrong, it's somebody else's fault. Whereas you do notice quite strongly with young women, that they tend to think it's their fault. That is something to bear in mind and which needs calibrating in both directions when coaching young solicitors.
It's very important that people develop resilience and the ability to move on, despite the fact that a particular transaction or piece of advice didn't go as well as it could. You learn from it, move on and look at it objectively to see 'what could I have improved?' You also have to recognise that there may be external, objective reasons why things didn't go so well. It's not so much the outcome, but what you do with that outcome that matters.
The people who succeed in the long term, of both genders, are people who can accept feedback. It's just that the feedback is just slightly different. That's all. Everyone has to learn and continue to learn, because when they stop feeling they can learn, they are useless to you as an organisation. People are very different and you have to be careful not to stereotype people. You have to give people the opportunity to do a wide range of things and see what they are good at in practice. Often in the legal profession, women can be allowed greater latitude in behaving in a less conventional way. Clients sometimes accept observations and can be moved along by women who use humor in a different way than for men. On the whole women tend to use a wider range of social styles in terms of dealing with clients and others.
What advice would you give to your younger self?
It would be great to know that you can do this stuff and have confidence! I learned most of my confidence through experience. Whereas, when I look my daughters' friends now aged 18, they just have confidence coming out of every pore! I wasn't like that at all. I had to learn through experience.
Have more confidence and self-belief, is what I would say to my younger self. On the other hand, if you learn it through experience and you are not cocky, you probably make fewer mistakes.
What would you like to achieve in the next 5 years?
We're now in most of the places we want to be. It's really harvesting the benefits of that in the next five years. If we can achieve that, it would mark the end of the beginning, in terms of having taken the firm from being a one office, one location firm, into a truly global business. I'd like to see that through. At that stage, it will be time for a different generation to begin to take over.
Another task for me over the next few years, is to think about what is next. What would I like to do next, would I like to work in a different sector, how I could use different parts of my brain and psyche to have yet another career in a different sector. When I find out, I'll let you know!
3 key words to describe yourself?
Curious
Humorous
Resilient
For other interviews with Trailblazing Women leaders on Huffington Post Read More Here
Follow Anne Ravanona at @anneravanona, and check out other interviews in the Trailblazing women series on Global Invest Her blog
Learn more about Global Invest Her www.globalinvesther.com