Love fresh summer tomatoes? Love to knock back a cocktail or two?
Both of those loves merge in the Early Girl Tomato Bloody Marys devised by Chef John Madriaga of
Spruce
Restaurant in San Francisco. Juicy raw tomato wedges infused with lemon juice, salt, pepper, celery, chopped onion and vodka, they deliver just the faintest alcohol whiff.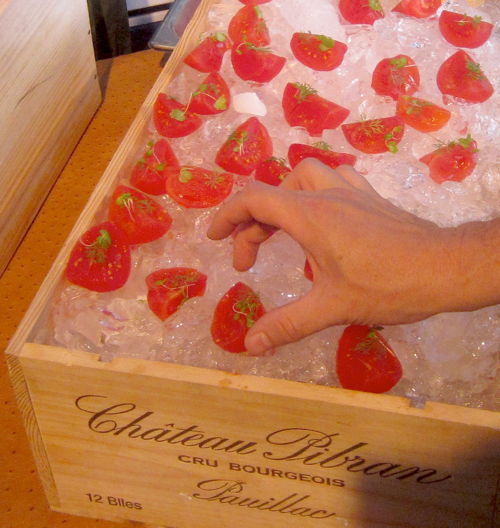 "They're pretty mild," Spruce's executive chef Mark Sullivan told me. "One slice won't get anyone drunk, but eventually -- if you eat enough -- they could. I tell people not to have more than three or four."
These tangy treats were among many astounding offerings in last weekend's Grand Tasting Tent (depicted below) that capped off SF Chefs, an annual summer-long gala whose parties, discussions, demonstrations and other events showcase the city's shimmering food scene. (Other Tasting Tent standouts included egg ravioli, carrot-and-cardamom gelée, gelato "burgers" on little creampuff buns, and peanut-butter-milk-chocolate-ganache cupcakes.) And they got me wondering about other ways in which food and liquor could be combined into cocktails you can chew.
Baking or cooking liquor into dishes doesn't count, because that process evaporates nearly all of the alcohol. So we're talking infusions and marinations.
A downscale version of the Early Girl creation would be Bloody Mary Fries: Pour a shallow pool of vodka into a cookie sheet; arrange French fries (homemade, or from your favorite restaurant) around the pool so that they are partially submerged. Let vodka soak into fries. Before serving, top with chopped celery, a few squirts of lemon juice, Worcestershire sauce, and -- for that essential Bloody Mary tomatosity, ketchup.
The Daily Mail reports that a new trend sweeping the UK these days is "cuptails" -- cocktail-flavored cupcakes such as the White Russian, Strawberry Daiquiri and Raspberry Limoncello cupcakes sold at Molly Bakes and Mojito and Piña Colada cupcakes offered by Sweet Couture; both bakeries are in London. Because baking evaporates the alcohol from the cake itself, liquor would have to be in the (uncooked) frosting for such desserts to pack a punch.
Making edible cocktails requires only porous food as a foil for alcohol. A variation on the French-fry recipe would be Gin & Tonic French Toast. And consider Martini Deviled Eggs. (But eat sensibly. Drink sensibly. Do both at the same time, and don't drive after consuming alcohol.)
Images courtesy of Kristan Lawson, used with his permission.