I felt like a prisoner last night at San Francisco's Hyatt Regency Hotel.
That's because the hotel's Eclipse Restaurant is now serving meals based on those that were served to Al Capone, the Birdman and other inmates at Alcatraz Federal Penitentiary.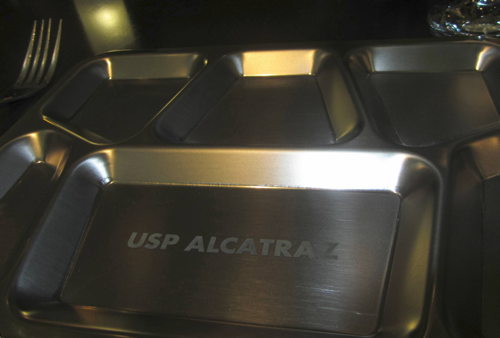 Before closing in 1963, Alcatraz was renowned for having the best food in the entire US prison system. Fresh ingredients were boated over frequently from San Francisco. Inmate cooks honed their craft, maximizing the meats, milk, butter, breadings and drippings that were midcentury staples while drawing upon deep ethnic roots, aiming to please the type of guys you wouldn't want to make mad. Ex-inmates still compare Alcatraz fare to that of fine family restaurants, speaking yearningly of spaghetti sauce that simmered all day.
Executive chef Victor Litkewycz drew upon vintage menus, memoirs and interviews with ex-inmates to create his three-course Alcatraz Menu, served through October 25 to coincide with an exhibition of rare artifacts and vivid reconstructions now installed in the Hyatt Regency's lobby. "Alcatraz: Life on the Rock" examines the island's incarnations as lighthouse, Civil War-era military prison, federal penitentiary, Native American rallying point, and present-day portion of the Golden Gate National Recreation Area.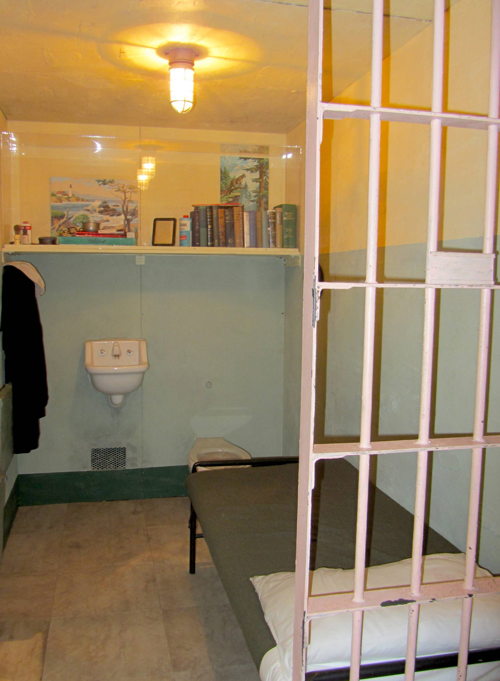 Actual vintage menus from AFP's kitchen reveal a startlingly tempting array of offerings including breaded rock cod, jambalaya, beef pot pie, stewed peaches, sage dressing, apricot pie, raspberry buns, buttered beets, and a split-pea-tomato soup known as Purée Mongole. Prison staff and administrators ate the same meals as prisoners.
Wine and cocktails began last night's meal. Obviously, alcoholic drinks were officially verboten on the Rock, but inmates secretly hoarded home brews.
"They fermented whatever they could get their hands on," National Park Service public affairs officer Alexandra Picavet told me. "Fruit, bread, potato peelings -- that's another reason why kitchen jobs were considered the best jobs" on the Rock.
Each of us was given a metal tray, metal cup and utensils just as AFP inmates used. Into the cups went mulligatawny soup, made dazzlingly fragrant with coriander, cumin, vegetables, fresh green apples and chicken: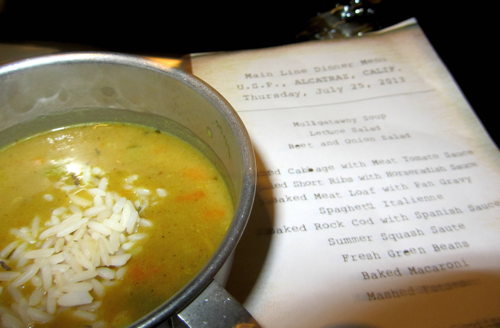 Although inmates had to carry their trays and line up cafeteria-style, we got to sit there in our fancy chairs as polite uniformed servers circled our table bearing platters and tongs. Chef Victor told me that at any meal, inmates were permitted to eat as much food as could be piled onto their trays. And so could we.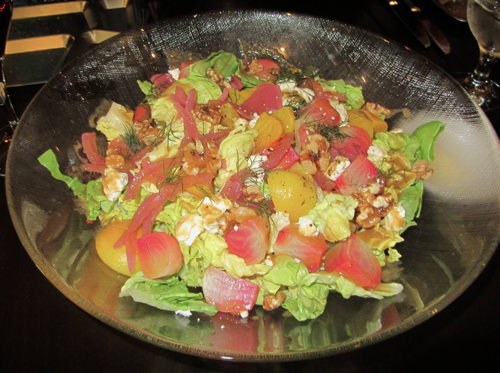 Salads studded with walnuts, beets, cheese and pickled red onions set a wholesome farm-to-table tone that merged midcentury solidity with modern-day seasonality to create a mood as soothing as a summer lullaby. Later came tender-crisp green beans, crusty bread, braised short ribs, baked rock cod with Spanish sauce, summer-squash sautée, mashed potatoes, and hearty mac-and-cheese made glorious and golden with rigatoni, Asadero and Monterey Jack. The traditional long-cooked meat sauce graced Spaghetti a la Italienne: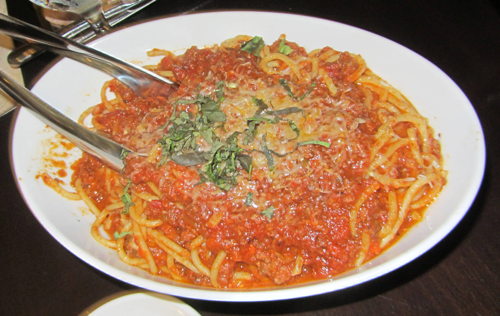 Stuffed cabbage rolls -- lovingly wrapped, lavishly large parcels of rice, raisins and chunkily ground grass-fed beef -- amped up the comfort-food factor to a whopping 10.5.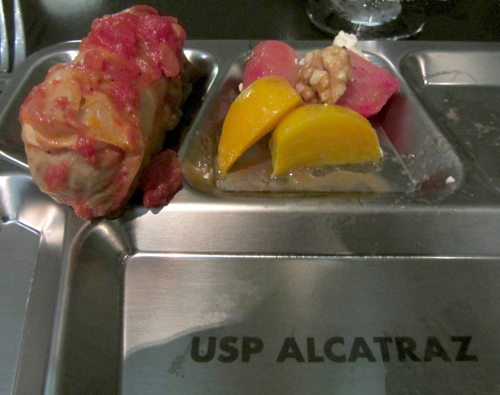 But of course comfort food was crucial to men who lived behind bars on a fog-swept jut of stone surrounded by a shark-infested bay. Granted, Alcatraz's inmates -- the hardest of hardened criminals -- "earned" their captivity on the Rock:
"In those days, if you broke the law, you went to jail. If you broke the law in jail, you went to Alcatraz," Picavet said.
At private parties held on the island, no one is allowed to wear striped mock prison uniforms -- partly because striped uniforms were never worn by Alcatraz inmates and mainly because the National Park Service countenances no jokes about Alcatraz:
"We don't want anyone making light of what happened there," Picavet asserted. But can I quip that it might be worth robbing a bank if it awarded me constant access to Chef Victor's baked meatloaf, a festival of an entrée crafted with beef, pork, veal, flaxseeds, oats, bran and caramelized onions, wrapped in bacon and slathered in molasses, tomato sauce and brown sugar? Can I? Because, if so, stick 'em up: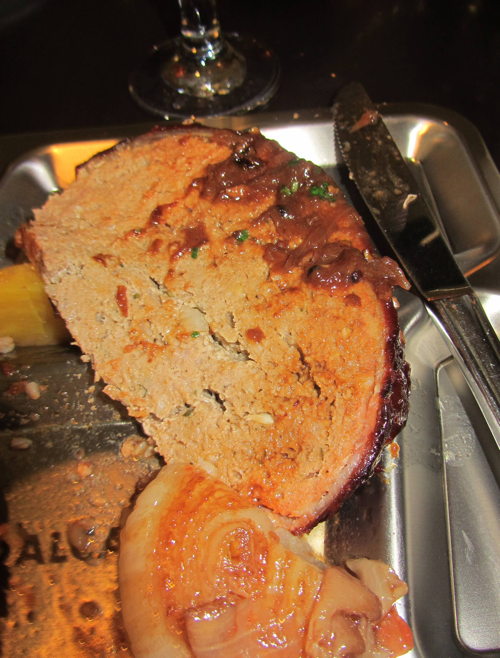 Studying vintage Alcatraz menus while designing the meal, "I was trying to get into the heads of those who were cooking at this prison," Chef Victor said. "What was available to them? Nothing exotic, not a wide range of ingredients. So it became a matter of letting the ingredients speak for themselves."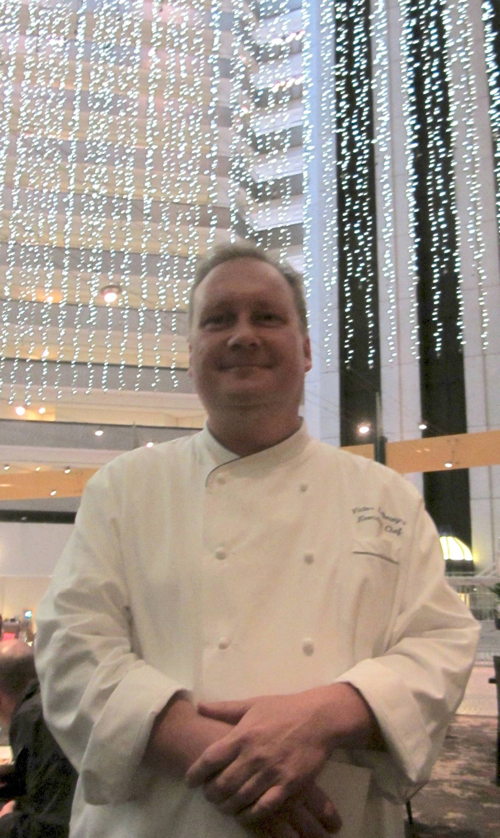 "At first, I thought: Oh my gosh -- how am I going to replicate this stuff? I felt some real pressure. For example, I wondered whether I would actually want to make or eat the boiled beef ribs" that appeared on the actual menus. "So I braised mine instead."
He took other liberties -- for example, using croissants instead of leftover white loaves for his banana bread pudding, served in huge portions last night alongside delicate layer cake and graced with ivory-satin crème Anglaise.
Cooking and eating, Picavet pointed out, "gave the inmates something to do besides just sitting in their cells."
Do the crime, eat the cream. Now that's a plan.