 Here is my latest creation, a ham-and-cheese cocktail that I can't decide whether to call a Manhamtan, a Cheesy Mary or a Hamlet. It comprises whiskey, half-and-half, a dash of simple syrup (because I like jam or chutney on ham-and-cheese sandwiches), aged cheddar cheese and a prosciutto chunk. And yes, it is perfectly drinkable, sort of like a liquid quiche.
I was inspired to create it after attending a very educational ham-and-cheese evening last Friday hosted by TV celebrity chef Joanne Weir.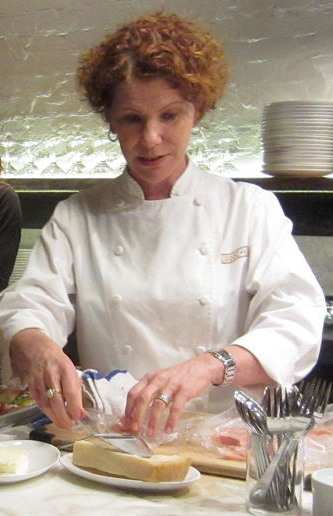 She was in San Francisco demonstrating clever things to do with ham and cheese -- not just ordinary ham and cheese but the five types known collectively as the Legends from Europe.
These include Prosciutto di San Daniele, pork legs cured for 13-plus months by a 2,000-year-old method amidst the icy Alpine winds and balmy Adriatic breezes of Friuli-Venezia-Giulia on the Italian-Slovenian border; Grana Padano, a relatively low-fat dry cheese that is aged up to two years and whose origins date back to medieval Cistercian monks in northern Italy's Po Valley; Prosciutto di Parma, cured for over a year in the green hills near Parma; Montasio, a cheese named for a peak in the Italian alps and first made by 17th-century monks; and Parmigiano Reggiano, which is made of just three ingredients -- milk, salt and rennet -- in a small region of northern Italy and bears virtually no resemblance to the white dusty substance that is commonly shaken out of cardboard canisters onto Italian food in American restaurants.
All five bear the EU's Protected Designation of Origin (PDO) seal, marking them as authentic, highly quality-controlled versions of traditionally handcrafted foods associated with specific geographic locations whose terroir has sustained them for generations.
Cooking with the Legends "is a very easy thing for me to do," said Weir, a fourth-generation chef and Chez Panisse alumna who hosts Joanne Weir's Cooking Confidence on American Public Television and owns Copita Tequileria y Comida in Sausalito, Calif. "They've all got an amazing history."
One of the dishes she demonstrated that night was Montasio Frico, a crispy cheese-bacon-potato pancake that is virtually unknown outside of Friuli, the far northeastern corner of Italy, where it is regional specialty.
"Even Italians don't eat frico unless they're from Friuli," Weir explained, heating Montasio in a nonstick pan -- although this dish can actually be made in a microwave as well. Either way, it cooks quickly -- "which is good, because I never was one with much patience," laughed the chef.
Sliced boiled potatoes and bacon give frico extra heft.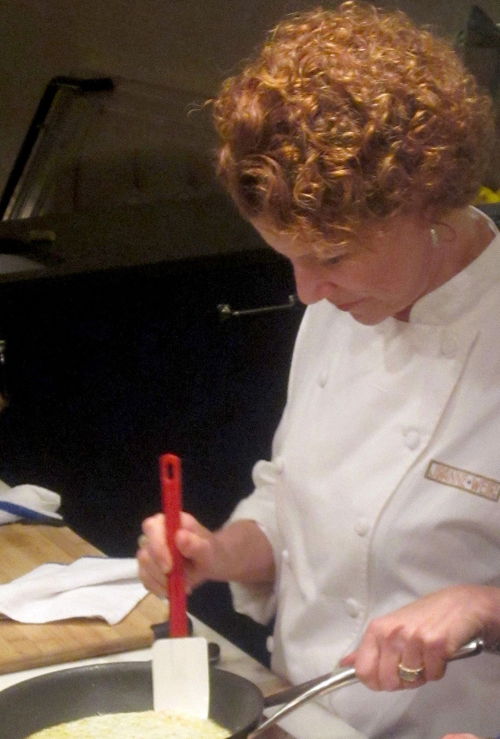 "I love the nuttiness of Montasio," Weir said, watching the pancake turn from creamy white to golden brown in the pan. "I made this dish on my TV show and I have to tell you -- the cameramen went crazy for it. They were carrying forks in their pockets. They said, 'We don't eat everybody's food who has a cooking show, but we sure want to eat this.'"
"Freak out on frico," Weir laughed, tipping the finished pancake onto a plate, where it was then sliced into wedges -- which were light but satisfying, remarkably beautiful with their bright dappled surface, and easily eaten by hand.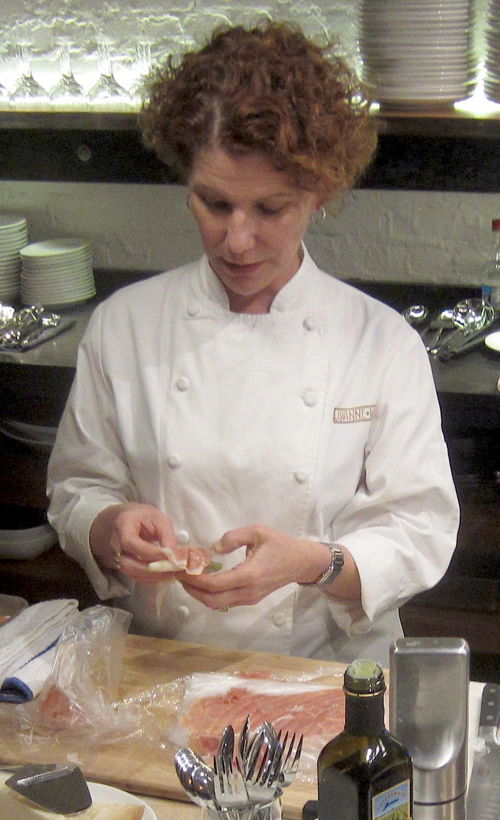 That evening got me thinking afterwards of ham and cheese and the infinite number of things we can do with those beautiful BFFs. At Berkeley's FIVE, Chef Banks White makes savory beignets with ham and cheese baked right into the dough; they're further adorned with bacon powder, garlicky aioli and prosciutto. And croques monseiurs, sure -- such as the ones made with ham, Swiss cheese and bechamel sauce on toasted pain de mie at the Bay Area's La Boulange Bakeries. At San Francisco's La Folie, Chef de Cuisine Michael Hung makes a lobster croque monsieur which he calls "wild and crazy as well as decadent. 
"Our croque monsieur starts with brioche, very full-flavored and rich. In between the brioche we layer Emmenthaler cheese, crispy smoked bacon and lobster. In addition, we smother the inside of the sandwich with a cheesy Mornay sauce laden with black perigord truffles. These flavors are truly over the top, but in the best and most delicious way. Finally, we press and grill the sandwich until it is golden brown and gooey.  
"Normally we serve the lobster croque monsieur with a seasonal soup, but we've also done it with a dollop of creme fraiche and an ounce of caviar on top," Hung adds. "How's that for wild?"
Award-winning chef Gerald Hirigoyen -- owner of San Francisco restaurants Piperade and Bocadillos -- shared with me his recipe for Griddled Ham and Cheese Bocadillos (Basque-style "little bites), which appears in his book Pintxos: Small Plates in the Basque Tradition. (See below.)
So who's up for another Manhamtan, Cheesy Mary or Hamlet? Intriguingly, one of the Parmigiano Reggiano experts I met at the Joanne Weir event told me that she is in the process of developing a cheesy cocktail as well -- a classic martini made with gin in which Parmigiano Reggiano has macerated for three weeks. Add a strip of prosciutto, and who knows what might happen next.
Gerard Hirigoyen's Griddled Ham and Cheese Bocadillos
8 slices sourdough French bread, 1/2 inch thick
8 thin slices Serrano ham or Prosciutto
8 slices ripe tomato, 1/4 inch thick
4 thin slices sheep's-milk cheese such as Manchego or P'tit Basque
Dijon mustard
2 T extra-virgin olive oil
Lay four bread slices on work surface. Top each slice with a slice of ham, two tomato slices, a slice of cheese and another slice of ham. Spread the remaining bread slices on one side with mustard, and place -- mustard side down -- on top. Tuck in any overhanging portions of the filling so they won't burn. Brush the outsides of the bread with olive oil. Preheat a stove-top griddle or ridged grill pan over medium-high heat. Place sandwiches on hot surface, top with a weight, and grill, turning once, for about two minutes on each side or until both sides are golden brown and cheese is softened. Cut sandwiches in half and serve.
Cocktail and Joanne Weir images photographed by Kristan Lawson. All images used with permission.