For eight December nights every year, Yosemite National Park's Ahwanee Hotel stages its world-famous, formal Bracebridge Dinners. At these historic holiday pageants whose original cast included Ansel Adams, up to 300 tuxedoed and ball-gowned guests at a time sit at candle-lit tables watching Tudor-clad actors, acrobats and opera singers in velvet jerkins, vast gowns and towering hats gambol, carol and jape around a candle-lit, satin-draped dining hall while tailcoated waitstaff serve a seven- course meal.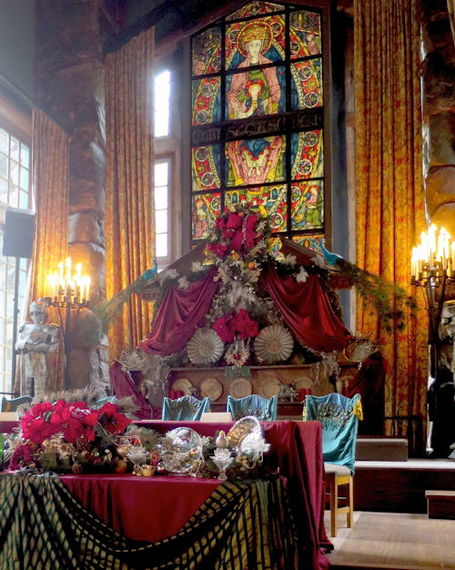 This spectacle -- during which guests are forbidden to take photographs, so depicted above is the pre-performance stage -- is so popular among the diamond-cufflinks set that, for many years, tickets (which cost well into the hundreds of dollars) were available only via lottery; until this policy changed recently after additional dinners were added, even 1-percenters waited years for their lottery numbers to come up.
Now in its 87th year, based on a tale by The Legend of Sleepy Hollow author Washington Irving, the lustrous pageant employs a chorus of thirty and cast of twelve, who started rehearsing in September.
But if you've ever struggled to produce, say, a casual dinner for four, you'll really be wondering about the food.
How is it possible to make a fancy seven-course dinner for 300 and serve it while stockinged tenors skirl and twirl? Oh, and how is it possible to also more or less simultaneously feed about a hundred cast and crew members? And to make things even more complex, how is it possible to achieve all this in the midst of a snow-swathed wilderness?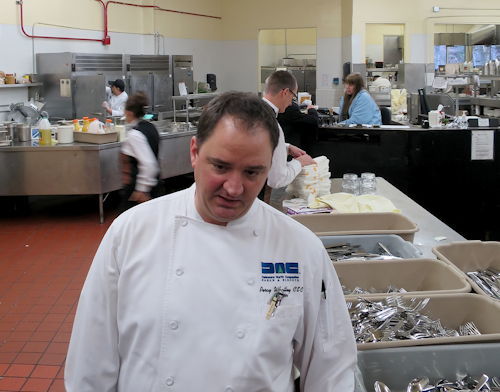 A few hours before last Sunday's Bracebridge Dinner (this year's final dinner is set for December 25), the Ahwanee's executive chef Percy Whatley kindly showed me around his kitchen while revealing some of what goes on behind the scenes of this massive production.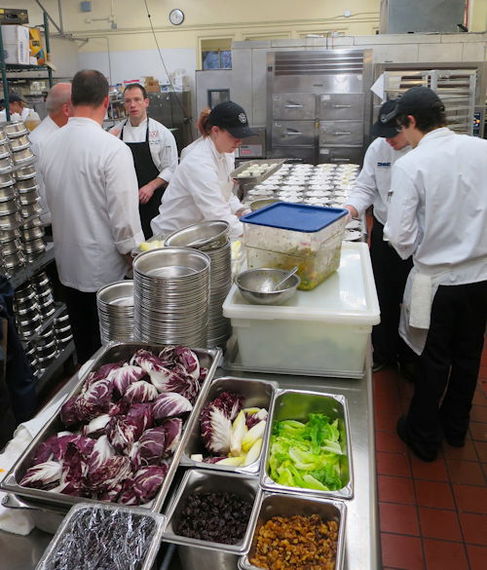 "It's a choreographed event for sure, onstage and in the dining room and also here in the kitchen," said Whatley, a Culinary Institute of America-Hyde Park grad who oversees all meals at the Ahwanee, even room service.
"I started out in this kitchen half a lifetime ago as a lowly 25-year-old salad worker. I've spent the years since then putting together knickknacks and systems in my head that I wanted to try someday. Since taking over this kitchen in 2005, I've been able to put most of those knickknacks and systems into place."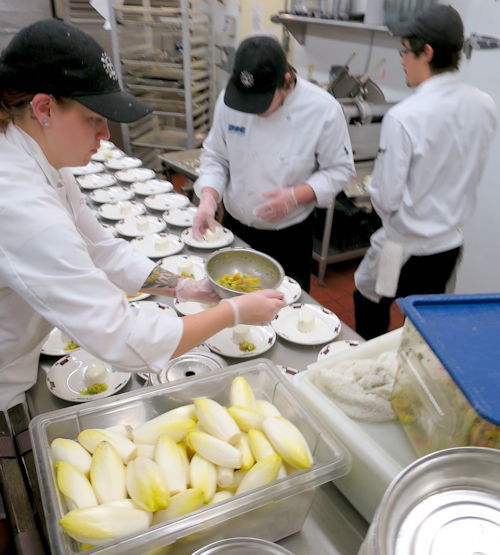 Along aisle after aisle, workers busily plated salads and cold portions "to the point at which we just need to add dressing and a microgreen at the last minute," Whatley said.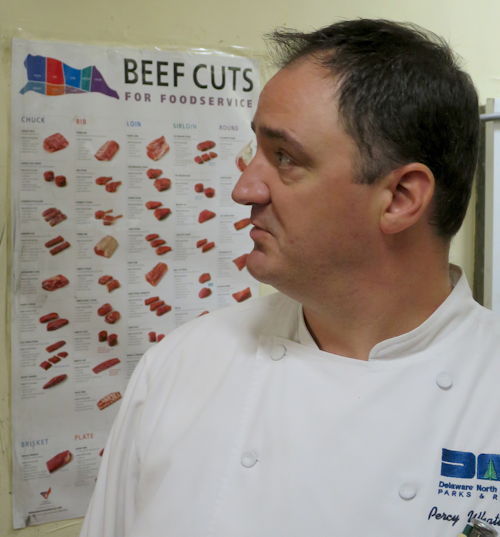 Three chefs, fifteen cooks and three pastry workers are tasked with preparing this year's Bracebridge feasts in a massive kitchen that's within sight of Half Dome and which, while mostly cutting-edge, still proudly displays a few signs of its age such as three 1927 Hobart mixers -- still very much in use.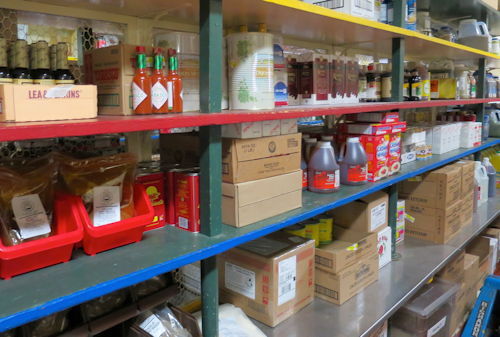 Shelves in a storage area bear a world-spanning array of ingredients, not just for the Bracebridge Dinner but used all year 'round: ponzu, achiote, Major Grey's chutney, El Tapatio sauce, sriracha sauce, garam masala, Baleine sea salt, mint jelly, pimentón ahumado, Nanka Seimen noodles, cardamom pods and much more.
"We try to keep $100,000 worth of groceries on hand at any given time," Whatley said.
His shopping list for the eight Bracebridge Dinners included 450 pounds of duck legs, 950 pounds of cleaned tenderloin and 350 pounds of trout, along with much else -- "as much of it as possible grown right nearby in the Central Valley," Whatley said, gesturing westward toward those rich agricultural flatlands that lie some sixty miles from Yosemite.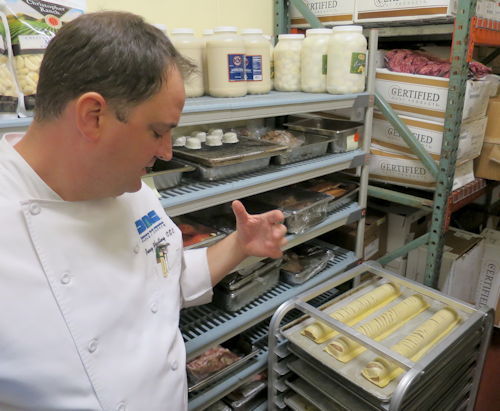 For most of the Bracebridge Dinners' 87 years, the courses served to guests have mainly been versions of those celebrated in the script. As performers proclaim the glories of "peacock pie," for example, the poultry dish arrives: This year, it's Sonoma duck confit strudel (depicted above, not yet baked) served with apples, chestnuts, braised cabbage and dried stone-fruit chutney. Whatley calls this his favorite course -- "hands down."
In the 18th century, during which the pageant is set, "food -- especially upper-class English food -- was really heavy. I mean loosen-the-belt-buckle heavy," said Whatley, who aims to create slightly lighter but still elegant versions of classic English-style holiday fare.
"Over the years, we've taken an ever more simple approach to the menu," Whatley said. "We try not to over-manipulate the dishes. If something is made with top-quality ingredients and cooked and seasoned properly, it shouldn't require any extra manipulations. Sure, we could make our lives a lot harder by creating more complex versions of every course, but why?
"It's not so much the dishes that change from year to year, but their accoutrements. Last year, we tried a Dungeness crab dish for the fish course. But then I took a long look at the prop" used in that portion of the play, which is a gigantic fin fish, "and I thought: No. That's not a crab."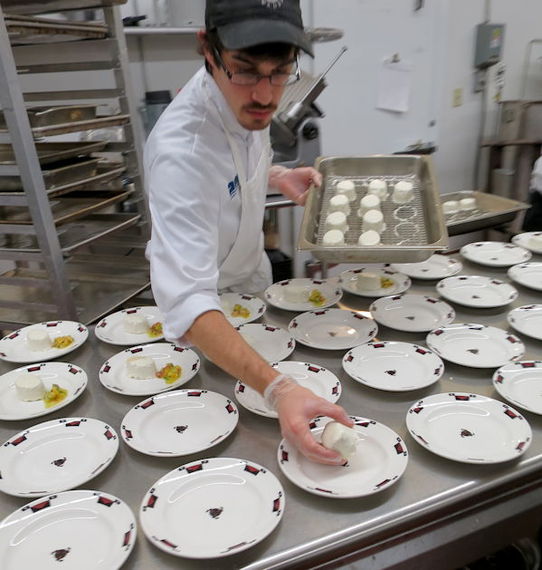 This year, the guests are eating chilled rainbow-trout mousse (depicted above, being plated). Whatley shared with me its recipe -- yes, for 400 portions. You'll find it below.
From whipped house-made ricotta relish to banana squash soup to trout mousse to endive salad to duck strudel to Angus beef tenderloin to plum pudding to mini macaroons, the dinner's courses follow a logical progression:
"You want to progress the courses from light to heavy, because you don't want the guests getting palate fatigue early in the meal," Whatley explained, adding that this logic also applies to the artfully conceived vegetarian and gluten-free versions of all seven courses, which are available on request.
Dishes are prepared in this kitchen as close to serving time as possible, "so that everything's as fresh as possible," Whatley said. "Given that we're working with such a high volume, that's challenging."
High volume, for sure: Over 25,000 pieces of chinaware, glass and cutlery are typically used in a single night's Bracebridge Dinner, keeping the dishwashers in this kitchen very busy afterwards.
The kitchen's bakery area boasts a rotating oven whose carousel of trays can bake 48 loaves in one go. This oven bakes the Ahwanee's signature sourdough bread, which accompanies the Bracebridge Dinner and is made from San Francisco starter gifted to Whatley years ago by James Beard Award-winning chef, author and internationally hailed bread expert Peter Reinhart.
This too is where the plum pudding is made.
"It's the classic recipe: beef suet, breadcrumbs and all the dried fruit you can imagine," Whatley avowed. "The first batch went into fermentation on December 3."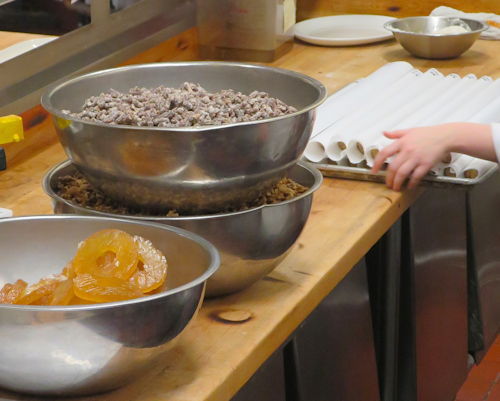 The vegetarian version is made with cake shortening instead of suet. The gluten-free version is made with gluten-free breadcrumbs.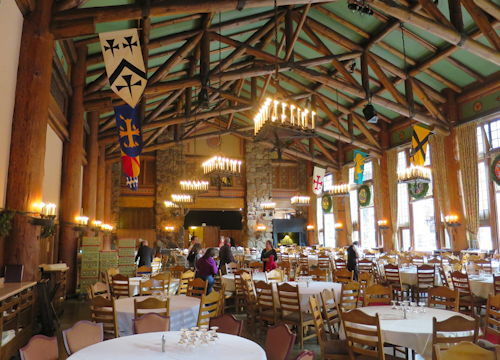 After our tour, we entered the lavishly decorated dining hall, its stage inhabited by suits of armor, stuffed peacocks, candelabras and poinsettias and overlooked by a faux stained-glass window expertly crafted from parchment. Employees busily hand-polished cutlery as they set dozens of white-draped tables. About two hours hence, the pageant would begin.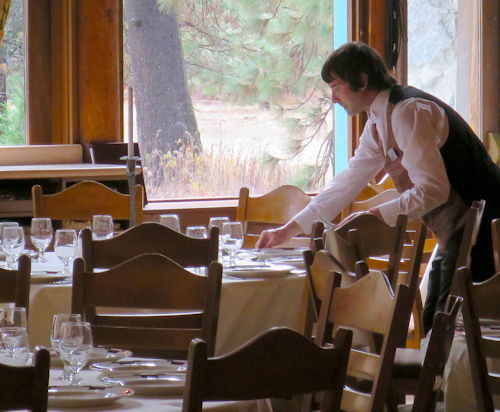 Once a performance gets underway, "we need to always keep at least half a course ahead of the game all the way through," Whatley explained. "Otherwise it would get very uncomfortable for us. We need to remain cognizant of the obstacles and keep on top of them."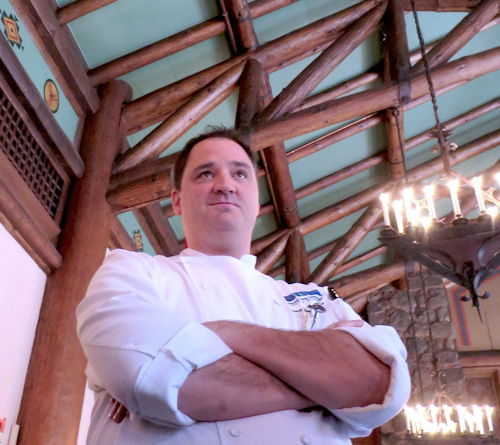 During the performances, "it's pretty much go-go-go in the kitchen. We've got to get everything onto those plates and onto those tables. We've got to rock and roll.
"It really is never-ending for us, but in a good way."
Fresh and Smoked Trout Mousse
(Courtesy of Chef Percy Whatley)
Yield: approximately 400 portions
30 lbs. flaked, steamed, boneless, skinless trout meat (from about 65 lbs. raw product)
24 lbs. cream cheese
6 lbs. small diced, smoked, boneless skinless trout meat (from about 10 lbs. unprocessed product)
12 lemons, juiced and zested
3 cups chopped tarragon
3 cups chopped parsley
3 cups chopped chives
1.5 gallons heavy cream
12 oz. gelatin powder (melt in 1.5 gallons cream from above)
1.5 cups salt
3 T white pepper
Add steamed fresh trout, cream cheese, lemon juice and herbs into vertical cutter/mixer. Pour warm cream/gelatin mixture over and add salt and pepper. Grind until smooth and creamy on a combination of low and high speeds, stirring often. When proper consistency is reached, add diced smoked trout meat. Quickly fold in, stirring constantly on low speed. This step should take 15 to 20 seconds, so that the meat does not get ground up, but rather just folded into the mixture. Remove from vertical cutter/mixer and refrigerate immediately. Mold as needed and repeat.
All photographs by Kristan Lawson, used with permission.