It has shimmering beaches. Snowy peaks. Microclimates. Vineyards. Earthquakes. Chinese buffets. Artisanal cheese. In other words, New Zealand is a lot like California, but with fewer hipper-than-thou A-holes. This might just be a population-ratio thing. Or perhaps it's because Wellington isn't within driving distance of Portland. For whatever reason, these two islands extending about 1,000 miles from top to bottom and surrounded by the Pacific Ocean are at long last emerging from under the International Attention Radar.
It's Hokey Pokey ice-cream time.
Celebrating its participation in the 2013 America's Cup, New Zealand has established a presence in San Francisco -- claiming as its flagship base San Francisco's Waterbar restaurant, whose executive Chef Parke Ulrich collaborated with Kiwi celebrity chef Al Brown to create a New Zealand-themed menu paired with New Zealand wines and craft beers that will be served all summer. Yesterday I had a chance to chat with Brown and check it out.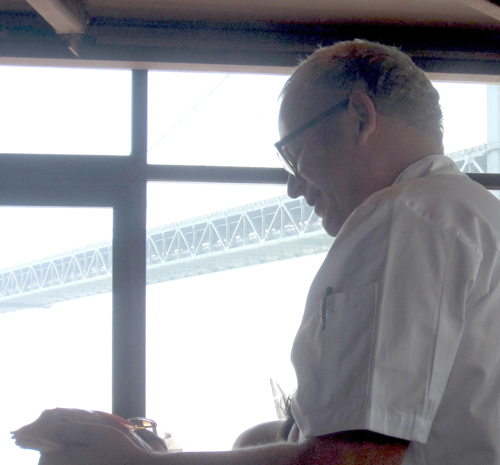 "What is New Zealand cuisine? That's a hard one to answer," mused Brown, who is depicted above handling the winged pink-orange New Zealand fish known as a gurnard. "When I was growing up thirty years ago, New Zealand was regarded as a culinary wasteland, very colorless and dull, with no influences from anywhere but England."
But a new generation of world-traveling Kiwis has changed all that, he said.
"Our learning curve is quite extraordinary. We realized what we have available to us right in our own country. We're a farming country. We're an island country. We have four wonderful seasons. We have very fertile soil, a very clean ocean, great sunshine, great rainfall. We can grow anything from mushrooms to saffron."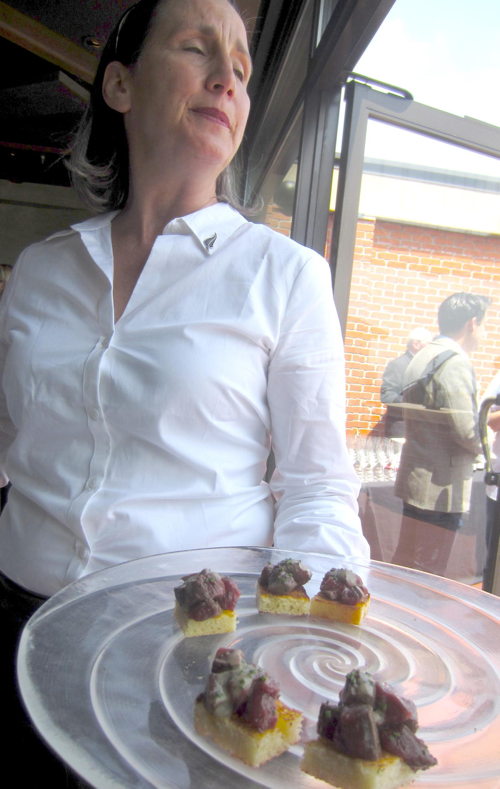 Passed appetizers included gurnard escabeche, along with seared Mountain River Cervena venison tartare (depicted above), made from young deer nature-farmed on grass and hay in New Zealand pastures and topped with a truffle coulis, and chickpea fritters (depicted below) topped with fresh local figs and lusciously tangy triple-cream Kikorangi blue cheese.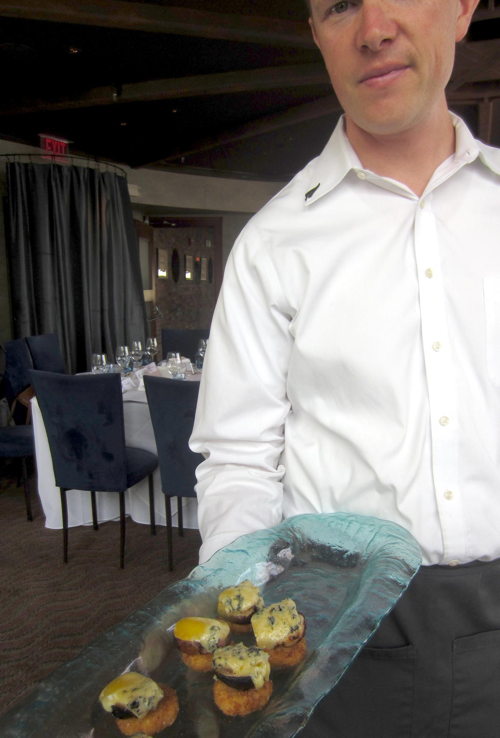 Over a dozen New Zealand wines were on offer, including a freshly floral pair of Rieslings (Spy Valley Envoy and Mud House Waipara) and five of the Sauvignon Blancs for which New Zealand wineries are best known.
Then we moved on to Coromandel McGregor Bay and Clevedon Kawakawa Bay Oysters along with Cloudy Bay clams, their shells cleverly stuffed with seaweed and ginger-lime syrup. All three sang brightly of the sea.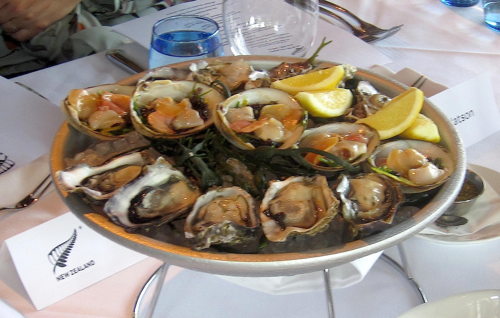 Brown spoke fondly of New Zealand's beaches, where "low tide is when the sea pulls back and reveals its jewels, which you can then collect." He demonstrated the vigorous hip-twisting gesture by which Kiwis hunt for clams. I learned the exact same gesture on a Girl Scout trip to clam-tastic Pismo Beach in Southern California long ago.
"I was given the task of making New Zealanders feel at home when they're far from home," Waterbar's chef Parke Ulrich explained. "I wondered: How am I going to cook like these guys?" But on an educational trip to the islands, "I discovered their secret: They don't screw with what's already good."
The wild Pacific -- visible through the Waterbar's windows -- shone again in plump grilled Ikana greenshell mussels, harvested ethically from stringently tested New Zealand "sea gardens," and in the subtle New Zealand rock lobster topping tender Firstlight Foods grass-fed Wagyu beef.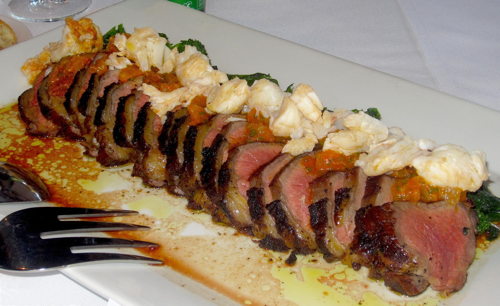 Also served was Atkins Ranch lamb -- representing the wooly creatures for which New Zealand cuisine, old and nouveau, has always been known.
"When I was growing up on a farm, we had lamb, mutton or hogget" -- that is, the meat of young sheep between one and two years of age -- "five times a week," Brown explained.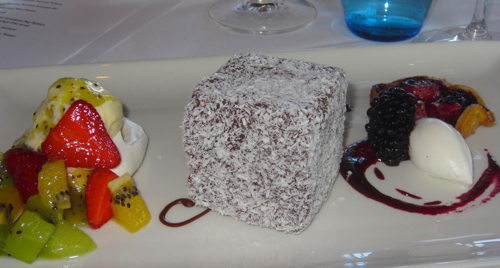 Dessert was a three-fer: Jazz apple-blackberry galette; Zespri Golden and Zespri Green kiwi-fruit Pavlova with Heilala vanilla; and Lamington cake. Pavlovas are fruit-fringed meringues invented in either Australia or New Zealand (arguments flare regarding where) to commemorate an early 20th-century visit by prima ballerina Anna Pavlova. Lamingtons are cream-filled, chocolate-and-coconut-coated sponge-cake squares: At Waterbar, the filling was ice cream enriched with New Zealand-born Whittaker's chocolate.
New Zealand is also showing off its culinary currency in this week's SF Chefs extravaganza. And it's a hardcore chutney stronghold. Not to mention Manuka honey, 42 Below Vodka and Nektabake kiwifruit-paste egg replacement. If this keeps up, soon the whole world will be eating Marmite.
All photographs are by Anneli Rufus.