 Passover seders, as a concept, are supposed to conjure happy family memories and the solemnity and joy of the holiday itself, as symbolized by the traditional seder foods: fresh greens and hard-boiled eggs evoking springtime; bitter herbs evoking the pain of slavery; lamb shank representing the lambs' blood daubed on the Jews' doors so that the Angel of Death would "pass over" them while seeking firstborn sons to slay; unleavened matzot -- the "bread of affliction" -- evoking the haste with which the Jews fled Egypt; and charoset, a honey-sweetened, spice-and-wine-spiked fruit-and-nut melange evoking the mortar and mud that the enslaved Jews used when building pyramids for their Egyptian oppressors.
Ah, but I have Passover Traumatic Stress Disorder: the other PTSD. For me, Passover seders conjure memories of relatives sobbing, threatening to never see each other again and slamming down phones on each other.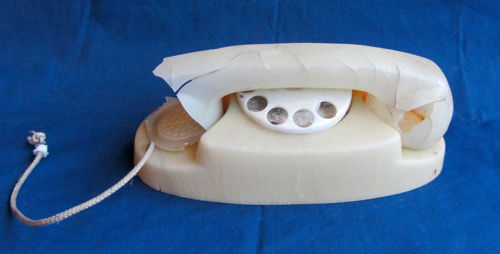 When Passover begins again next week, I will (with no pretensions about being a Good Jew) stage my millionth attempt to rescue some meaningful spark from its story -- this time, by exploring charoset as a glorious dish at once ancient and futuristic, traditional and infinitely adaptable, with a message worth remembering. (Fellow Huffington Post blogger George Heymont first suggested this idea to me.)
Charoset is intensely local: Eastern European Ashkenazi Jews favor apples and walnuts; Mediterranean and Levantine Sephardic Jews prefer almonds and dates. Some charosets are cooked, some raw. When we're using fruit and nuts to symbolize the hardness of slavery and the sweetness of freedom, the possibilities are endless. Here's my experimental "Chalifornia Charoset," comprising chopped pistachios, dried figs, dried cherries, fresh blood orange, fresh mint, fresh Meyer lemon juice, cinnamon, ground cloves and honey, with a few splashes of delicious Lange Twins Caricature wine from Lodi: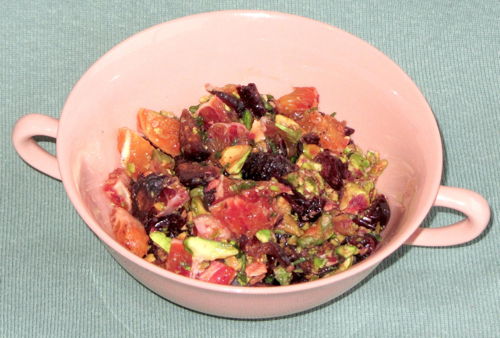 Consider an Asian-fusion charoset featuring cashews, lychee, mango, coconut, dragonfruit, ginger and mirin. A Southern charoset featuring pecans, peaches and bourbon. A baseball charoset featuring peanuts, raisins and beer. Observant Jews cannot eat leavened and baked grains during Passover, but ponder charoset bundled into rice wraps to make sweet spring rolls. Charoset soft tacos or tamales. Charoset as a topping for yogurt or roasted vegetables. Charoset smoothies. Charoset chutney.
"In the context of modern cuisine, perhaps charoset can be looked at as a palette for a kind of vegan patᅢᄅ," offers Andy Sonabend, chef emeritus of Italian Colors restaurant in Oakland, CA. "Or if you set it in a wine-flavored gelatin, adding some dried fruit and different nutsᅡᅠfor color,ᅡᅠit could even make anᅡᅠexciting-looking terrine."
Mark Meyuhas, co-owner of The Tasting Kitchen in Venice, CA and The Parish in Los Angeles, told me that he prefers date-heavy charosets -- "the thicker the better."
"Charoset is the most anticipated food item on the seder plate... at least in my family it was," Meyuhas says. "All the ladies who gathered for the Passover dinner compared notes on who made the best version. It always seemed like a starting point for a catfight."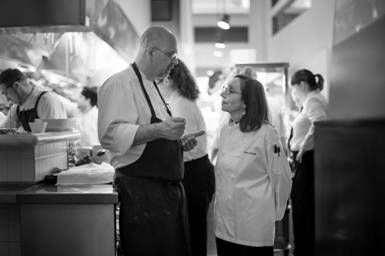 San Francisco's Perbacco Ristorante + Bar will hold its annual Passover Dinner on March 27, with celebrity chef Joyce Goldstein joining Perbacco's chef/co-owner Staffan Terje (both are depicted above) to prepare nearly two dozen recipes (including Venetian sweet-and-sour sardines, rhubarb-sauced sea bass, pepper-stuffed veal breast and lemon marzipan) from Goldstein's book Cucina Ebraica: Flavors of the Italian Jewish Kitchen. Naturally, the feast includes charoset.
"I do not have childhood memoriesᅡᅠof charoset," Goldstein told me, "because my motherᅡᅠdid not cook and we were not observant. I make a seder for my family and it is now part of our tradition. I taught myself how to do this and every year the charosetᅡᅠvaries a little dependingᅡᅠuponᅡᅠtheᅡᅠdriedᅡᅠfruits I have."
Also served at Perbacco that night will be cocktails from the Sipping Seder, a group of drinks representing seder-table foods created by partners Rob Corwin and Danny Jacobs by way of using mixology to maintain ties with their Jewish heritage. Depicted below, the Charoset Cocktail comprises 42Below Manuka honey vodka, Dolin sweet vermouth and cinnamon: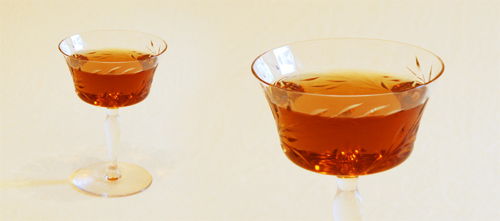 Preferring Sephardic-style charosets to Ashkenazic-style ones, Joyce Goldstein shared with me some of her prized recipes:
Joyce Goldstein's Livorno-Style Cooked Charoset
1 cup pitted dates
1 1/3 cups raisins
3/4 cup walnuts
1/4 cup sugar
Grated zest of 1 large orange
1/2 cup sweet wine
In a bowl, combine dates and raisins and add warm water to cover. Let stand until softened, about 30 minutes, then drain, reserving the soaking liquids. Place the softened fruits in a food processor and process to chop. Transfer to a saucepan; add nuts, sugar, about 1 cup of soaking liquid, and orange zest. Bring just to a boil, reduce heat to low, and simmer until the liquid is absorbed, about 10 minutes. Transfer to a bowl and let cool. Stir in the sweet wine and serve at room temperature.
Joyce Goldstein's Venetian-Style Uncooked Haroset
1 cup chestnut purᅢᄅe
1/2 pound dates, pitted
1/2 pound dried figs, coarsely chopped
2 tablespoons poppy seeds
1/2 cup walnuts, coarsely chopped
1/2 cup almonds, chopped
Grated zest and juice of 1 orange
1/2 cup golden raisins
1/2 cup sweet wine
Honey to taste
Combine all the ingredients in a food processor and process to chop to a coarse paste. Transfer to a bowl and serve at room temperature.ᅡᅠ
Phone and charoset photographs by Kristan Lawson. Cocktail photograph courtesy of The Sipping Seder. Terje and Goldstein photograph courtesy of Perbacco Ristorante + Bar. All images used with permission.