Marshmallows are back.
"Oh, shut up," you might say. "They never went away."
Technically, no. They did not. They have lurked all along in the supermarket's most depraved, hello-children-let-me-give-you-diabetes corridors. Shunned by the cognizant. But one recent night, deep into the lavish buffet dinner that precedes the open-air concerts at Wente Vineyards, I selected a chocolate tart and, biting into it under a vast blue-velvet sky, recognized its sweet, sticky, spongey, topping as marshmallow -- but a master-class marshmallow, not the stuff that stuck in our hair at Girl Scout campouts.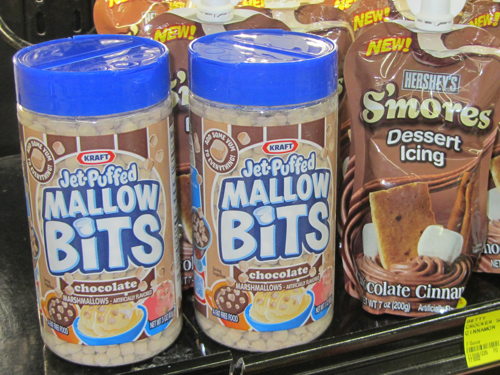 And I realized: Marshmallows are back. They're mad that we invented Peeps. They want revenge. They are bouncing and shimmering in fancy restaurant desserts, bobbing softly in cocktails. They might even turn up in tonight's beer.
Like those sleazy boys and girls we knew in middle school, marshmallows grew up and now some of them are righteous and pure and beautiful if we only knew where to look.
Like most sweets that are now known almost entirely as artificially colored, artificially flavored cheap factory products, marshmallows were once natural and made from plants: in this case, the marsh mallow, aka Althaea officinalis, which grows in salt marshes and whose root oozes a gluey sap that ancient Egyptians sweetened and used as medicine, but which thenceforth caught on worldwide as a handcrafted dessert. Nineteenth-century confectioners replaced the mallow with gelatin and invented marshmallow-making machines. From there, it was a short walk to Peeps.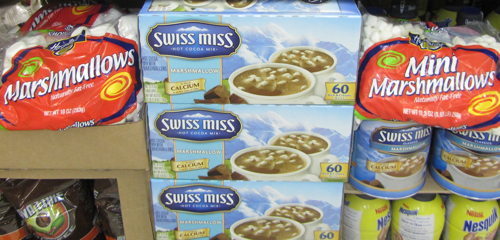 I didn't even know that tomorrow is National S'mores Day when I started writing this.
But I started seeking out master-class marshmallows, because if even the corporate, corn-syrup version is the candy version of a comforting sigh, then what happens when real chefs revisit these gooey babies?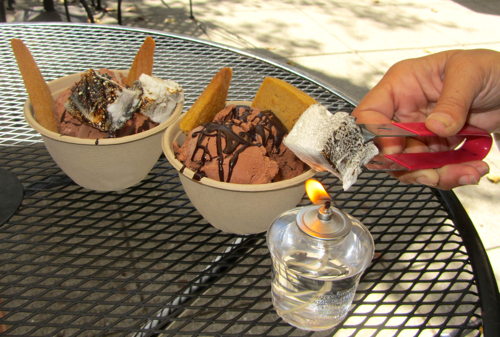 Just last week, premier chocolatier Chris Blue debuted at his Chocolatier Blue Parlor in Berkeley a S'mores Sundae: Given a bowl of dizzyingly dense chocolate ice cream adorned with house-made hot fudge and breathtaking house-made shortbread, the customer is handed a plump house-made marshmallow to toast with tongs and a flaming Sterno lamp.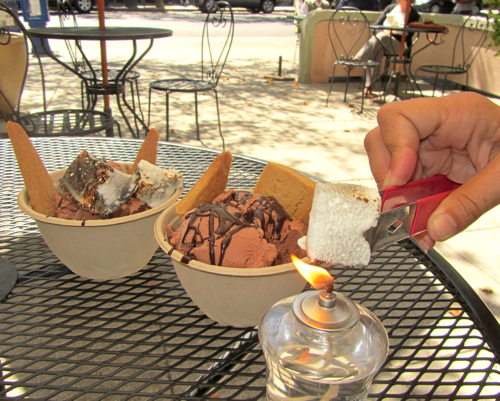 The result is a sensual shakedown beyond compare. CBP's marshmallows come in a range of flavors including vanilla bean, sassafras, cinnamon-chili and lavender. The latter includes actual petals. Here's a jar of CPB's marshmallows, appropriately stored between the Amaretto and the Ozeki: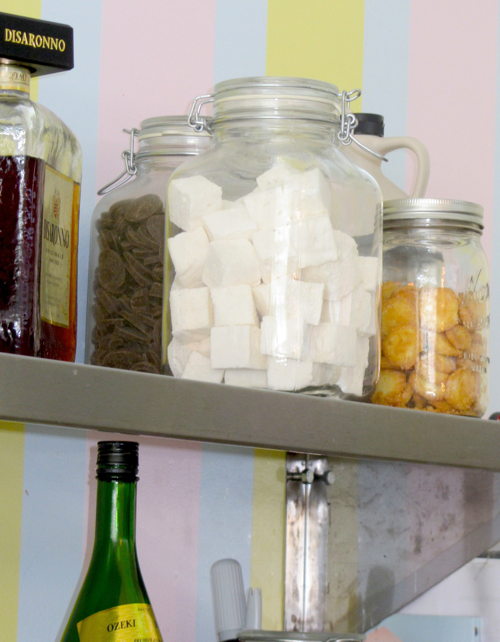 Handcrafting marshmallows the old-fashioned way "is a hurry-up-and-wait situation," says CBP manager Colton Steeve. "You have to patiently wait for the sugar to go through each plateau" as its temperature rises; "then you have to mix it with whipped eggwhite to increase its volume. That part is kind of frantic. Then you let it rest" and eventually slice the panful of fluffiness into neat squares with a guitar cutter.
Flavored house-made marshmallows -- passionfruit, strawberry, blueberry, mango-lime, bourbon-grapefruit -- are also featured at San Francisco's Ice Cream Bar & Soda Fountain, where house-made marshmallow fluff graces sundaes and a toasted house-made sassafras marshmallow crowns every root-beer float.
San Francisco's Bluestem Brasserie has as its signature dessert the Honolulu Hangover cake, which executive chef Francis Hogan calls "our nod to a major part of classic Americana, the chocolate candy bar. We top it with a reinterpreted marshmallow meringue which is light and fluffy but still has the distinct flavor and texture of a marshmallow.
"As we grow, our palates change, adapt and are exposed to many new tastes. However, it's those familiar flavors like marshmallows that will always evoke a sense of youth and comfort," Hogan explains.
Wente Vineyards' pastry chef Danielle Weigart, creator of the tart that spurred this column (and whose recipe she shared; see below), agrees:
"Marshmallows are a favorite treat of mine from childhood. I incorporate them into many of my desserts because of how relatable they are. Everyone has a memory of toasting them by the campfire, sipping them in hot cocoa, or making Rice Krispies treats with Mom. I can't help but feel nostalgic every time I put them on a dessert.
"For one of my most recent menus I used a pate sucre tart crust and filled it with dark chocolate ganache custard and served it with pineapple jam and candied ginger. On top, of course, was a big fluffy mound of toasted marshmallow meringue."
 
Videri Chocolate Factory, a small-batch bean-to-bar North Carolina-based outfit that netted gold, silver and bronze medals at the 2013 International Chocolate Salon Awards, produces chocolate marshmallows which, as you can see in this picture, might actually be lighter than air.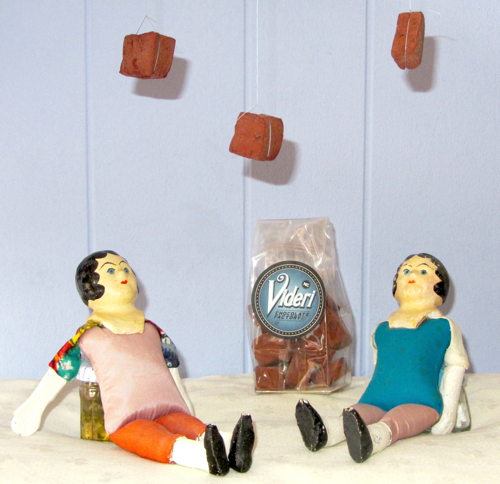 "The marshmallow is a great way to have a soft, yielding product" that "gives wonderful contrast to the snap of well-tempered chocolate," says Videri's confectioner Helen Pfann. "The Videri Chocolate Factory is a nut-free facility, so I am always looking for ways to create different textures and eating experiences. ...
"People have always loved s'mores and similar products like meringue and nougat," Pfann adds. "I think the appearance of the marshmallow in high-end restaurants, chocolate shops, and bakeries is reflective of a wider trend towards a more playful palate. Kitsch is an important element in the dessert world" these days, with Froot Loops and (yes) Peeps popping up everywhere.
In honor of National S'mores Day, San Francisco's S&P Brasserie will serve a "Trio of S'mores" plate on August 10 only. The plate includes smoked chocolate s'mores; a s'mores milkshake with marshmallow, graham cracker and vanilla ice cream; and a s'mores cupcake with milk-chocolate ganache and meringue frosting: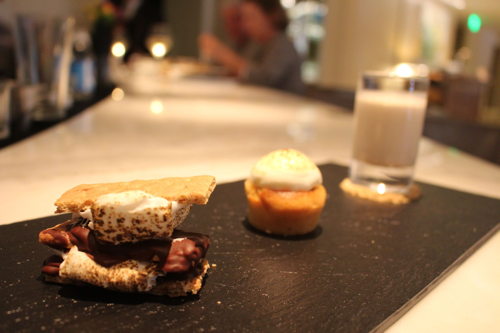 Since everything else is cropping up in cocktails these days, of course marshmallows are too. The folks at Lucas Bols USA responded to my request for a marshmallow cocktail by devising, just like that, the "Stealth S'more," a complexly hot and indeed stealthy surprise whose recipe appears below.
Marshmallows and beer: the final frontier?
Yes, says Samuel Adams brewer Jennifer Glanville:
"One of the beneficiaries of our Samuel Adams Brewing the American Dream philanthropic program makes delicious marshmallows with our beer." Boston-based Strawberry Hill Confectioner has made marshmallows with various brews including Samuel Adams Cherry Wheat, whose "malt character contributes some additional sweet notes to the marshmallow. The slight tartness of the cherries adds another layer of flavor. 
"I have found that marshmallows and beer can go great together as a pairing, if done the right way. The carbonation in beer is perfect with marshmallows because it essentially lifts the flavors off your palate," Glanville says.
"For example, I think s'mores and beer is a great pairing. ... The sweet notes of caramel and toffee in a beer like Samuel Adams Boston Lager will complement the creamy sweet flavors of the chocolate, while the spicy notes of the hops will be a nice contrast to the rich, dense sweet flavor of the marshmallow. Another good pairing would be Samuel Adams OctoberFest. The bold malt flavors found in this brew complement the sweetness of the s'mores, perfect for some Labor Day roasting around a campfire."
Inspired by San Francisco's notoriously foggy summers, Bluestem Brasserie's owner Adam Jed created a summer cocktail he calls Karl the Fog: It comprises brandy, Benedictine, Frangelico, coffee liqueur, and brewed coffee topped with a toasted marshmallow meringue.
"What is more American or nostalgic than the marshmallow? ... When developing a drink to represent summer in San Francisco there was no better choice that using a marshmallow," Jed says. "It makes a nice 'fog' cap, coats the mouth, and puts a smile on everyone's face. We have come a long way from the original medicinal purpose that created it. Or have we? Happiness is one of the best cures I know."
Danielle Weigart's Chocolate-Marshmallow Tarts
(recipe yields enough for 1 large tart or 6 individual tarts)
Marshmallow Meringue                      
1 cup sugar
1 cup
½ vanilla
Pinch of cream of tartar
 
Put egg whites and sugar in a bowl over a bain-marie and heat on low until sugar is melted and whites are pasteurized: 10-12 minutes. Stir constantly being careful not scramble. Remove bowl from heat and fix onto stand mixer with whisk attachment. Whip until slightly foamy then add cream of tartar. Continue whipping to soft peaks, then add vanilla. Finish whipping to medium peaks, then transfer marshmallow to a piping bag with the a large round tip. Or leave in bowl and use a spoon to dollop.
 
 
Baked Chocolate Ganache 
½ cup sugar
½ cup water
4 oz butter
12 oz chocolate
6 eggs
 
Combine sugar and water in a pot. Put on stove over high heat until sugar is dissolved. Add butter to sugar syrup and remove from heat once melted. While still very hot, pour sugar butter syrup over chocolate and allow to sit for one minute, giving the chocolate time to fully melt before mixing. Mix ingredients well and set aside to cool to luke warm. Once slightly cool mix eggs quickly and thoroughly. Avoid over mixing. You do not want to incorporate air into your ganache. Pour batter into prepared tart shell (or ramekins) and bake at 325 (fan off if convection) for about 20-25 minutes. When done, ganache should be set on the sides with a slight giggle in the center (custard set) and very shiny. Remove from oven and allow to cool to room temp before refrigerating. Allow to sit for at least 2 hours in fridge before serving.
 
Pipe marshmallow on top of tart and toast with a kitchen torch. Serve with your favorite accompaniments.
The Stealth S'more, Courtesy of Lucas Bols USA
 
2 oz Bols Yogurt Liqueur
1.5 oz vanilla vodka
0.5 oz Bols Peppermint White
3 dashes chocolate bitters
top with hot chocolate
 
Build drink in a toddy glass. Float small marshmallows on top.
Samuel Adams® "Adult" Hot Chocolate
(serves 4)
2 Bottles Samuel Adams® Cream Stout
6 TB. Brown sugar
4 oz. Semisweet chocolate
½ tsp. Chili powder
White chocolate for shaving (optional)
Raspberries (optional)
Sugar to rim glasses
In a saucepan, bring beer and brown sugar to a gentle boil, cooking for about 3 minutes. Over a low heat, whisk in chocolate and chili powder. Pour into 4 sugar-rimmed martini glasses, and serve warm. Garnish with white chocolate shavings or raspberries, if desired. *Note: Use the best chocolate possible and make sure it's semi-sweet, not bittersweet. The chili powder actually brings out the chocolate/beer flavor without being spicy.
Trio of S'mores image by Yuyu Sueda. All other images are by Kristan Lawson.