We all owe the Netherlands, big time. Why? Because this tiny flat nation has generously provided the world with the Holy Oily Trinity: cookies, pancakes and (as we noted last week) doughnuts.
Sure, the basic concepts behind this tasty triad were known in ancient times: Hey, Claudius, splatter batter on that hot greased surface! Yo, Vishnu, deep-fry these dough balls! But in the Netherlands -- as koekjes, poffertjes and olykoeks -- they came into their own as we know and love them today. Are you nibbling an old-fashioned at Mister Donut in Tokyo? Baking a batch of hermits in Detroit? Buttering a blueberry pancake at the IHOP in Dubai? On your knees, ingrate.
To honor their origins, should all pancakes prepared everywhere henceforth be shaped like a map of the Netherlands? I have done it, as depicted here. So can you!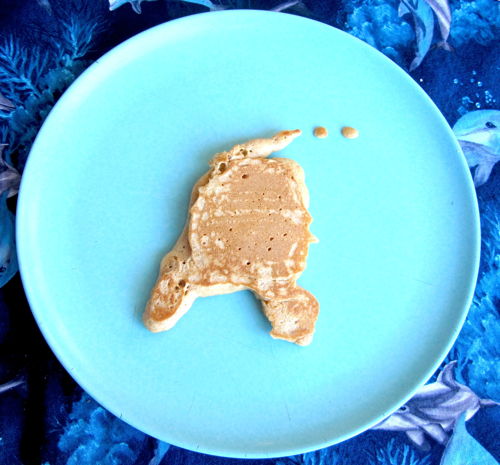 Should we go even further with our cookies-doughnuts-pancakes obeisance? Should the Netherlands' name be changed to CoDoPa? Sure, it sounds a bit pharmaceutical, but it's easier to say than "the Netherlands," especially after one has been drinking. (Given that CoDoPa is also the birthplace of Heineken beer and Bols Genever -- which merge in the Dutch holiday tradition of kopstootje, aka "little head butt," as depicted below -- how can one help but drink?)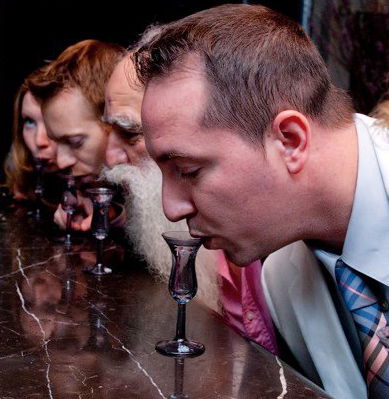 On many trips to CoDoPa, such as the one spent researching my book Weird Europe (which was also spent acquiring genuine saints' relics and the world's smallest tarot deck), I ate powdered-sugar-dusted poffertjes and local cookies such as spicy speculaas (they're shaped like jolly windmills, so you want to hug them before eating them) and sturdy stroopwafels: Comprising caramel syrup between two thin crispy waffles, these proto-sandwich cookies are the ancestor of Oreos, Nutter Butters, Mystic Mints and Double Stufs.
As seen below, I used a cookie to celebrate CoDoPa's many glories. The coffee cup represents Peet's Coffee, whose founder Alfred Peet was Dutch. The red guitar represents Eddie van Halen, who was born in Nijmegen.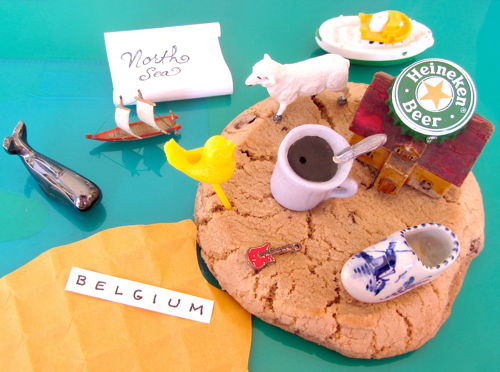 What is it about Dutch history, topography and culture that spawned the CoDoPa Pantheon?
"We have the ingredients: flour, rich cream, sugar from beets, fruits and honey," says Jan Willem Boogman, who co-owns Billings, Montana-based Caramel Cookie Waffles with his brother Han. The Utrecht-born pair bake stroopwafels according to a closely guarded traditional recipe.
The cloves, nutmeg, mace, cinnamon and other exotic spices that flowed from Asian colonies during the post-1602 Dutch East India Company era "enhanced the flavor and durability of baked goods" in the Netherlands, Boogman says.
Cookies are part of CoDoPa's social fabric, in and outside the home.
"If you order a coffee in a restaurant in Holland, it always comes with a small cookie," Boogman says.
"Having a cookie with your tea or coffee is a very typically Dutch custom," adds Wendy de Laat, proprietor of ILoveStroopwafels.com. "When you visit someone during 'coffee time,' you always will be offered a cookie and your host basically expects you to accept it. I worked in a nursing home when I was younger and people would look at me funny if I forgot to give them a cookie with their coffee."
"My earliest 'cookie memories' all have to do with my grandmother," she says. "She always used to have a cookie tin, not a jar, and there would be a selection of various Dutch cookies in them. Stroopwafels were always in there."
Stroopwafels were invented in 1784 "by accident, because a baker did not want to throw out his cookie scraps," says Ohio-based de Laat, who also uses a secret recipe and ingredients imported from the Netherlands for her stroopwafels.
What other variations on the Holy Oily Trinity (aka HOT) does CoDoPa have up its butter-soaked sleeve? De Laat boosts bitterballen -- deep-fried, meat-ragout-stuffed dough balls -- and gevulde speculaas, an almond-studded, marzipan-stuffed shortbread.
Boogman cites sweet-pretzel krakelingen, bitter koekjes (almond macaroons), Brabandse bollen (creampuffs), Limburgse vlaaien (pizza-sized fruit and custard tarts) and pannekoeken: crispy-edged crepes. His favorite is the spek pannekoek, made with bacon and molasses syrup.
John Duggan, who owns Original Joe's restaurant in San Francisco, played professional basketball in CoDoPa for five years.
Belonging to a family of restaurateurs, "I was obviously interested in food, so I tried a lot of it," he says -- and especially loved what he calls "comfort-driven street food" such as bitterballen, thick split-pea soup and herring with onions.
"It's totally unlike anything we have in the U.S.," Duggan says, but adds poignantly: "I've never been anywhere else on the planet where there was a Dutch restaurant."
Too true. Unless you count IHOP.
Koopstotje photograph courtesy of Lucas Bols USA, used with permission. All other photographs courtesy of Kristan Lawson, used with his permission.