Having established that 2013 is the Year of the Brussels Sprout, let's hear what some leading chefs have to say about our newly crowned Cruciferous King.
First, I asked the chefs what they think is most fun about cooking Brussels sprouts.
"They are magical little gnome-beings," says Amy Murray of Revival Bar + Kitchen in Berkeley. "They're like baby cabbages. All chefs love baby vegetables -- it softens our overworked hearts. They are delicious caramelized: slow-cooked, roasted, and they absorb all kinds of great flavors. The leaves are sublime sautéed. Once you peel away the leaves to reach the baby inner heart, you smile.
"It's playful and whimsical to cook the mini-heart center in pilafs," Murray adds. Yum!
Here's how chef Matt McCallister cooks them at FT33 in Dallas: with sunchokes, spicy chile sauce and candied pecans: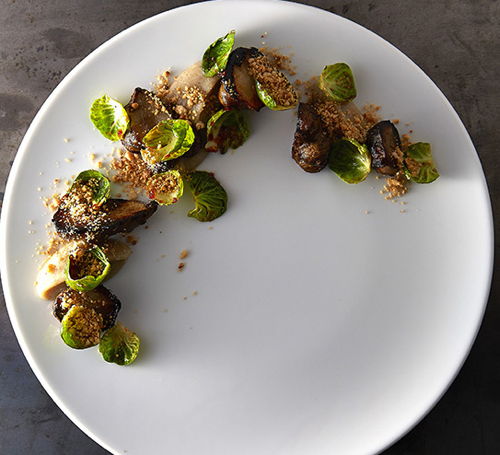 "Brussels sprouts are pretty resilient and versatile," says Mike Yakura of Dobbs Ferry in San Francisco. "The texture after cooking can range from crunchy to super-soft. They can be blanched in salted water, deep fried and roasted whole, but the absolute best way is pan-fried in brown butter."
Unlike artichokes -- "which go brown" -- or carrots, which roll around when being chopped, "Brussels sprouts are easy to prep by cleaning the bottoms and wiping away the outer leaves," says Martino Di Grande, who owns San Francisco's Palio d'Asti. "Their versatility also is appealing. I use them anywhere cabbage would go because they're a fun alternative to the big heads of cabbage with a similar effect."
This gives me an idea: My absolute favorite childhood dish was stuffed cabbage, which Mom made with ground beef, tomato sauce and raisins. Someone with tiny deft fingers and all the patience in the world could conceivably craft stuffed Brussels-sprout leaves. Oh man. Now I'll have to spend a few nights camped out in the woods near here in order to abduct and enslave some elves.
At SPQR in San Francisco, executive chef Matthew Accarrino serves sprouts with bone-marrow sformato, short ribs and candied horseradish. At Chambers Eat + Drink (mislabeled as merely "Eat + Drink" in last week's column), in San Francisco's Phoenix Hotel, executive chef Trevor Ogden serves roasted sprouts with black garlic and chorizo. Executive chef Jose Garces at Chicago's Mercat a la Planxa makes Mar i Muntanya -- "Sea and Mountain" -- with short ribs, scallops, Beluga lentils and crispy Brussels sprouts. Behold: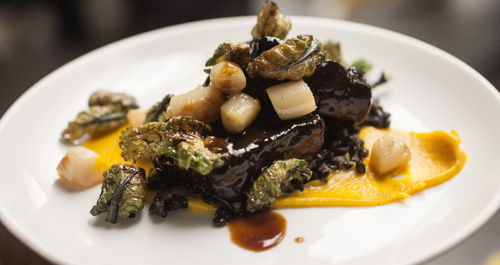 Alan Carlson of Oakland's Italian Colors says what's fun about our Brusselian buddies is that "you can surprise people with how good sprouts can taste." Carlson demonstrates exactly how to do so in this video.
"The fun part about cooking Brussels sprouts is getting people who originally hated them to love them," beams Devon Boisen of Oakland's Terrace Room. "I love converting people culinarily. It makes me feel like I'm pulling into the dark side. Mwahahahahahaaaaa.
"The beautiful thing is that there's actually no difficulty in cooking them. it just seems that way because everybody is so bad at it. Here's the trick: Butter. Salt. Water. And don't overcook them," Boisen says.
Arthur Wall of San Francisco's Garcon! agrees:
"The fun part of cooking Brussels sprouts is to create the caramelization that transforms them from a flavorless raw vegetable to a rich, delicious vegetable and in the process coverting non-sprout lovers to surprisingly really enjoy them," Wall muses.
In the last few years, sprouts have made an amazing ascent. I asked the experts why our tight-leaved little friends spent so long as the world's most hated vegetable.
"After you blanch them in water, they smell like a bag of wet gym socks," explains Yakura, who has been named as a San Francisco Chronicle Rising Star Chef. "It's that natural aroma you get from cooking green vegetables like asparagus, artichokes or cabbage. But Brussels sprouts seem to have an extra layer of funk after you dunk them in water. That's why I prefer dry-cooking methods over wet when preparing them."
They spent so long on the hate list "because people did not know how to cook them the right way," Di Grande says. "Simply boiling them in plain water will make them bitter as all the flavor is then leached into the water and you're left with over-boiled bitter green bits.
"At the restaurant, I have to remind people that this is not their mother's kitchen and we cook for a living so while you may have hated the way your mother cooked sprouts, we will do it the right way and you will like them. The fact that we add butter and bacon doesn't hurt either," Di Grande adds.
"Not too many people cook them properly," notes Roland Passot of San Francisco's La Folie and the Left Bank Brasseries in Larkspur, Menlo Park and San Jose, CA. The French chef knows: "They need to be cooked until tender."
Wall indicts as the culprit "that gaseous, petroleum-like flavor -- the same as you would find in cauliflower or broccoli. I shave my sprouts medium-fine, which allows for that to escape" in the cooking process. He adds that sprouts also got a bad rap because for generations "they were misrepresented, as were spinach and broccoli," because most home cooks used frozen sprouts, boiled: "Yuck," Wall opines.
Bob Cina of District in Oakland agrees:
"Brussels were always famously unpopular because they were always cooked with poor technique in average American households. My sincere apologies to all those hard-working moms out there trying to get your kids to eat their veggies, but y'all had no idea how to make a Brussel taste good. Boiling them 'til they're mushy and brown is not the way -- maybe crispy and brown instead," says Cina, who is currently serving roasted sprouts with butternut squash, house-cured pancetta, sage butter and caramelized golden raisin-Banyuls sauce.
Amen to that.
FT33 photograph courtesy of Kevin Marple. Mercat a la Planxa photograph courtesy of Galdones Photography. Both photographs used with permission.