When Hostess went belly-up last November, everyone wondered what would take its place. Because surely something would, because ever since Twinkies were introduced in the 1930s by the same industrial Illinois bakery that produced Wonder Bread, generations of Americans grew up craving these largely unnatural little logs along with Ding Dongs, squiggle-topped chocolate CupCakes and other Hostess desserts. For me, it was soft, primordially dome-shaped, coconut-flecked Sno Balls. (But honestly: Did anyone actually ever crave a Ho Ho?)
This week, bankrupt Hostess Brands agreed to sell Twinkies, Ding Dongs, Ho Hos, Sno Balls and Zingers to a pair of investment firms in a deal worth $410 million, according to the New York Times. These firms will acquire five Hostess factories, where -- if all goes according to plan -- baking will resume and the popular products will return to stores within months.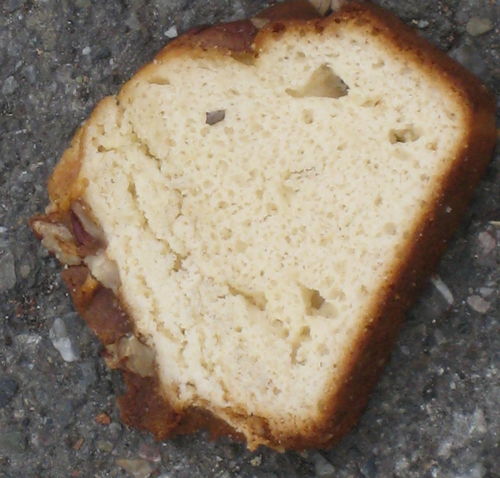 But the post-2012 Twinkie Void has raised many questions, such as: Why did we eat these things? And: Does an increasingly source- and sustainability-conscious America still prefer packaged cakes that contained -- as Twinkies did -- dozens of ingredients including cellulose gum, sodium acid pyrophosphate, sodium stearoyl lactylate and Yellow #5?
Hostess began as just a small independent operation. Are other currently or formerly small independent operations gearing up to become the next century's packaged-pastry powerhouses, rising to fill the void with their own new-fashioned-old-fashioned factory-fresh treats made with far fewer and far less horrifying ingredients than their predecessors were? Last year, Starbuck's jumped into the game by purchasing the La Boulange bakery chain in a $100 million deal. What will eclipse Twinkies 2.0? Could it be big-business biscotti? Or assembly-line madeleines?
This week, I toured SugarBowl Bakery, whose Hayward, California plant has its own flour silos and produces 650 little round brownies a minute -- that's about a million every day.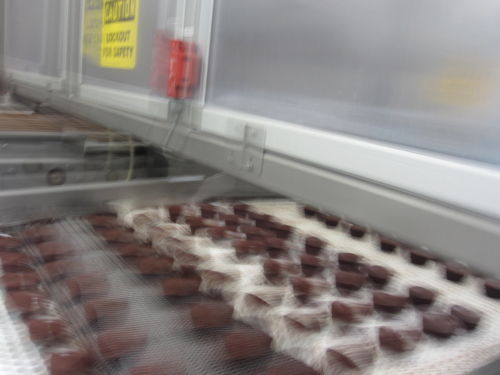 Once baked, these sweet brown multitudes climb to the heights to cool down:
Then, placed in boxes by rapidly moving robot arms ...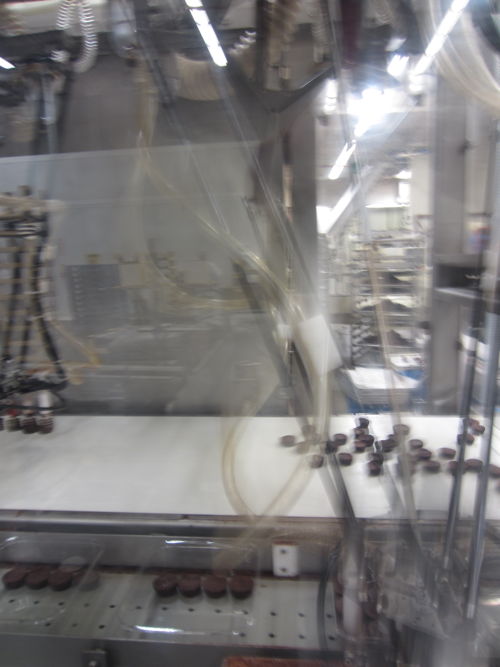 ... these Brownie Bites are sold by the truckload around the world at Costco, Kroger, Safeway and other big-box and supermarket chains as well as thousands of hotels, hospitals and restaurants, as are SugarBowl's crispy heart-shaped palmiers, dainty madeleines and half-brownie-half-madeleine Duet Bites. They contain no preservatives, trans fats, artificial colors or artificial sweeteners. The first ingredient in SugarBowl madeleines (850,000 of which are made per day) is butter. SugarBowl's Petite Brownie Bites contain Ivory Coast-origin cocoa. Because the production process is so streamlined, each pasty ends up costing consumers only about twenty cents. 
Now worth nearly $100 million, this rapidly growing privately held company started as a single San Francisco donut shop that members of the Ly family collaborated to buy in 1979 soon after arriving here as Vietnamese boat people, speaking no English and with no cooking or baking background. 
They had to be taught how to make donuts -- "but we had almost no money and this was the easiest way to make a living without having to depend on anyone," said Andrew Ly, one of five brothers who now co-own SugarBowl. "We started selling our donuts to other donut shops." Then the Lys opened more of their own shops, then closed these and moved into mass production, at one point manufacturing 700 different types of pastry -- then consolidating to only four as business boomed.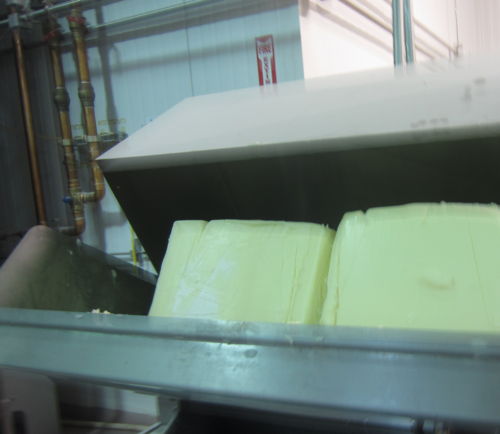 Here we see shoebox-sized blocks of Challenge butter waiting to begin a process called lamination, in which butter is folded into puff-pastry palmier dough and compressed again and again and again, eventually creating hundreds of tiny layers.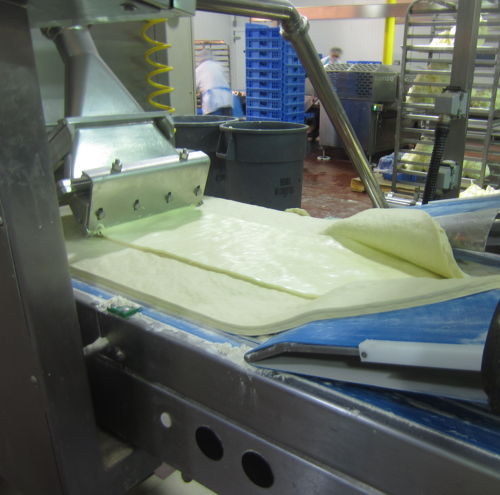 On and on the dough rides, folding constantly into itself: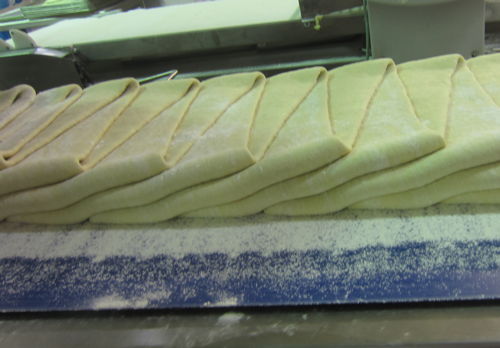 The dough is set aside to cool and "relax" before being sliced and baked.
"It takes almost a day to make a proper palmier," Michael Ly told me. SugarBowl is the nation's leading producer of palmiers -- which is the French name for pastries otherwise known as elephant ears. I had never heard the word "palmier" before seeing SugarBowl's palmiers. But will this now become a household word, a la Ho Ho?
Speaking of which: If you're still craving the mass-produced pastries of yesteryear, consider stuffing a Brownie Bite with Bird's Custard, as I have just done, to create a faux Hostess CupCake, aka a Fauxtess CupCake, sans detachable chocolate-icing hat and sans squiggle.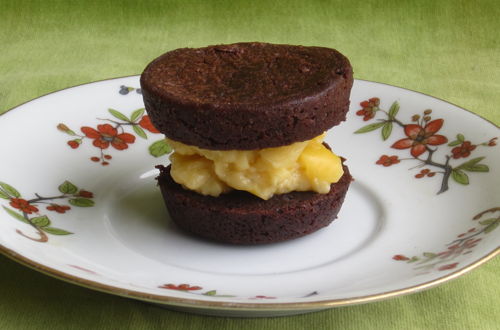 All photographs are by Anneli Rufus.