Popcorn is the perfect crunchy, salty accompaniment to film viewing, but it might be insufficient while watching two new mouth-watering movies -- Tasting Menu, opening today at Manhattan's Quad Cinema, and Chef, a Tribeca Film Festival selection scheduled for May 9 release. In both contemporary stories, when the camera captures the sensuous preparation of dishes, our taste buds are aroused.
Tasting Menu, an English-language Spanish-Irish co-production directed by Roger Gual, focuses on one particular Catalan meal. Jon Favreau's Chef is by contrast a culinary road movie that begins in a tony LA eatery and makes its way to Miami, where Cuban sandwiches are the delicacy.
A small group of diners gather in Tasting Menu at an exclusive Costa Brava restaurant for its last supper, as super-chef Mar (Vicenta N'Dongo) has decided to close at the peak of its success. They include a widowed, impoverished countess (Fionnula Flannagan); a curmudgeon (Stephen Rea) who makes secretive phone calls; a separated couple who booked the dinner reservation at an earlier, happier time, and two Japanese men competing to buy the restaurant. Misunderstandings, confrontations and touching connections play out while they taste delicacies like snail caviar, or sip a margarita inside an aloe vera plant.
When Tasting Menu premiered as the opening-night selection of the Galway (Ireland) Film Festival in July, Gual lamented that -- despite the enticing dishes onscreen -- he and the crew got to eat only sandwiches. But at an intimate dinner created in Manhattan by chef Mario Batali on Wednesday night -- inspired by the film -- the director acknowledged that the cast was luckier: "It's the only film I've directed whose actors were delighted when I asked for another take," he said over a scrumptious first course of Root Vegetable Salad with Foglie di Noce, Bee Pollen Cironette and Tomato Marmellata.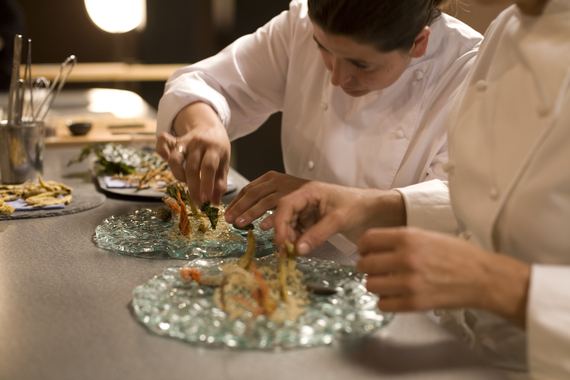 A scene from TASTING MENU. Photo courtesy of Magnolia Pictures.
At the Galway Film Festival, Flannagan recalled the shoot as the happiest of her career: "Eating in films is always a horror," she added. "But because each of the little dishes was divinely small, it was intoxicating food. Most of Catalan cooking is magical anyway. And Roger has a sense of humor as well as of the human condition."
Comedy is more central to Chef, an enjoyable ode to food, freedom and Twitter. Favreau plays Carl, a chef whose boss (Dustin Hoffman) forces him to cook old standards, especially when a famed food blogger is about to dine. Carl reluctantly complies and receives a nasty review that throws him into a deep and angry funk.
His 10-year-old son Percy (Emjay Anthony) teaches him to use Twitter, but can't prepare him for the fallout of Carl's vitriolic response to the critic Ramsey (Oliver Platt): what he thought was a personal message goes viral, as does a subsequent video of his verbally attacking Miller.
His ex-wife Inez (Sofia Vergara) encourages him to join her and Percy on a trip home to Miami, where Carl had honed his craft as a chef. In a delightful cameo Robert Downey, Jr. plays Inez's former husband, who gives him a used food truck to start his own business.
Carl gets his mojo back, creating a traveling mobile eatery. (Warning: the mere sight of the increasingly popular Cuban sandwiches that he prepares so lovingly with his son and loyal buddy John Leguizamo may increase your cholesterol, given the generous helpings of ham, cheese and butter on display. Ditto for the deep-fried beignets in New Orleans.)
Emjay Anthony, John Leguizamo, Jon Favreau, and Sofia Vergara in CHEF. Photo Credit: Merrick Morton.
It's no surprise that a filmmaker who has been directing such mainstream crowd-pleasers as Iron Man would make an independent film about a chef chafing at his restaurant boss and wanting to cook with originality and autonomy. Maybe preparing a movie and a meal are not worlds apart: both require skill, passion, the ability to galvanize a staff, and "proof in the pudding"--seeing the recipients of the concoction appreciating it.
The tension is similar too, between 'give them what they want' (which Carl calls being in a creative rut), and invent something unique that might not be embraced by the majority. Both Tasting Menu and Chef succeed in navigating between personal vision and audience expectation, as the characters create dishes that reflect their own juicy emotions.
_____________
Annette Insdorf, Director of Undergraduate Film Studies at Columbia University, is the author of PHILIP KAUFMAN.