It is a bright crisp morning on the banks of the River Seine.
The steady breeze disperses the clouds revealing a wide blue sky, spacious and uninterrupted, until it lands, softly, on the linden trees whose green and golden leaves dance and flutter in the constantly changing light.
I stroll westward along the Quai Anatole, taking in the Palais de Tuileries on the far side of the Seine, and on my left, the giant rail station clock at the top of the magnificent Musée d'Orsay building.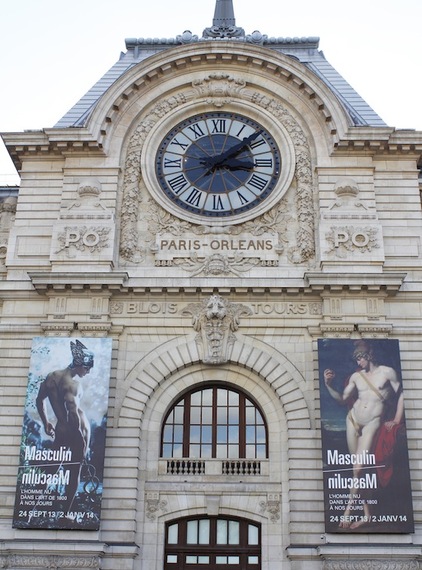 It is 10am. The private coach is waiting exactly where it's supposed to be, in front of the grand main entrance of the Musée d'Orsay. I climb inside and claim a seat alongside my fellow American travelers, of which there are fourteen.
Who are they? A particularly distinguished set of highly accomplished and affluent businessmen and women. Besides belonging to the same echelon of society their common denominator is their abiding passion for French culture, Paris, and art from the belle époque. Many of them have second homes here. And each of them has 'put their money where their mouth is', for want of a better phrase, by becoming members of the American Friends of the Musée D'Orsay. AFMO is a Paris-based non-profit organization that raises funds and awareness for the Orsay and Orangerie museums. The former is the world's largest repository of Impressionist art.
Today Peter Solomon is dressed in a dark navy suit jacket, dark grey flannel trousers and a sky blue shirt open at the collar. His complexion has a flushed pinkish quality, as if he has just returned from a day's skiing. His joviality and easy diction are anchored by a sturdy sophistication and intellect. Chairman of investment banking firm Peter J. Solomon Company and former Vice Chairman of Lehman Brothers, Solomon and his wife, Susan, are active philanthropists and co-chairs of AFMO.
Then there's Spencer Hays and his wife, Marlene. Mr. Hays made a deep impression on me. Approaching 80 years of age, he is tall with a soft face and benevolent eyes that half-squint behind thin-rimmed glasses. Hays is an exceedingly warm and gracious man, who, with his cheerful bonhomie gives the feeling that he would be equally joyful conversing with a farmer in the outback as he would at lunch with the President of the United States. It was only upon my return to New York that I discovered that he is worth some $400 million (as a result of his book-selling and clothing businesses), and that, he and his wife are so enraptured by French culture and art that they have modeled their Nashville Tenn. home -- down to every minute detail -- on a palace built in France in 1724.
Since the Hays' ardent Francophilia was ignited on their inaugural trip to Paris in 1971, they have amassed a staggering collection of French art, most of which is by the post-impressionist Nabis painters.
Last spring the Hays agreed to fly more than 100 works from their collection back to their roots, so that that the Musée d'Orsay could hold a summer exhibition, entitled A Passion For France: The Marlene and Spencer Hays Collection. Mr. Hays is on the AFMO Board of Directors.
Other board members include Alice Tisch, Sherry Jonson and the much celebrated American philanthropist Jeffrey Katzenberg.
The coach sets off, over the bridge and across the prodigious Place de la Concorde, through old narrow streets, and past endless tall and beautiful buildings. My company engages in spirited small talk and there is an air of bright anticipation as we approach our destination: the private home and atelier of Luis Vuitton.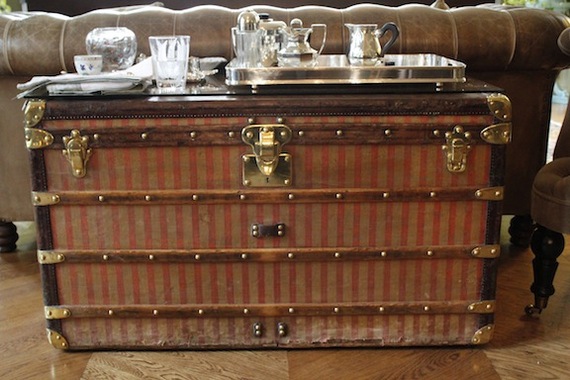 You see, during this particular long weekend in late October, thanks to months of hard work by AFMO executive director, Verena Thornton, and staff, the members were offered a program of exclusive visits to the most prestigious homes, collections and national treasures in Paris. (When I say 'exclusive' I mean that most of the places are absolutely closed to the public). Visits to the homes of Maryvonne & François Pinault, Lionel and Sandrine Pissarro, Hubert de Givenchy and Coco Chanel's last apartment were on the list, as well as a private tour of Hôtel de Beauharnais and The Hermès private museum and rooftop garden.
A cocktail reception in the Hôtel Talleyrand and a black-tie gala dinner in the Orsay also featured in the four-day itinerary.
Behind large modernized electric gates, Louis Vuitton's (1821- 1892) family home sits in the center of a luscious garden. A little way behind the house stands the three-story atelier.
Madame Godret-Bizot, our warm and gracious host, welcomed us into the living room. Two smartly dressed butlers took our coats and served us coffee.
Everything in the room, with its vintage Louis Vuitton trunks and exquisite Art Nouveau décor, has been left exactly how it was when Louis Vuitton lived there with his family.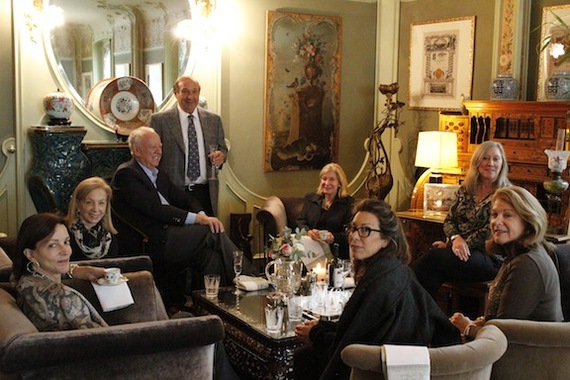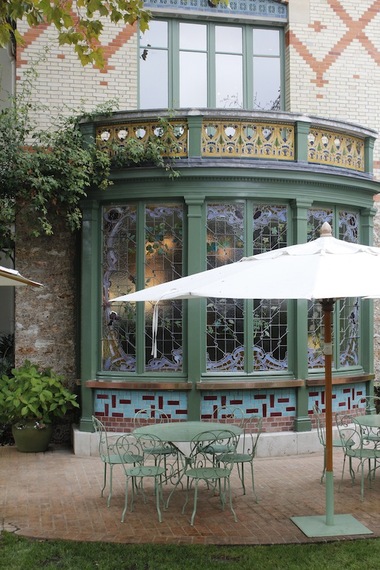 Madame Godret-Bizot then walked us over to the atelier.
The making of a Louis Vuitton trunk consists of a ten-stage production line. We walked through every stage, pausing every so often to talk to the craftsmen and women. How nimbly they hammered in those shimmering gold nails! Their precision was impressive.
"The craftsmen are not given a target number of trunks to complete each day,' Godret-Bizot told us. "Should they complete only one, that's fine; the vital thing is that it's perfect."
Our guide showed us the exotic skins -- ostrich, manta ray, crocodile and so on -- explaining how difficult and important it is to attain a skin that's perfectly blemish-free.
To meet this requirement and avoid protest from environmentalists Louis Vuitton have special breeding farms.
We visited the humidified tannery (wonderfully pungent!), and learned how all the vibrant colors are created. Finally, we saw some bespoke trunks that open up to function as luxurious liquor bars, workstations, DJ desks, etc.
Back in Louis Vuitton's living room we drank champagne and ate a delicious lunch, and Madame Godret-Bizot told us a about the early life of Monsieur Vuitton. He had a working class background. His father was a farmer; his mother, a miller, died when he was 10. At 13 he embarked on a solo 292-mile journey to Paris on foot and began work at a successful box making and packing workshop. He promptly gained elite clientele and in 1854 he opened his own shop -- the eponymous Louis Vuitton, which became the world's most valuable luxury brand.*
Before departing we were treated to one final tour of some of the first Louis Vuitton trunks ever made.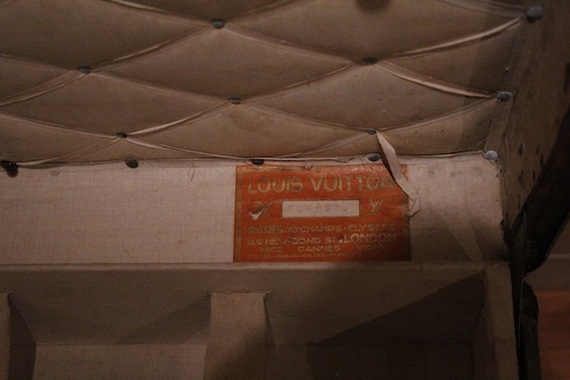 There is something truly enchanting about seeing the old trunks, imagining the miles they travelled, the scenes they witnessed, the lives of those who handled them and the fashion garments that they carried through those exuberant and turbulent times. I was reminded of Hemingway's A Moveable Feast -- an account of the life he lived in Paris in the 1920s. By 1954 he still had many possessions, manuscripts and clippings left behind in Paris so he purchased a large Louis Vuitton steamer trunk in order to transport them back to Cuba. It's this memorabilia that forms the book.
As we took our seats once again in our little bus Ms. Redel remarked -- "I would say that event was a 15, not a 10 but 15." Everyone agreed.
'Yes, we can all go back to New York now!'" someone joked.
On Saturday everyone rose early for a full day of visits: the Yves Saint Laurent Foundation, which included a rare look at the spectacular couture collections dating from the 60s, (strictly closed to the public), which hang inside huge white dust-free 'safes' that cover the entire top floor. Then on to a private tour, led by art historian Dr. Jörg Ebeling, of the Hôtel de Beauharnais, the finest Empire-style palace in Paris, which has a wonderful garden overlooking the Seine.
The ornate beauty of the place was such that the light in everyone's eyes seemed to shine more brilliantly with each room they entered.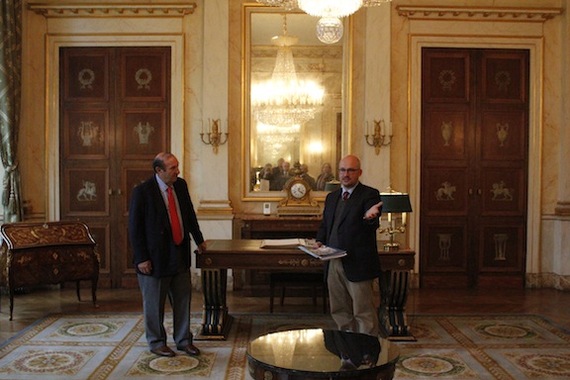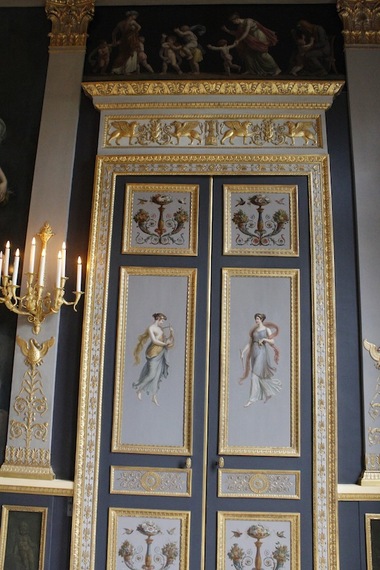 Jean Claude Binoche's apartment is on the much-loved Place des Vosges, the oldest square in Paris. A young and handsome art historian showed me around.
Each room was like the best room in the finest museum except that it was warm and homely and you could relax on the sofa and you were given delicious little things to eat and drink.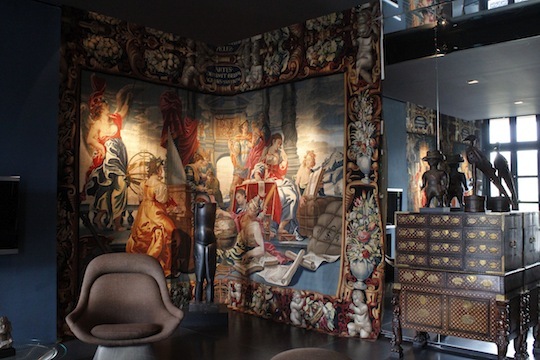 Given that the current climate under Hollande is one of fraught pessimism, AFMO's dazzling royal waltz through time and place seemed all the more surreal.
I couldn't help thinking of Woody Allen's Midnight In Paris where each night at the witching hour Owen Wilson's character is picked up in a vintage Peugeot and transported to the wonderful 1920s Paris, his idea of the 'golden age', where he rubs shoulders with the likes of Hemingway, FitzGerald and Picasso.
Could the thrill of so many intimate encounters with Paris' treasure troves, in a city so steeped in history and romance, be partly ascribable to a nostalgia for a 'golden age'? A subtle disillusion with the present world? And a rejection of the conceptual, ironic, multi-genre works that characterizes most art made today?
As if in response to this, on the final day we were brought tastefully back to modernity with a buffet brunch at the Gallery Thaddaeus Ropac Pantin and a performance conceived by the young and talented British artist, Oliver Beer. The gala dinner in the Orsay the night before had felt like a private party. Sunday's mood was like the post-wedding brunch, happy and relaxed, with Beer's Composition for Hearing an Architectural Space hitting just the right note.
* for the last six consecutive years (2006-2012)
Photos by Annie Fabricant