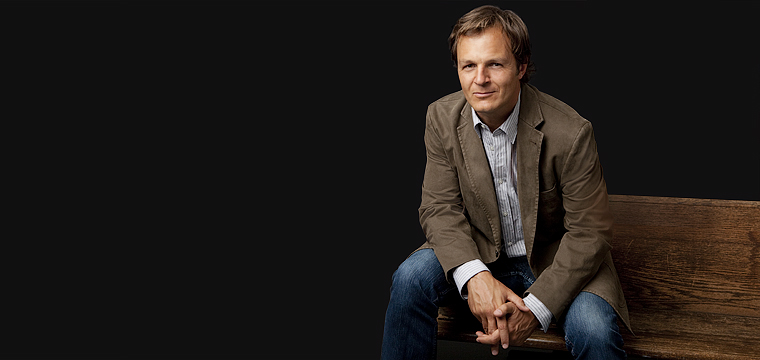 Photo Courtesy of Mark Rutherford
In 2004, Helge Hellberg became executive director of Marin Organic, an innovative association of organic producers in Northern California, dedicated to creating the first all-organic county in the nation. Currently, there are 52 certified organic operations in Marin County, producing everything from organic produce, award-winning cheeses, olive oils, pasture based beef, sheep, goat, pigs, poultry, and eggs, homemade preserves, bee products, flowers, and more. The organization has succeeded in its mission already when it comes to produce - virtually all fruits and vegetables grown in Marin are certified organic.
Marin Organic addresses today's environmental, economic, social and cultural challenges in new and creative ways and--possibly just as important--gets kids eating fruits and vegetables with lunch! They have resourcefully created a connection of local farms to local schools. Each week Marin Organic delivers a combination of purchased and "gleaned" (aesthetically imperfect crops) organic food to more than 12,000 students. Over 130,000 pounds of free local organic products have been gleaned and added to the lunches of students and underserved residents in Marin so far! Throughout the year, schoolchildren visit various local farms and help farmers harvest crops and plant seeds and seedlings. The goal: teaching the next generation where "real" food comes from and how to respect the land--and, of course, to get them off the couch, away from screens and outdoors into nature. It's estimated that 27 percent of American 17- to 24-year-olds are now "too fat to serve" (in the military). Can the rising green-food movement save us from becoming America: home of the blobs? I asked Helge Hellberg to shed some light on the issues of sustainability and human health.
Is a society full of fatty-sugary-salty-food-eating globular pod-people so wrong?
Well, yes, the United States is the third most obese country in the world, with 67 percent of all adult Americans being overweight. Sadly, in child obesity, we are already number one. And beyond the U.S., the problems of an industrialized food system are not much different: About 800 million people on this planet live in hunger, and 1.6 billion people are overweight, which means that twice as many people deal with the consequences of too much food--and the wrong kind--than people with not enough food.

Yet there was a time during the 20th century when an agricultural system of low-cost, high-volume food would be the answer to so many of the world's problems. Now it seems that cheap food is not only making us fat and sick but either extremely skeptical or completely oblivious. How is it that pink, puffy food items can be labeled natural?
I think it is fair to say that our current food system, as abundant and cheap as it may appear, is not working. While people have the right to have any body type they'd like, it is important to note that obesity costs our society about $150 billion in associated health expenses annually. But the story goes even further than this. We are what we eat, not just as individuals, but as a society.
Beyond all food-related diseases, this so-called "cheap food" is polluting our soil, air and water resources, is destroying local communities, and is relying heavily on oil and gas for shipping, synthetic fertilizers and pesticide production. The environmental cleanup costs are enormous; the way it's produced, the way it is making us sick and the way the ingredients are grown and raised is completely unsustainable.
Yet it's clear that we are waking up. We are in the middle of one of the largest environmental movements since the 1970s. The local- and organic-food movement here in Marin, as well as throughout the country, and actually all around the world, is rebuilding the connection that we have lost, the connection to what is real--real food, real flavors, the whole story of where your food comes from and how it was produced, in consideration of the eater, the environment we live in and the environment we create for future generations.
What's in the water that makes Bay Area foodies hell-bent on feeding the world safe & healthy food (carried in non-plastic bags handstitched by non-corporations)?
There is fantastic work being done in many places throughout the country when it comes to growing crops and raising awareness about the importance of local food production. However, the synergy of our constellation, of all our partners combined, placed right in the heart of the San Francisco Bay Area, is unusual and perhaps unprecedented. It has helped to move our work forward quickly and is has prompted visits by authors, government officials from around the world, and celebrities such as The Prince of Wales and The Duchess of Cornwall - which in return promote our work further.
The New York Times calls Marin County the "epicenter of the organic movement," and what we have built here is truly outstanding. It's a collaborative effort of amazing farmers and ranchers, governmental agencies, the Board of Supervisors, nonprofit organizations such as Marin Agricultural Land Trust, Agricultural Institute of Marin, the Farm Bureau and Marin Organic, supporting businesses such as restaurants and committed retailers, public and private schools, and of course a growing number of eco-literate residents that understand the value and critical importance of local agriculture for the well-being of the entire county. It's the most rewarding work I can think of, because we are healing the land, and with it, all beings that rely on it.
I am sure this movement will not be able to turn around everything that has gone wrong in agriculture over the last 50 years in just a few years. On the other hand, the growth of awareness around the issues of food production is astonishing. We now have an organic garden at the White House, and even the USDA, a federal agency with over 100,000 staff, ripped up the concrete in front of their building in Washington, D.C., and now features an organic vegetable patch.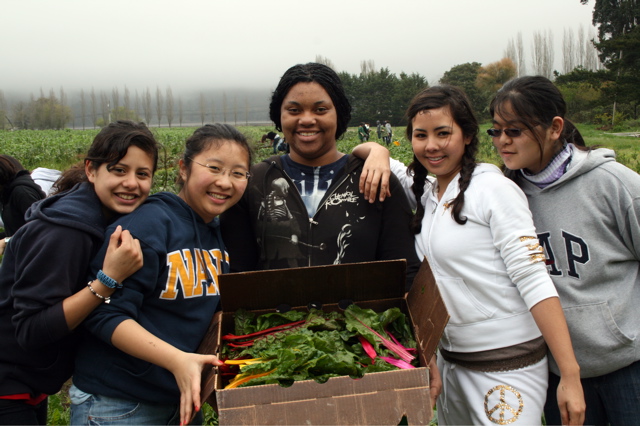 Photo by Fabio Sironi, courtesy of Marin Organic
Most Americans now spend a smaller percentage of their income on food than any other people in history--slightly less than 10 percent. Cheap, fake, packaged food that's flown in by jet and lightly seasoned with pesticides, animal parts, hormones and antibiotics is so trendy! Is buying our dinner at the Dollar Store, right near the plastic pink pony and comb set, next?
There is nothing "cheap" about cheap food. Cheap is an illusion--there is no cheap food, or no cheap anything, for that matter. There is only the real cost of production--what it would take to produce the product in a way that is healthful, environmentally sound, socially just and culturally appropriate. If we buy it for less than the real cost of production, someone will pay the difference in price--either our health, or the environment or the child laborer somewhere halfway around the globe. Someone or something will pay the difference for what we perceive as "cheap," always.
But what about the people who really can't afford to eat organic?
I'd say that as a nation we cannot afford not to eat local and organic. Many people live in food insecurity, even here in Marin County, one of the wealthiest counties in the country.So how would more expensive real food solve this issue? The answer is easy: A local food system benefits everyone. For example, only because we have local farms here in Marin County is Marin Organic able to "glean" produce left in the field after the harvest and deliver it to schools and resource centers in underserved communities. Up to 20 percent of everything that is grown throughout the country is not quite fit for market and usually plowed under. We are making great use of this food by delivering it to people that need it the most, and making it economically viable to give access to local and organic foods to 10,000 children, every week. This would not happen if the next farm was 200 miles away.

You recently had author Temra Costa on your radio show, An Organic Conversation, talking about her new book, Farmer Jane. How do you view the feminine power in the present-day food movement?
That's what it's all about--this movement is based on a reverence for life, which includes soil as the life-giving force that gives us food, clothing and feed for animals. Organic farmers grow soil. Without healthy soil, a society cannot exist. This movement also includes respect for seeds, and the freedom of the farmer to sow and harvest whatever he or she chooses to--without having their choice of plants being dictated by biotechnology companies. It's a re-connecting to life, our birth, our time here on this planet well spent, our death and the inconceivable wisdom of nature and natural law. These are all universal feminine attributes, so yes, it is about a rising of the feminine--much less about gender, but rather an honoring of femininity as the life-giving force on this planet. And while women leadership is so needed, we, as males, have a critical role in this dance--we are here to protect it, to be in service of the feminine.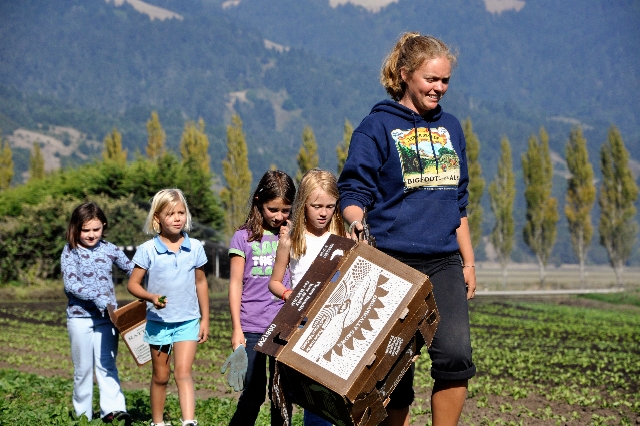 Photo by Fabio Sironi, courtesy of Marin Organic

Wendell Berry writes, "The corporations will grow, deliver and cook your food for you...and beg you to eat it. That they do not yet offer to insert it, pre-chewed, into our mouth is only because they have found no profitable way to do so." It seems advancing beyond the corporations to receive our food is the key--how do farmers markets fit in?
Food at farmers markets is often harvested hours before the market and usually brought in from farms within a 150-mile radius. So as a shopper you get nutrient-rich, delicious food that stays fresh longer in your fridge. As an additional benefit, you can enjoy community, and chat with and learn from your local farmer. What you pay for your food goes directly to the farmer, without any involvement of a distributor or other salesperson. It's the most direct way of buying food, right along with being a member of a CSA [Community Supported Agriculture], a weekly box program, offered by some farms in the region, or by "adopting a tree" from a stone fruit farmer.
Over the last 30 years, the pressure of industrialized food production has put 400 family farms out of business, every week! Four hundred farms a week--that's 56 farms each single day, or one farm every 26 minutes--for 30 years!
And with the loss of family farms often goes the local economy, the sense of local community, the knowledge of the land and the culture of food production. It's a tragedy. In this sense, buying local and organic food is a political act--we literally are voting with every dollar we spend, every day.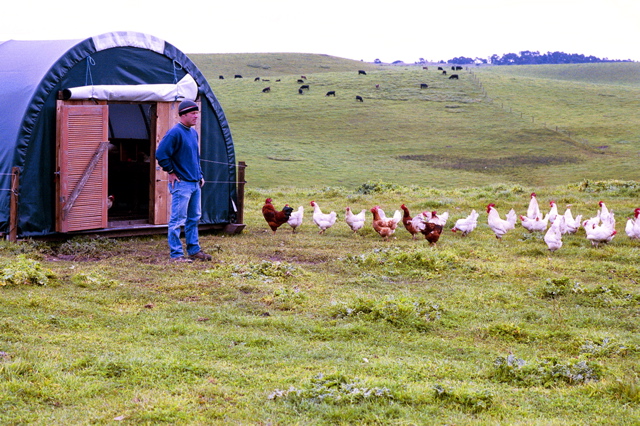 Dave Evans, a third-generation farmer - Photo courtesy of Dave Fix
Mrs. Obama recently suggested that the grocery manufacturers "not just tweak around the edges, but entirely rethink the products they're offering, the information that they provide, and how they market those products to our children." Will they listen or quietly shake more salt into her White House soup?
To have the president and the first lady involved is fantastic, and gives this movement an unprecedented leverage. It started from the ground up, and is now met by regional and national leadership, so change will happen even faster. The well-being of our society depends on the way we grow and produce our food, and on our relationship to our soil and our farmer. We are entering an era of authenticity and transparency--it's about the whole story.
What can people do right now to benefit their local food system?
I encourage everyone to eat as locally as possible, shop locally and become a Friend of Marin Organic! To help us in this work directly, Marin Organic offers a "Friends" program for anyone who wants to support our groundbreaking programs and initiatives, come to farm tours, farmer dinners and many educational events throughout the year.
And what can people do who don't live in the San Francisco Bay Area?
They can still become a Friend of Marin Organic, (Hellberg laughs) and ideally become a member of their local food organization as well!But in all seriousness, the local food movement, the re-connecting to what we value, real taste, the support of our local economies, respect for nature and animals, living and eating in a way that actually supports life - ours, and the life of future generations - is not based on a region or zip code. It's not based on income, or any kind of hip idea. It's not cool, or trendy, or a niche market in which we can make huge profits and then move away from.
The local and organic food movement is based on our commitment to listening, on a fundamental sense of place, a deep connection to our local soil and the flavor of the region. We have to take the phrase "to find your place in life" literal. No shortcut. No cheap food will ever make us healthy, whole, or happy. Nature is speaking, everyday, for decades, long before the unbearable epic disaster in the Gulf of Mexico. Obese children are speaking to us, as well as people in hunger, as well as communities that have lost their culture when agri-culture turned into agro-business.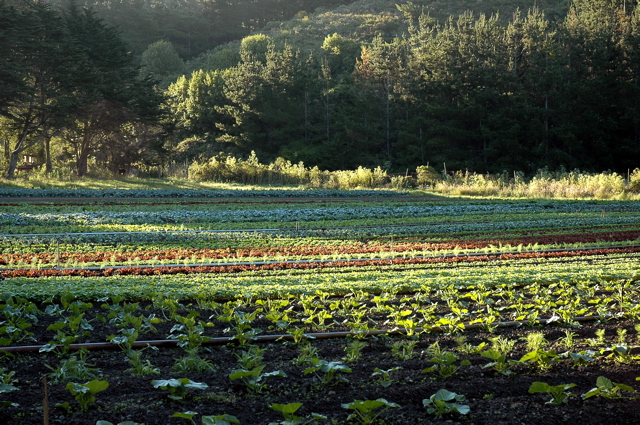 Photo courtesy of Green Gulch Farm, California
l love listening to your radio show because there's usually a guest farmer describing in great detail, the essence of the tastiest peach or pineapple guava they have ever grown. Give us a brief synopsis of the show.
At An Organic Conversation we are placing current food and organic agriculture topics within the context of inter-connectedness and relationships, spirituality, beauty, and life. The radio show features farmers, ranchers, food artisans, entrepreneurs, visionaries, and leaders in the organic food and holistic health movement who share their insights and stories. Topics range from cheese making, bee keeping, and olive oil production, to food justice issues, buying local and seasonal produce on a budget, and progressive approaches to global climate change through carbon sequestration. From our guests to even our underwriters, such as Sphatika Skincare, or Earl's Organic Produce, the show is a place of inspiration, passion and integrity.
But it is as much about our guest's stories as it is about the space between the lines. That's where you find it - the truth we are all seeking. It's not found in better arguments, it's found in silence, in the space between the words. It might sound funny for a radio show, but in essence, An Organic Conversation is really an hour of listening.
Listen Up! An Organic Conversation with Helge and his co-host and produce expert Mark Mulcahy airs every Saturday at 10am PST on Clear Channel's Green 960 or www.green960.com. For more information, visit www.MarinOrganic.org, and www.AnOrganicConversation.com
Thank Annie for introducing you to Helge at www.dirtdiva.com