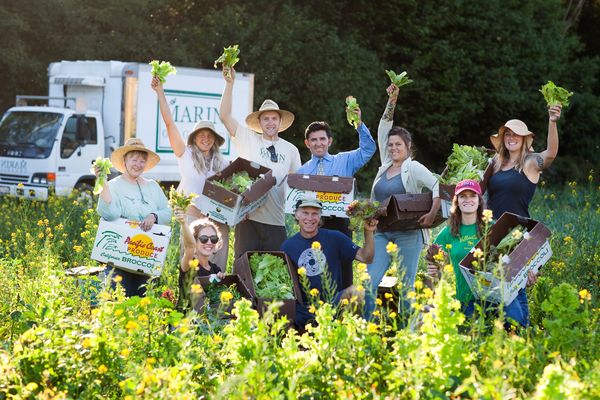 Photo courtesy of Paige Green Photography
Farmers estimate up to 20 percent of the food harvested in fields across this nation cannot be sold in the grocery store and is thrown out simply for aesthetic reasons. Fruits and vegetables, that otherwise are healthy and nutritious, are discarded because they may be slightly blemished, too small, misshapen or simply imperfect. (Newsflash: Mother Nature is not a neat freak. She's neither tidy nor flawless and she certainly doesn't wear her hair in a tightly knitted bun.) Finally, a group of committed and innovative farmers and hunger-relief organizations have found a way to make use of this food so it doesn't go to waste in a nation where too many, too often go to bed hungry. They 'glean' or gather the excess produce and grain left in the field by farmers, and redistribute this wealth.
Marin Organic, a nonprofit organization in Marin County, California has declared the first ever National Gleaning Day on Monday, September 20th, 2010. They hope to unite farmers across this great nation for a day of harvesting otherwise discarded food and to donate it to underserved schools, food pantries and senior centers. Marin Organic's Glean Team, which is made up of local students and community volunteers, takes it one step further. Not only do they glean crops from some of the fifty organic farms thriving in their 'hood, but they also deliver and donate the food to the local schools, feeding 10,000 students, weekly. This way, harried food service directors, who already are considered magicians for trying to pull nutritious school lunches out of their worn-out hats on budgetary chump-change, can actually serve fresh, nutritious, and locally grown, organic meals.
Say what??
Yea, you heard me right.
Two patriotic, God-loving words: local and organic.
Ta da!
"Six years ago Marin Organic began gleaning crops from the local farms when we recognized the resources that were left in the fields that could be put to good use in kitchens," says Scott Davidson, project manager and King of the Glean Team. "We began gleaning fruits and vegetables and bringing them to the schools. The donation of gleaned food saves the school some money in food service which then enables them to not only have access to wholesome, fresh food but to also be able to afford to purchase other organic food from local growers at below-market-prices."
Miguel Villarreal, director of food services at Novato Unified School District in Marin County, sees significant benefits from being involved with the Gleaning Program. "I have never felt as passionate and connected to a program that has so many benefits for the people, the community and the planet as I do for the Marin Organic Glean Team. There are few things more important to me than to help make a difference in our children's health."
(Sigh. When will we see McDonalds or the other unlimited numbers of fast-food "junk food purveyors" truthfully declare this, too, as their vision and mission statement for our future generations?)
There is a glimmer of hope, however. Just last week, U.S. Department of Agriculture officials visited The Novato Unified School District, calling the district's efforts to put local produce in its school's cafeterias a model for the nation. Allen Ng, western regional administrator for the USDA's food and nutrition service said Novato is one of three school districts in California that are considered models for how to improve school lunch programs nationally. He also praised Southern California's Riverside and Ventura school districts.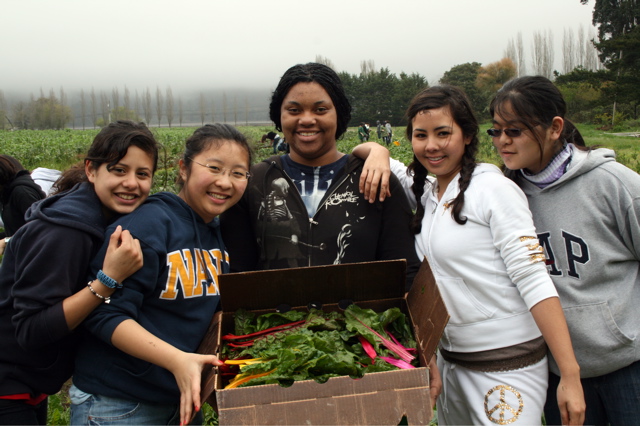 San Domenico Girls Glean Chard
Also along on the visit was Audrey Rowe, deputy administrator for the USDA's special nutrition programs. She added that the farm to school program can work even in areas that do not enjoy Marin County's easy access to local produce. "We're connecting schools in Chicago with farms in Pembroke, Illinois an hour and a half away, creating a food hub, " said Rowe.
Davidson says National Gleaning Day came out of the many relationships Marin Organic has cultivated over the last few years around the country. "Our school lunch program is not common and it's challenging for a local organization to connect the dots in these ways. However there are many people around the country who have been gleaning food who deserve acknowledgement." Davidson believes this is an untapped resource and that there's tremendous potential in bringing the community out to farms to glean. "It allows school kitchens to begin to use whole foods again that are grown locally."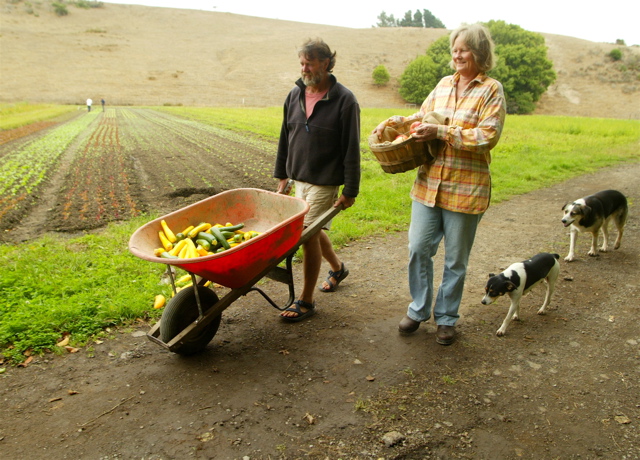 Real live farmers! Sandy and Dennis Dierks of Paradise Valley Produce
Farms and organizations across the country have already registered on the Marin Organic website to partner on National Gleaning Day. Backyard Harvest and Tierra Mercier Foundation are two in California along with Faith Feed in Kentucky, Benzie County Schools in Michigan, Society of St. Andrew in Virginia, Urban Gleaners in Oregon and Valley Stewardship Network in Wisconsin.
Sadly, the United States ranks number 1 worldwide in childhood obesity. Increased rates of child obesity and diabetes are among the most pressing health concerns facing our nation's youth. "Providing our children with local, organic, fresh food helps them make the connection between their health and a sustainable food system," says Villarreal. "It will be their responsibility to apply these lifelong lessons to their personal health and their surrounding environment." Villarreal and his staff at NUSD have managed to reduce sugar consumption in Novato school lunches by over 50 tons per year by eliminating notable 'acceptable' products such as chocolate milk, fruit juices, cookies, sweetened cereal, electrolyte drinks and numerous other products that contain high levels of simple sugars.
"The future of food is dependent on local and organic agriculture, and the well-being of any county in the United States is dependent on its relationship to its local food producers," says Helge Hellberg, executive director, Marin Organic. "When we fully recognize the myriad benefits of local and organic agriculture - environmentally, socially, economically, and culturally - we might find that we can feed all children in this country healthy local organic food simply by using our existing resources more wisely and reconsider what we call 'waste.' It's astonishing what is possible when we look at all that is already given to us."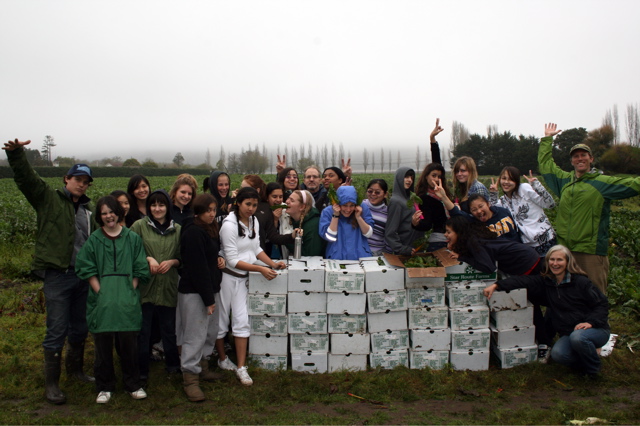 Gleaning at Star Route Farm in Bolinas, California
Get Gleaning! Build a movement to glean in your community:

Join gleaners across the nation on Monday, September 20, 2010:

1. Invite your community and local farms to sponsor a gleaning on Monday, September 20th, 2010. PTAs, church groups, non-profits, and after-school programs alike are encouraged to participate. There are several ways to help - from harvesting, to delivering the harvest, to community outreach.
2. Connect the dots between local school food services and farms. Ask a Food Service Director what they most need. Ask a farmer if you can glean the extras after they have harvested for markets.
3. Celebrate your choice to source an ingredient locally for school lunch with a special event. Educate your kids about where this food was grown. Invite students to harvest with their own hands. Label the food in the cafeteria line with a name and picture of the farmer.

To register as a National Gleaning Partner or to join the Marin Organic Glean Team, visit www.marinorganic.org/national_gleaning_day.php.

For more information on saving our family farmers and our food, visit www.marinorganic.org