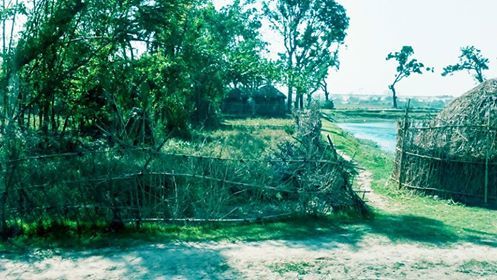 A few weeks ago, I posted the above photo to my Facebook account, complete with a celebratory caption. This vegetated plot of land -- located in rural India -- was where my organization, Humanure Power (HP), was going to construct its second community sanitation facility. The fact that this facility would have improved access to toilets and safe drinking water for nearly 1,000 families was major cause for joy. But at the time, my team and I were celebrating the method by which we had managed to acquire the land. Unfortunately, our excitement would come to an abrupt end in a matter of days. Let me explain.
HP purchased land from a local landowner to open its pilot community sanitation facility in the summer of 2014. The price was steep and the process of land acquisition did not necessitate participation of the community at large. Questions from donors about why we were spending a significant portion of our operating budget on land were cause for concern. More importantly, the community's skepticism about the extent to which we as an organization were going to involve them moving forward, left us feeling as though we were not actuating a core aspect of our mission statement; "Humanure Power fights alongside communities to eliminate open defecation...".
As we began making preparations for our next facility, my team and I decided that we would try to acquire government land. This would appease donors, and our bank account. More importantly, the process would require community participation. The community would have to organize itself in to a committee, headed by the local elected official, and sign a petition that would transfer ownership of government land to the community and HP for the purposes of building a community sanitation facility. Participation of this nature at this early juncture of the process would foster a sense of ownership over the entire project amongst the community.
A community desperately in need of sanitation services approached us and indicated their willingness to engage in this process. Within days of our meeting, the community organized over 190 households to sign a petition. We accompanied local leaders from the community to the district government offices, where the signed documents were turned over to the local department in charge of land. Land surveyors were sent to the plot in question - the one in the photo - to make sure the land was theirs to turn over. After an afternoon in the baking heat, the community and HP was assured that ownership of the land would be transferred.
Unfortunately, after a few days, the same surveyors told us that the land was in fact not theirs to turn over. Because the plot is adjacent to a large fishing pond, it belongs to the department of fish and wildlife. We took our petition to the minister of that department in the state capital. But it quickly became apparent that they would not turn over ownership given that the state profits off of that land. The fish and wildlife department, and their affiliates, refused to budge even after we proposed numerous workarounds. The community quickly began losing hope, and there was no other government land available in the area.
There is no happy ending to this story. Another community approached us where we were ultimately able to acquire government land. The original community continues defecating in the open.
There are a few salient takeaways from this anecdote. Had private land been available for purchase, HP would have spent the money to buy it. We would have found better ways to foster participatory development from the outset, unlike at the first HP site. We would have put the immediate needs of the community before the demands -influenced by an obsession with cost-effectiveness - of donors. Conditions that undermine fidelity to a development model should never immediately preclude a community from receiving essential services, be it from an NGO or the government.
But the most striking lesson is the confirmation that one deprivation endured by a community invariably leads to others. In this case, a community deprived of land is subsequently unable to access toilets, leading to health, social, and economic deprivations. While Prime Minister Modi has promised that every family in India will have access to a toilet by 2019, the question begs to be asked, where will people build this vital infrastructure? And let me be perfectly clear; I am not only talking about availability of land to build community toilets. In Bihar, where HP works, hundreds of thousands of families who were landless decades ago remain that way due to the failure of government land-reform schemes such as the Bhoodan Movement.
These are tenuous times for India's rural poor. Millions of Indian families already endure a cascade of depravations stemming from landlessness. If Modi has his way, current landowners might even lose this invaluable possession to make space for certain industrial and infrastructure projects. A high-speed rail network should only be considered after every Indian has her basic health, economic, and social rights accounted for. Ensuring access to sanitation infrastructure is a major step in that direction.