In 1982, Vietnam veteran Jeffrey Giglioli hadn't been feeling very well. His therapists at the Veteran's Administration encouraged him to return to his first love, still photography.
So he spent the summer at the Santa Monica Pier taking pictures every day. The carnies and commercial fisherman got used to seeing him there. He went around almost unobserved.
Turns out the summer of 1982 came just before the winter of 1983, when storms demolished the seaward half of the Pier. So Giglioli's photos are a living record of what didn't survive the storm: restaurants like Sinbad's, Al's Kitchen, and the Cocky Moon; things like the fishing fleet and the people who came to watch.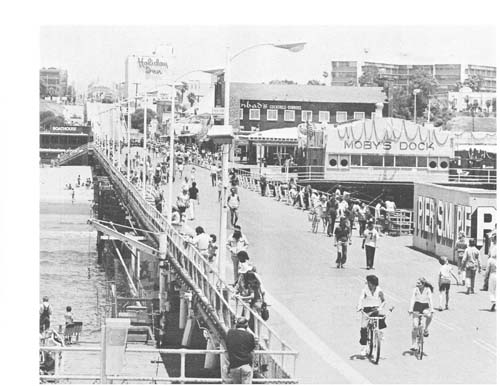 Giglioli pulled together the best of his shots and published them in a limited edition booklet in 1983, which went out of print. Somewhere along the way he also made some large scale prints from his negatives and he approached Anne Railsback of the Santa Monica Pier Restoration Corporation last year with those. She said Giglioli should exhibit them at the Pier Carousel, as part of the Pier Centennial.
The photos are up now through January 17, and they're definitely worth a look. They're beautiful and stirring, especially for fans of the sea and surf and sport fishing.
Over the holidays, Giglioli spent some days in the hospital for dehydration. He's home now and his wife Julie Slater-Giglioli says he's better. Last month, just before he got sick, he and I met down at the Carousel to talk about the photos and his life.
AR: How'd you get started in photography?
JG: My mother and father were muralists. They lived on 3rd and Occidental and did murals all over LA. When I was eight, I got this Brownie camera and my friend was in the backyard and he jumped off a swing and I took a picture. You saw this blurry image coming at you. And it worked.
Also, my stepfather was a photojournalist. And I kind of picked things up from him. In high school [at John Marshall], I was the photographer for the school paper. I also started a business. I did weddings, and composites for actors. Then one day I got drafted. And I did some time in Vietnam. I came home. And I really couldn't get back into it.
AR: Had you taken any pictures since you came back from Vietnam? Or was your time at the Pier the first work since Vietnam?
JG: This was my first photographic exploration. I did several after that. I had had all kinds of jobs. And it got to me and I finally said, "I'm going to do this." 1982 was a tough time.
AR: That was about a decade after you came back from Vietnam. Were things reaching critical mass for you at that time?
JG: It was like an alphabet that went half through and then it stopped. I just want to say that there are a lot of Vietnam Veterans out there that have more talent than I do. They paint, they write. So we're hoping this will encourage Vietnam Veterans. Creativity is a good outlet.
AR: Why'd you pick the Pier? The Pier was kind of left behind at that time, no?
JG: They had bumper cars! Everyone at the pier at the time treated me nice. And they treated me fair. And they didn't say, "No, he can't do this." It was open and I was free.
AR: What was the vibe on the Pier at that time?
JG: It was a place I felt I belonged, because it was so diverse. Guys in suits would come from Santa Monica for lunch. And then you'd have some other guys who were fisherman, and you'd have some other guys buying some bait. You could buy bait and the boat would go out in the harbor and you could fish. And it was really mellow.
AR: Show me the first picture that you took.
JG: It was of the [hand-painted] Pier Directory. It lists all the businesses that were here at that time. Also, the first day I got here, I stood at the top of the ramp where you look down and see the Carousel. And I just looked down and took the shot. I took one of my last shots that summer looking up the Pier the other way. I was standing on the roof of the Harbormaster's headquarters. I had to wait all summer for that for them to let me stand on the roof.
AR: Is this the first time you've shown your work? What's that like?
JG: Yes, this is the first time. It's kinda scary putting yourself out there. The main thing
I do is to try to invite people in, and hope they find something they like. That's why I have these big prints. You can't do that with an 8 X 10 print.
AR: Do you come back to the Pier much these days?
JG: I haven't really spent much time here. Every time it seems like a post mortem. It's hard. You have this beautiful thing. You meet a beautiful girl and you break up and you can't see them anymore. When you love something, leave it alone.
A Santa Monica Pier Centennial Exhibition Featuring the Photographic Vision of Jeffrey F. Giglioli continues through January 17 at the Carousel Hippodrome. Go to www.santamonicapier.org for more info.