The morning of June 27th the house known as Lefty at the Imagination Station was set on fire. It struck a blow to a large amount of volunteers and artists that have worked over the past few years to host events, shows and art installations there. The most well-know piece to come out of the Station was "Salvaged Landscape" by Catie Newell. The "Landscape" was part of "Lefty" for a while before it made a long journey to Grand Rapids where it won its category at Art Prize.
A little over a week after "Lefty" was engulfed in flames, volunteer power has restored some sense of order back to the station.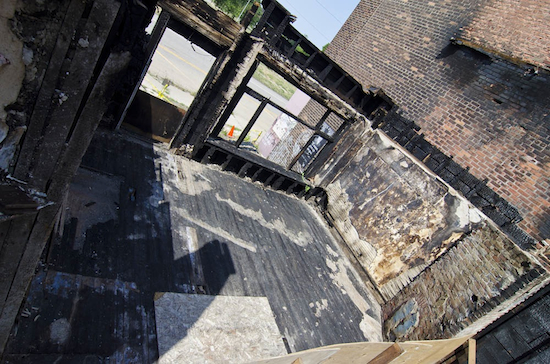 This Saturday, Zak Neers was painting a new mural on the side of "Righty" saying "It's OK." Jerry Paffendorf wants to stress that message as well. "Lefty" was destined for things -- what those things were is now unknown. "Lefty" was taken from all the volunteers and artists that put so much time into the project. It was a sharp blow. As a volunteer I can tell you it felt like something was taken. "Lefty" didn't go on its own terms.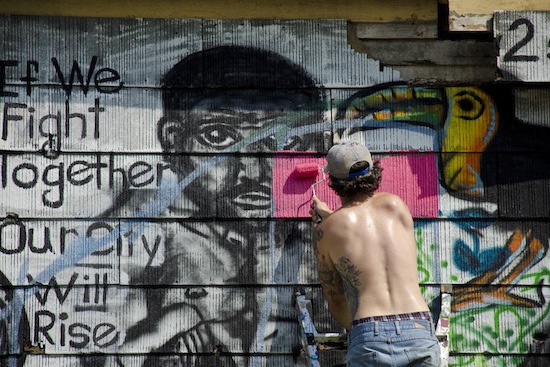 There was going to be a party this Saturday to paint said mural and get all the supporters and volunteers together, but the sweltering heat kept a lot of people away. Half the mural was finished and about eight people gathered to talk about the future, possible plans and projects. Stories and a few pops were shared. New friendships were forged and others reinforced in the July heat.
Jerry assures me and all of us that things are in the works -- much of which he is not at liberty to talk about, but he will definitely be around for the new footprint of "Lefty" and possibly a stage for more performances. But for now the message he stresses is "It's OK!"