In August, our daughter will turn five. Every day, she talks about her birthday -- which of her friends she can invite, where we will celebrate, whether her grandparents and cousins will visit. She asks if she can have a pink and purple cake and wants to make sure we get her little brother a gift so he doesn't feel sad. Even at this young age she knows what an important milestone this will be; she is looking forward to starting school, to learning how to read, and to being a "big girl."
For me it seems like yesterday that I was holding her minutes after she was born, thanking the universe for a healthy baby and a safe delivery. It amazes me that she has grown into this loving, fiercely independent little girl.
When my daughter was born, more than a million HIV positive mothers worldwide had to temper their dreams and aspirations for their newborns, knowing that they could pass HIV onto their children. In fact, 80 percent of HIV+ children die before the age of five, so most of the 420,000 children born with HIV in 2007 are not celebrating a fifth birthday.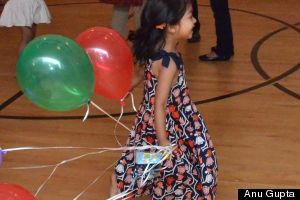 Since then, we have seen a dramatic rise in the number of HIV+ mothers who have access to safe medications that prevent transmission of the virus to their child. More children are being born healthy and celebrating their birthdays. In 2010, the global community made a commitment to bring the number of children being born with HIV to ZERO. As a champion of ending pediatric AIDS, Johnson & Johnson along with our partners EGPAF, mothers2mothers, UNICEF, and others were invited to join PEPFAR and UNAIDS in shaping and launching the Global Plan, a commitment document to end pediatric AIDS and keep mothers alive.
Last week, on the eve of the one year anniversary of the Global Plan, I was in Geneva reviewing progress towards achieving its goals. Governments, funders, NGOs, and civil society had come together to discuss progress, reveal challenges, and identify opportunities to accelerate action.
One area of particular discussion was the interest of some countries to give women simpler drug regimens. This simplified method is recommended by the WHO, but among the 22 high priority countries, it has only been implemented by Malawi. It was exciting that many more countries expressed willingness to make this switch. A discussion led by the Business Leadership Council (BLC) of which Johnson & Johnson is a member, in collaboration with the Clinton Health Access Initiative (CHAI) and UNICEF, helped re-frame the issue for those responsible for funding and implementing programs on the ground and we collectively examined the advantages and challenges of such a transition.
As I left Geneva, I was inspired by the ideas to leapfrog and innovate to reach more pregnant women faster and with better medications that could improve and save their lives, their infants' lives, and those of their uninfected partners. I was heartened by the frank discussions on funding gaps with the Global Fund who with its partner (RED) is committed to mobilizing funds to end pediatric AIDS. Most of all, I felt part of a larger collective, working together in diverse partnerships whether they be public-private, private-private, or public-public to make the Global Plan a reality.
We are well on our way to creating a world where all children can celebrate their fifth birthdays with their HIV+ mothers standing beside them -- smiling and envisioning their future together.