This story could only happen since the advent of Bicycle Culture 2.0.
Last night, the Mayor of London, Boris Johnson, was riding his bike home, heard a cry for help from a damsel in distress, hopped off his bike and saved said damsel from a pack of "feral girls."
The damsel, Franny Armstrong, happens to be the director of the recent film The Age of Stupid, a dystopic look at the possible results of our non-action on climate change. Armstrong, reports The Guardian, was walking through the northern London neighborhood of Camden, texting on her phone, when a group of young girls brandishing at least one iron bar pushed her up against a parked car.
That's when the Mayor happened to be riding by. Hearing Armstrong's cry for help, he got off his bike to ask the group of girls what was going on. Armstrong relates that at first nothing happened, but when she herself cried out in surprise upon recognizing the Mayor, the girls ran off.
As the Guardian puts it:
Johnson stopped and chased the girls down the street, calling them "oiks." He then returned to walk Armstrong home. "He was my knight on a shining bicycle," she said today.
What is truly great about this story, apart from Johnson's chivalry, is that you can hardly imagine it happening two years, or 20 years ago. The Mayor riding his bike home without an entourage of some sort...riding his bike?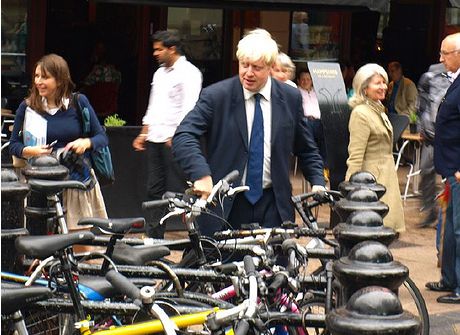 Boris and bike via internets dairy @ flickr.
Yet Johnson has become well known for his cycling exploits. He narrowly escaped death by lorry (a real hazard in London's streets, most especially for female cyclists) while cycling, and has been seen on his bike with both pretty girls and packs of urban planners, in both instances to promote better cycling infrastructure in London.
While Johnson's a cycling knight, here in the U.S. a road-rage cycling rogue came to some sort of justice yesterday.
Dr. Christoper Thompson was convicted of assault with a deadly weapon (in this case, a car) and reckless driving, among other counts, after he this summer passed a pair of cyclists only to slam on his brakes in order to "teach them a lesson."
Thompson faces a possible prison sentence, according to the Los Angeles Times blog.
Thompson testified that he never meant to hurt the cyclists, though prosecutors alleged he had had other run-ins with cyclists, trying to run two off the road earlier in 2008.
This is a bittersweet victory for cyclists. Nice that the courts implicitly acknowledge that cars can easily be used as deadly weapons against more vulnerable cyclists and pedestrians.
But Thompson was allegedly frustrated that cyclists were not obeying road rules on the stretch of street where the altercations occurred in Brentwood in Los Angeles.
The frustration of motorists won't go away simply because one rogue gets a sentence. In fact, road rage will probably increase until society decides that the top-dog status car drivers have had for so long needs to give way to, well, something different. Shared streets, yes.
But also a lot more mayors (and citizens of every stripe) like Boris.
Read more at TreeHugger:
Cyclist Hero Blumenauer Rides Around New York
Biking Boris Battles Death
6 Ways to Defuse Anti-Cyclist Road Rage