Matt Tyrnauer for Architectural Digest.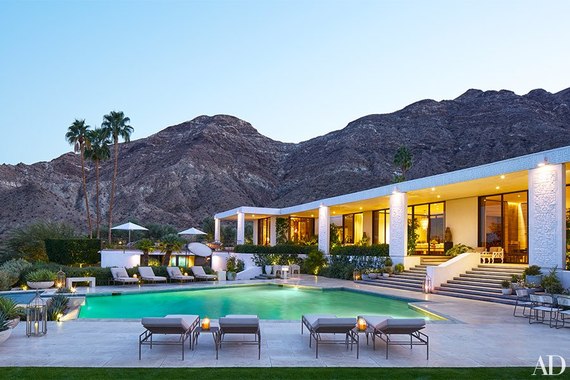 (photo: Roger Davies)
Mayan-themed architecture in Southern California is typically associated with Frank Lloyd Wright's astonishing 1920s textile-block structures, among them his Hollyhock and Ennis houses, both distinguished Los Angeles landmarks. But in the early '70s, architect Howard Lapham, an admirer of Wright's, created his own impressive take on Mayan Revival style, high on a desert hilltop near Palm Springs. Called Ichpa Mayapan ("exclusive estate"), Lapham's 11,000-square-foot glass-and-stucco fantasia features a hand-carved Mayan calendar in its entrance court, a façade richly embellished with stylized Mesoamerican motifs, and a keystone-shaped pool presided over by a colossal Mayan-inspired stone figure. The property, located within the Thunderbird Heights community in Rancho Mirage, offers commanding views of the improbably emerald valley floor and its many golf courses, as well as of Sunnylands, the former Leonore and Walter Annenberg estate designed in the '60s by A. Quincy Jones at the junction of Frank Sinatra and Bob Hope drives.
See more: 8 Kitchen Storage Solutions That Don't Skimp On Style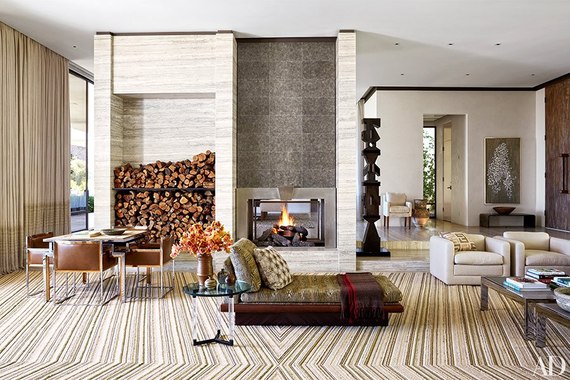 (photo: Roger Davies)
A few years ago, when L.A.-based designer Michael S. Smith was working on a new visitors' center for Sunnylands (now a museum and unofficial western Camp David), he found himself captivated by Ichpa Mayapan. "I was constantly looking at this house up on the mountain, the highest-elevation home in Rancho Mirage," says Smith, who notes a kinship between Sunnylands and Ichpa Mayapan in their "clean lines, broad roofs, and green lawns--a great refinement and opulence in the middle of this harsh wilderness."
Ultimately Smith and his partner, James Costos, the U.S. ambassador to Spain and Andorra, decided to buy Ichpa Mayapan as a weekend retreat. Over the past two years they have meticulously restored its exterior, while Smith has thoroughly reimagined the dilapidated interiors based on a "movie in my head," as he puts it. "I became fascinated by the era that the house embodies," he says."It reflects a certain type of Hollywood glamour from the lotus-eating period of the late '60s and early '70s, not the more vaunted and thoroughly enshrined Hollywood of the '50s."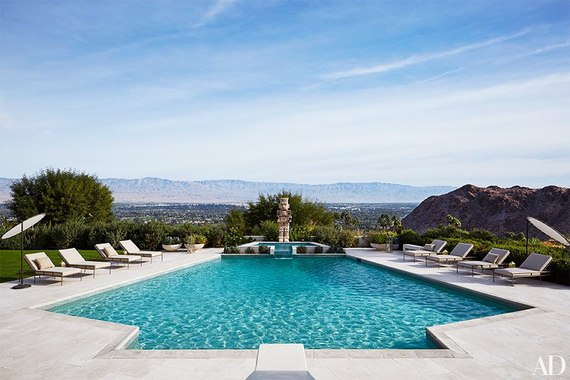 (photo: Roger Davies)
The living room, where Smith and the ambassador often entertain guests, is in many ways the heart of the house. "As I was conceiving the rooms," Smith says, "I kept thinking of Joan Didion's essay 'In Hollywood,' from The White Album, where she describes important homes of the period as being 'filled with white phalaenopsis and cymbidium orchids and needlepoint rugs and the requisite scent of Rigaud candles.' That is the spirit we're channeling."
This being essentially a pavilion-style villa, the indoor spaces flow seamlessly to the outdoors, with numerous openings to the long terrace that spans the back of the house. Broad steps cascade down to the showstopping pool, where the Mayan figure at the far end holds torches, which are lit for added drama in the evenings. It's an undeniably compelling spot. "From here you can't see any other houses," notes Costos. "We're situated perfectly in a notch in the mountain--rolling desert hills to the north, jagged peaks to the south--so it's totally private. Then you have the constant play of light across the Coachella Valley. It's just the right amount of change to keep you peacefully stimulated."
Click here for more gorgeous photos of Ambassador Costos and Michael S. Smith's home on ArchDigest.com.
More from Architectural Digest: