Blue is a traditional color for boys, and it's certainly one my son Marty gravitates to. On World Autism Awareness Day on April 2, he will delight in the blue lights that will beam above Los Angeles from buildings around the city. Blue will become the color du jour as organizations and cities around the world mark the day and call attention to his disorder -- a disorder I refuse to let define him, but one we embrace because it makes him who he is.
As a society, we are becoming more attentive to and aware of autism spectrum disorders, and April 2 is the one day a year that we are reminded to pause and tune in to where we stand as a nation in addressing it.
The numbers are not on our side: just last week, a report from the Centers for Disease Control unveiled a 30 percent increase in the number of kids with autism. Our country is now facing the eye-opening statistic that one in 68 children, and one in 42 boys are impacted by autism spectrum disorders.
For African-American children, some studies suggest the statistic is even higher. Unfortunately, kids of color often are diagnosed two to four years later, have a difficult time accessing services and suffer a great deal of discrimination in schools -- from being disproportionately suspended to being forced off of general education campuses. Knowing this gives us even more reason to open our eyes and ears on April 2 as we embark on a global challenge to raise awareness about autism.

In trying to find the best in health care and education for Marty, I have met hundreds of African-American boys and girls like him -- kids who are misunderstood, marginalized and written off as unproductive and incapable of learning. These disparities are nothing new: African-American and Latino kids face them throughout the health and educational system, and autism is no different.
The increase in autistic kids in our country means more kids will need more services. There aren't enough services as is, so the challenge is now urgent: collectively as a society, we need to urge people in positions of power and influence to run faster and do more. We have to redouble our efforts, talk to more people, raise more money, focus on more research, advocate for more services, create more safety nets and reach more families.

Those of us on the frontline have come too far to be deterred or discouraged by the rise in numbers or new predictions. With the help of parents and organizations that advocate and demand change and attention, with the support of folks who lift up, change and improve the lives of kids across this county -- we will get there.
As sobering as the latest CDC statistics are, we are making progress. Through much needed funding, key legislation and sheer boots-on-the-ground advocacy, our kids are beginning to get the help they desperately need; we are teaching parents their legal rights and giving them tools to navigate systems of care; helping kids get connected to services and -- most importantly, through an autism insurance bill that we had the honor of co-sponsoring -- we are getting them connected to quality health care. Over the last three years, African-American families have been at the table more and more, and our voices are beginning to be heard.

I urge you to "turn the blue lights on" in your own community, school or church: participate in a walk or fundraiser; attend a conference or autism-focused event; contact your state legislature to see if any autism legislation is pending and write a letter of support to elected officials; encourage your school board to increase funding for autism programs; ask your church and school to acknowledge Autism Awareness Month each April; share this recent CDC report; talk to a neighbor or friend who needs information and offer to take them to an event; call your local newspaper and newsrooms and offer to share your story in the media; or volunteer at a special school.

This year, I'd like to mark Autism Awareness Day by thanking the advocates who stand up and speak out despite the incredible obstacles, despite this recent news that even more young kids in our country now have autism. I'd like to rejoice that there is more autism awareness than ever thanks to special days like this, days of blue lights and blue-themed fundraisers that focus on the disorder and inspire more people to take action. The laser-beam focus on autism is blue for one day, and Marty is sure that's something to celebrate.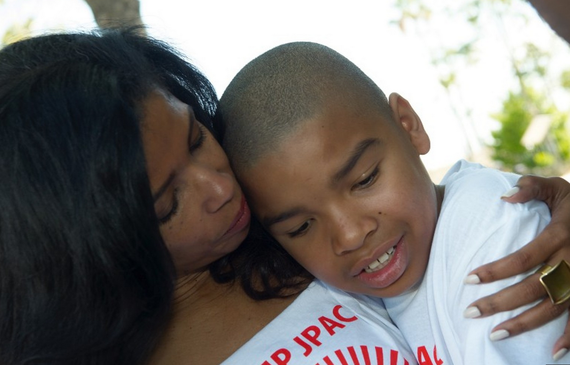 Areva Martin, mother and national autism advocate, with her son Marty.