If you think pink wine is for frail old ladies who don't know anything but (gag) White Zin, it's time to think again. Rosé has stealthily made a comeback over the last few years and has found a respectable place once again with the wine world's biggest critics.
For me, it's one of the best wines to drink during spring and summer due to its crisp freshness. Hell, because rosé pairs so well with a variety of food, from fish and seafood to chicken and pork to Mexican, Thai and Indian, you can drink it throughout the year. Rosés are made from any number of red grapes, including Cabernet Sauvignon and Sangiovese -- although most varieties you find are made from Rhone varietals (Syrah, Grenache, Mouvedre, Cinsault) and Pinot Noir -- you'd almost have to slap yourself for suggesting to drink it with a steak or burger, but go ahead. Be crazy. You'll find that you might just like it.
Traditionally, rosé is made by crushing red grapes and allowing the juice to sit with the skins for just a few days, usually around 48 hours, to allow the juice to obtain some of the color of the skins, but not enough to turn it the darker red. The skins are then removed before fermentation, allowing the juice to remain pink or light orange or raspberry red, and for the wine to obtain its crisp, fruit-filled flavor. Many rosés today, whether from France, Spain, Australia, California or South Africa (and beyond), tend to lean toward a dry, crisp palate and are perfect out on the back patio or at brunch at your favorite al fresco spot.
Pick up rosé at your favorite local wine shop. Here are a few I've been enjoying lately: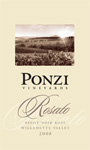 2008 Ponzi Rosato (Willamette Valley, Oregon)
When the moon is in your seventh house and Jupiter aligns with Mars, you're going to want a bottle of this around to celebrate (why the Hair reference, I have no idea). This is one of the most perfect rosés I've ever had, with a Georgia peach color, a robust nose offering quince, watermelon and raspberry and a well balanced, slightly creamy (likely the result of malolactic fermentation) and a rounded palate of pineapple, kiwi and strawberry. This wine is the result of grapes that were allowed to remain on 40-year-old Pinot Noir vines well into autumn after a great growing season. Available online for $17.

Lucien Albrecht Cremant d'Alsace Brut Rosé NV (Alsace, France)
If you're looking for something pink and bubbly, this Alsatian treasure is your newest fave. France is known for its traditional rosés and this one, made from 100 percent Pinot Noir, doesn't disappoint. The crisp palate of strawberry and cherries gives you an excuse to stay at lunch a little longer, and then suggests you just blow off the rest of the workday and go hang by a pool. Available at Sam"s Wine and Spirits for $21.99

2008 La Crema Pinot Noir Rosé (Russian River Valley, Sonoma)
When I had the 2007 vintage last year, I immediately fell in love. I wanted more. Unfortunately, only 350 cases were produced and it was only available directly from the winery. It had a gorgeous nose of orange zest and the citrusy palate had hints of strawberry and raspberry. The 2008 proves to be just as good -- and just as hard to get. But if you have $20 and the patience for it to show up, you will be rewarded dearly. Winemaker Melissa Stackhouse doesn't mess around with any of her Pinots -- and this wine is no exception. Available only at La Crema for $20.

2007 Murphy's Law (Columbia Valley, Washington State)
I first discovered this one back on one of those rare hot nights in March and declared it my new favorite summer sipper. Its darker color, courtesy of a majority of Blaufrankish, a grape typically found in Central and Eastern Europe (the rest is made from Grenache, Pinot Noir and Cinsault), would lead you to think it would dominate your mouth with tannins, but it is surprisingly crisp and refreshing with watermelon, strawberry, orange peel and spice. While I recommend drinking this with shrimp or chicken, you could easily pair it with a juicy steak and not feel bad about it. Available at In Fine Spirits for $12.99

2008 Chateau de Campuget (Costieres de Nimes, France)
The strawberry and honeydew of this Rhone blend, comprising Syrah (70 percent) and Grenache (30 percent), play nicely alongside a slight effervescence and a pretty long finish -- so the wine keeps going a bit after it goes down. The Mediterranean conditions of the vineyard, which dates back to 1640, have allowed the old vines to grow and prosper, with their roots having to dig deeper into the soil to find water beneath the round stones on the surface. These growing conditions allow the grapes to mature on the vines, producing robust wines. Available at World Market for $10.99.

Kim Crawford Pansy! Rosé (New Zealand)
Most of the rosé I've had from Merlot tends to be somewhat viscous, but not this. It was crisp with nice fruit -- really inspired and thirst-quenching. A darker pink color led to a tangy and bright palate of strawberry, cherry and pink grapefruit with a little zing at the end to ensure you go back for more. Unfortunately, Crawford hasn't had a recent release, but you can still find this online. Sure, you will have to pay shipping cost, but for a wine under $10, who cares?