Mobility for physically and mentally challenged people in Northern Uganda. Widespread humane education in Australia. Community gardens for all in Chico, California. Literacy for children in the Colombian Amazon. Promoting animal kindness in Malawi. Healing for child victims of sex trafficking in New York, NY. These are just a few of the projects that were awarded 2014 Impact Grants from the Pollination Project today.
A year-end tradition, the Pollination Project selects a handful of grantees who have shown significant progress with their work, and who have a plan for how to really maximize another financial investment. This year 140 very worthy grantees applied for Impact Grants, and we selected just 16 to receive second grants of $500-$5000.
Here are this years' winners: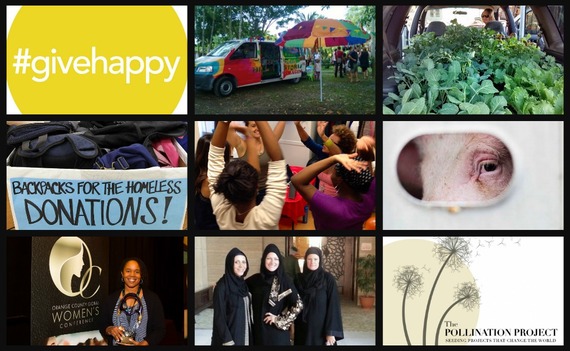 Jenny Lowrey, From the Ground Up Farms, Chico, CA
Community gardens that promote individual and community health.
Anita Krajnc, The Save Movement, Toronto Canada
Powerfully bearing witness to animals slaughtered for food.
Mary-Justine Todd, Women's Crisis Care International, Bahrain
Crisis support for women who are being domestically abused in the Middle East.
Christopher Zambira, Animal Kindness Clubs, Malawi
Teaching school children about animal care and compassion.
Adriana Bueno, The BiblioVan, Colombian Amazon
Bringing literacy and books to the people of the remote Colombian Amazon.
Mark Strandquist, Windows From Prison, Richmond, VA
A photography-based peer to peer exchange serving incarcerated and non incarcerated youth.
Doxie Kaltz, Burners Without Borders, Detroit, MI
A community-driven effort to support homeless residents of Detroit.

Hayu Patria & Adam Breasley, Our Seeds, Our Future, Bali, Indonesia
Launching a bio-diversity farm in Indonesia, inspired and guided by Dr. Vandana Shiva.

Aneri Patel, ENVenture, Uganda
Microloan fund for sustainable technology in developing countries.

Krista Imbesi, Our Feet are Rooted, Uganda
A documentary about corporate land grab efforts in Northern Uganda.
DeJuana Golden, Special Shades of Color, Long Beach, CA
Multi-media, virtual support to families with special needs children.
Belen Martin Serrano, What's Your Tree, Spain
A transformational, personal development program offered to groups across Spain.

John Kaganga, Community Innovation Resource Center, Uganda
Supporting a remote community computer laboratory to get internet access.

Valerie Wangnet, Think Kind, Australia
Humane education advocacy and curricula distributed throughout Australia.
Anne Pollack, The Art of Freedom, Harlem, New York
Healing through the arts for children survivors of sex trafficking.
Alfred Okello, Tandem Bike Project, Uganda
Tandem bikes for people with disabilities to gain mobility and freedom.
Congratulations to our 2014 Impact grantees who have shown us that a small grant, when given to the right person at the right time, can indeed change the world.