Every day for the past two years, The Pollination Project has made seed grants to an up and coming social change leaders around the world. We are happy to share the extraordinary people and projects that we are honored to support this week.
Veg Kids in Massachusetts.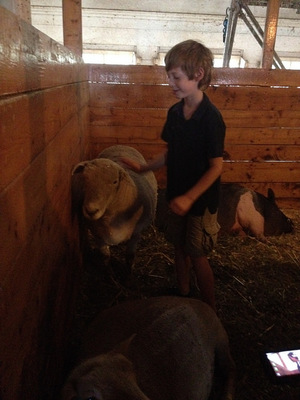 In Cambridge, Massachusetts, Rachel, her 8-year-old son Elias, and her 5-year-old son Theo, were the subjects of a story on NPR's This American Life, which aired in January 2014. The story focused on Elias' mission to convert everyone in the world to vegetarianism. At age 4, Elias was mortified to learn that animals were specifically killed to be eaten by humans and stopped eating animal products. Elias vs. The World is a documentary web series that follows the adventures of a determined Elias on his mission to save animals from human cruelty and get everyone in the world to stop eating meat, one carnivore at a time.
Healing in the Philippines. Reiki practitioner Laura Scalet offers healing to islanders affected by the 2013 Typhoon Haiyan in the Philippines. She is now training islanders in the art of Reiki with her project Reiki Bantayan. Training graduates will be to offer Reiki to themselves and their families, and also the animals, the waters, the earth, the community and quite honestly the world.
Endangered Species in Florida. Experienced conservation biologist and documentary filmmaker, Jennifer Brown, is producing 'Smoke & Mirrors: The Tale of the Florida Grasshopper Sparrow', a film that explores different ideas and characters in the mystery of the endangered sparrow's decline. After working on the Florida Grasshopper Sparrow field crew during the 2013 breeding season, Jennifer became familiar with the sparrow, the prairie habitat, and the people involved in its recovery. She proceeded to conduct her own extensive research and development to craft an innovative, personal film in hopes of benefiting the sparrow, instead of simply documenting its extinction. Jennifer explains, "The power of visual media to inform local land managers and a national audience about the critically endangered, underrepresented, Florida Grasshopper Sparrow is priceless."
Combatting Ebola in Sierra Leone. Safiatu Farma, a gender equity advocate and trainer, is using her training and facilitation skills to bring ebola prevention measures and best practices to rural communities in her severely impacted region. Safiatu is an existing Pollination Project grantee, and we are lucky to be able to give funds directly to a trusted person on the ground to carry out this very important work. Safiatu chose to partner with the Alliance for Social Justice and Development (ASJD), and the Community Organization for Mobilization and Empowerment (COME-SL). The Ebola Awareness and Prevention Project will teach the selected communities that Ebola is real, and that people are dying every day.
Community Garden in Reno.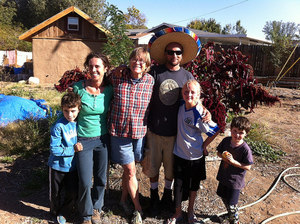 Katy Chandler, and her organization Edible Hood, have shared seeds and knowledge with the people of Reno, Nevada since 2011, with a mission of fostering food independence. Now they want to take the next step -- establishing a neighborhood-scale food forest in their underserved community. "We'll begin by helping neighbors plant and care for regionally appropriate fruit and nut-tree guilds at their homes, starting a chain of connection, as each participant will find and support another neighbor in planting a guild the following spring. As the trees root and bear fruit in the years to come, so shall our community," Katy said.
Cartooning with Kids in North Carolina. In the past few years, Steve Barr, a professional cartoonist living in Columbus, North Carolina, has lost four loved ones to cancer. His losses made him reexamine his priorities, and inspired him to want help others in similar situations. Steve decided to create Cartoon Classes for pediatric patients, to offer his services completely free of charge to any hospital or institution that treats pediatric patients. "I want to bring happiness, distraction, hope and a sense of accomplishment to these young patients and their families, and help build sweet memories for them," he said.
Want to be part of the joy of giving? Join our Daily Giving Community, or simply create your own giving practice. It will change your life!