Changing ourselves changes the world. In 2013, a group of daily givers, myself included, committed to provide seed funding to a fledgling social change project every single day of the year. At the Pollination Project, we continue this practice of daily giving by making seed grants every day in 2014. We welcome you to join us in your own way! Here are the extraordinary people and projects that we supported this week.

Bearing Witness to Slaughter. There are 60 billion animals transported to slaughterhouses each year across the globe, yet few people notice, see, or hear these creatures. The Save Movement is a grassroots movement to collectively bear witness to these animals on transportation routes and outside slaughterhouses around the world. Bearing witness is peaceful, lawful, and makes an impact. The growing movement of Save groups around the world includes more than 20 organizations in Canada, the U.S., and Australia. We are grateful to The Thinking Vegan who identified a Toronto-based team of volunteers who are building a website for the Save Movement, as well as using funds to print marketing materials.
Battling Cancer with Music. Ariel Steinberger and David Bamshad are college students with a shared passion for music and its therapeutic power. The New York duo started Tuning Happiness Inc., which works to empower individuals in their fight against cancer through musical instruction. The organization works with volunteer musicians called "tuners," who offer free, individualized lessons with a variety of instruments. "Tuning Happiness Inc. is dedicated to addressing the collective issues posed by cancer, from depression and loneliness to a loss of hope, and disruption of one's sense of normalcy," they said. "With our personal and innovative lessons our experienced volunteers offer more than just the opportunity of self expression but unconditional devotion and a lasting friendship as well."
Believing in Youth. India and Sakia Hall know what it's like to be a kid growing up in the streets of Atlantic City, NJ, and they also know what it's like to have someone to believe in them. Their organization, Truth Haven, will be a resource for local youth on everything from the arts to business skills to anger management. Truth Haven will host transformative workshops and working with community members who will serve as mentors and guides for the underserved youth population of Atlantic City.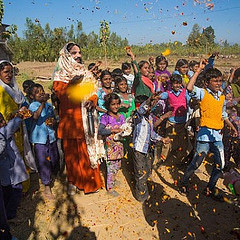 Building Schools. Thanks to Addison Demaree, Helping Hands for India and its passionate volunteers- the local children in Haridwar, India, now have a new school! The World Conscious Yoga Family Helping Hands for India School is an eco-friendly school that will teach sustainable farming and yoga alongside reading, writing and arithmetic. The members of the school community are part of the untouchable clan in India, and lack representation in the government and reliable income, Addison said. "We were able to speak with the elders, the women, children, fathers, and community leaders,"she added. "All of them expressed the importance of developing the intellectual capacity and confidence in the youth."
Salem, Oregon Vegans, Rejoice! Laura Carver, Jennifer Hauge and Dani Mouser had a hard time finding a vegan community in Salem, Oregon, so they decided to make their own. Together they founded Cherry City Vegans, a new group that acts as a resource for the vegan residents of Salem and its surrounding areas. The team is creating a website, a local restaurant guide and hosting social events. They hope to increase vegan and vegetarian options at local restaurants, promote a healthy plant-based lifestyle in the community and provide social opportunities for people who have shared compassionate values.
Fresh Cherry Tomatoes. As a master gardener, horticultural therapist and founder of non-profit The People/Plant Connection, Susan Stanfield has been bringing her love of gardening to her San Angelo, Texas community through classes at local recreation centers for years. Now she and The People/Plant Connection are planting The Children's Adventure Garden, after Susan saw how children responded to her gardening classes. "I was amazed how many children hadn't been exposed to the natural word of plants and wildlife," she said. "They learned about horticulture, butterflies and hummingbirds. They tasted vegetables and fruit. One little girl had never tasted a fresh cherry tomato. My passion is fed every time we teach someone something new about gardening that gets them excited about being outdoors and making a difference in their lives."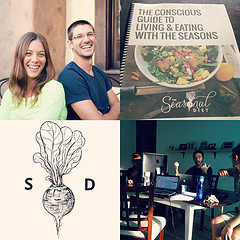 Eating with the Seasons. Peter Hagstrom and Sarah O'Toole are helping people think seasonally and locally with The Seasonal Diet. "Our project is aimed at successfully getting people back into the kitchen," they said. "We believe with more people shopping locally for seasonal produce and cooking plant-based, animals will suffer less, our planet will be at ease and our bodies will feel more nourished than ever before."
Congratulations to our grantees this week for their outstanding work to bring justice, peace, health and compassion to their communities. These are just a few examples of what a little seed money can do when put in the hands of someone with a vision and a plan to change the world.
Are you our next grantee? Please go to our website at www.thepollinationproject.org for funding guidelines and application.