When is the last time you did something really courageous? This week our team at The Pollination Project celebrates the courage it takes to forge a new path, to try something new, to go against the grain and create a new paradigm for a community. Our seven grantees this week are building resilient communities all over the world.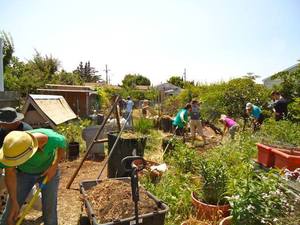 Resiliency in Northern California. Susan Silber is the co-founder of the Berkeley Transition Initiative and is helping to launch the Northern California Community Resilience Network in Berkeley, CA. The Network aims to support grassroots efforts to use permaculture principles in order to cope with the challenges of climate change, economic instability and resource depletion. Efforts to support local initiatives include leadership development programs, communication tools, events, and overall project support. Over the next year the Northern CA Community Resilience Network will survey permaculture initiatives in the area, help to establish new programs, share best practices between groups, and organize a conference in October of 2015.
Art and Action In New York City. Jason Maas is the founder of the Artist Volunteer Center (The AV Center) in New York City, an organization that coordinates the efforts of local artists with non-profits and community outreach initiatives. Thanks to the AV Center's Student Artist Volunteer Experience (SAVE) project, young promising local artists from schools such as the Joan Mitchell Foundation are being connected with food justice and income-inequality direct action initiatives through internships and volunteering opportunities. Students attend weekly meetings to share their experiences, hear talks from activists, artists, and advocacy experts, and, ultimately, engage in art projects that are aimed at inspiring residents to use art as an advocacy tool.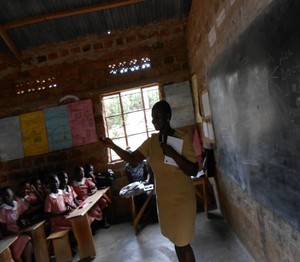 Preventing Teen Pregnancy and School Attrition in Uganda. In Eastern Uganda, the community based organization, Women for Progress, is advocating for women's rights and equal access to education. Their newest project aims to both increase the retention of female students in schools and reduce high rates of teen pregnancy. They are creating a new school curriculum on teen pregnancy and organizing speaking events at local educational facilities in order to encourage higher rates of female attendance. The program also offers young teen mothers and school dropouts with training in computer skills to increase their employability.
Women and Entrepreneurship in Rural Uganda. Florence Nakazibwe is leading a pioneering grassroots effort to reduce local poverty and empower women in Uganda. Many of Uganda's rural communities currently suffer from high rates of unemployment and poverty; however, women are disproportionately impacted due to women due to traditional gender norms. Through her project, the Beading and Jewelry Making Initiative, Florence Nakazibwe and other volunteers are training 20 women from the rural community of Nakasajja-Gayaza in the art of beading and jewelry making in order to enhance their employment opportunities.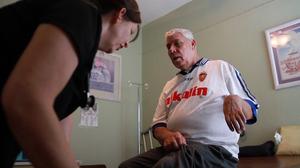 Supporting Nonprofits in Phoenix, Arizona. Juan Freitez-Mora and several other independent filmmakers have launched the Community Grassroots Media (CGM) project. CGM is a collective of socially-conscious filmmakers who aim to use their skills to educate the public on the work of Phoenix area non-profits. CGM is currently in the production phase of a documentary highlighting the work of TPP Grantee, Phoenix Allies for Community Health (PACH) at a free public health clinic in metro-Phoenix. Over the next year, Juan and CGM also plan to begin filming several other projects focusing on local non-profits working on immigration and human rights issues. Juan and his colleagues plan to distribute their videos over a wide variety of social and multimedia platforms to drum-up support for local organizations.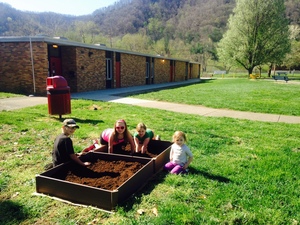 A Community Garden for All Ages in Pratt, West Virginia. Sheila Estep is a mother, nurse, and community volunteer who runs the Town of Pratt Beautification Circle Community Garden in Pratt, West Virginia. Last year Sheila began the garden on a local elementary school campus where she gave students lessons in horticulture and nutrition. Over the course of 2015, Sheila plans to expand the project, creating several raised beds that will be open to the public and accessible to seniors and individuals with physical disabilities. Every year thereafter, Shelia plans to supply seeds and plants, as well as organizing a vegetable soup cook-off to raise funds for the purchase of tools and materials needed to help sustain the garden.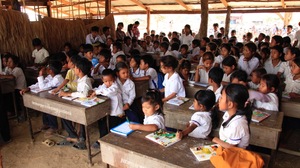 Improving Local Schools in Cambodia. Andrea Paulich is the creator of Seed of Small Beginnings in the village of Bech Khlok, Cambodia. Bech Khlok is home to a single, small two-room school with dirt floors and no running water or washrooms that caters to over 140 village children. Andrea's project will provide basic necessities for the overcrowded school including solid floors, proper walls, a third classroom, and a fresh water supply and sanitation areas. Additionally, the project aims to provide valuable educational and teaching materials, as well as connecting the students with vocational training and work opportunities.
We give a grant every day, and you can too, even if all you have is $1 to give! Consider joining our Daily Giving Community and be part our global family of grantees and supporters.