Each week, The Pollination Project announces our daily grants that we provide to individual social changemakers who are launching and expanding their projects around the world. A team of donors (myself included) provides $1000 of seed funding to help get these efforts off the ground. Here are the extraordinary people and projects we supported this week.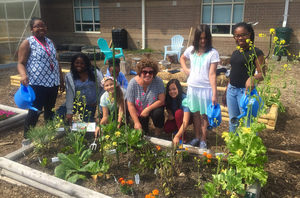 Elementary School Students Grow Organic Produce in Virginia Beach, VA. Marie Culver is an educator at Seatack Elementary located in an urban area of Virginia Beach, Virginia. Through her project "It Takes A Community to Grow a Garden," Marie and her students are constructing a community garden on their school's campus where children can learn how to grow their own food while receiving hands-on instruction in topics such as biology, horticulture, mathematics and economics.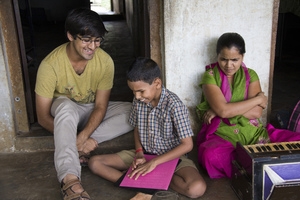 Changing the Lives of Children with Disabilities in India. Param Shah is the founder of the Lotus Life Foundation, a non-profit organization that strives to improve the lives of children with disabilities in India through medical interventions and community education programs. Currently, the Lotus Life Foundation's medical team provides assisted-living devices to children with a range of disabilities like Cerebral Palsy in the Himalayan region of India. Param is in the process of expanding the organization's operations to Southern India where he plans to create an orthotics manufacturing and research lab, as well as to train local volunteers and village craftsmen in the manufacture of cost-efficient assistive devices for local children.
Local Produce for Food Pantry Clients in Wisconsin Rapids, WI. Jennifer Dolan is the cofounder and manager of Glean Central Wisconsin, an initiative to collect unsellable produce from local farmers and distribute it to food pantries in Wisconsin Rapids. Jennifer procures weekly donations of fresh produce from vendors at local farmers markets who are given receipts to use for tax write-off purposes. Donations are packaged with vegan recipe cards and given to The Neighborhood Table, a local soup kitchen and food pantry. Jennifer's project is a win-win-win for local farmers, food pantries, low-income residents and even for the animals who are spared from being eaten because of the encouragement that Glean offers for people to move towards plant-based diets.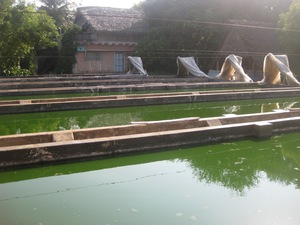 Algae Inspires Sustainable Infrastructure in Uganda. Akankiza Samson is helping to change the lives of residents of the rural village of Sonde-Namugongo in Uganda through the cultivation of spirulina. A fast growing blue-green algae rich in minerals, complex vitamins, proteins and antioxidants, Spirulina is a comprehensive and cost effective solution to malnutrition in the region. Through his project, Akankiza aims to provide women and children from the community with training and resources to begin cultivating spirulina for commercial markets and local use as a dietary supplement. He hopes that the project will provide a framework for sustainable livelihoods throughout Uganda.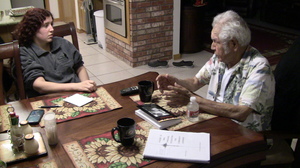 Preserving Native American Language and Culture in New Orleans, LA. Hali Dardar works with The Houma Language Project, an initiative to preserve the linguistic and cultural resources of the Native American Houma Nation in Louisiana. Over the past century, much like many Native American communities, the Houma have been pressured to abandon their language in favor of English, a dynamic that has also led to a loss of identity and culture. However, the Houma Language Project aim to preserve historical and linguistic information, reconstruct the Houma language, and ultimately to use the language as a medium for community growth and resiliency.
Promoting Literacy Among Underserved Youth in Baton Rouge, LA. Lisa Thomas' project Our Village, Our Children Community Outreach aims to encourage and improve juvenile literacy rates among underprivileged and underserved youth living in Baton Rouge's impoverished Gardere community. Over the course of summer 2015, Lisa will hold educational workshops at a local community library where children will be given books, as well as presenting oral and written essays under the guidance of certified teachers. Additionally, children will take enrichment field trips and will even participate in community redevelopment projects, such as clean-up campaigns and planting gardens.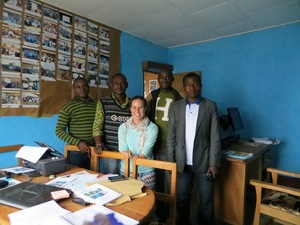 Computer Training for Youth in Cameroon. Hilary Ewang Ngide is the Director of Programs at CCREAD-Cameroon, an organization striving to empower marginalized and disadvantaged children, women, youth and indigenous people in Beau, Cameroon. In country where over 64% of youth currently live under the poverty line, CCREAD is implementing a free computer application training program for young adults within the City of Buea in the hopes of helping them to secure employment and a sustainable source of income. Students will attend classes over the course of two months receiving training on programs like MS Word, Excel, PowerPoint and many more. Over the course of the next 3 years, the organization aims to train over 500 youth from Cameroon.
Women Grow Businesses Through Agriculture in Kenya. After years of working in agriculture, Elizabeth Were (AKA Mama Das) realized that a general lack of faith in Kenyan youth combined with failing educational systems has resulted in masses of unskilled laborers and high rates of youth unemployment. Mama Das will provide 20 young female job seekers in Kenya with agricultural and business training, as well as giving them passion-fruit seedlings and paw paw seeds to begin their own income-generating plantations. The money they earn will be used to help pay for school tuition, books, uniforms, food and medicine, enabling them to both pursue their education and stay safe and healthy.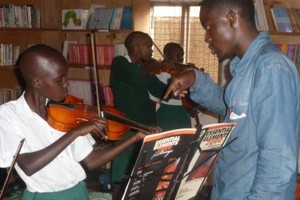 Orphans Receive Music Education in Uganda. Lindsey and Nicholas Jarrett are the founders of Strings for Uganda, an organization dedicated to providing music education to children at St. Mary Kevin Orphanage in Kajjansi, Uganda. Since 2013, Nicholas and Lindsey have provided violin instruction and instruments to 20 children every year at no cost to the orphanage. Currently there is a wait list of over 50 children who are eager to learn the violin, and both Lindsey and Nicolas hope to be able to expand the program to accommodate their interest. Ultimately, Strings for Uganda gives orphaned children a direct avenue for self-expression.
Encouraging Environmentalism in the Film Industry in Los Angeles, CA. The Wide Angle Recycling & Film Center is a volunteer-run nonprofit organization in the San Fernando Valley area of Los Angeles that aims to reduce the volume of waste produced by the entertainment industry, while providing affordable access to filmmaking equipment and education. The Center offers tax deductions for recyclable and reusable materials, as well as providing filmmakers with access to media education and equipment such as cameras, props, set decorations, costumes and other materials.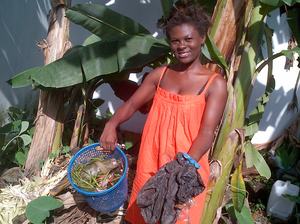 Recycling and Composting in Cameroon. Banye Ethel is the project coordinator for the program Keep Our Households Free from Non-Degradable Items in Buea, Cameroon. Banye is currently organizing people from 4 different communities in Cameroon to participate in waste management and clean-up campaigns. Over the course of 8 months, 200 people will be educated on the importance of proper waste disposal methods and the implementation of reusable goods to reduce overall household waste volume, as well as receive training in composting methods for organic wastes. Banye ultimately hopes to use the program to raise her community's awareness of pressing environmental concerns related to pollution and global climate change.
If you are inspired by these stories and want to be part of supporting a worldwide network of social change visionaries, check out our Daily Giving Community.