Every day, along with 40 other daily givers, I have the privilege of making seed grants to up and coming social change leaders around the world. Our team at The Pollination Project is happy to share the extraordinary people and projects that our community of daily givers is honored to support this week.
Children Giving Back in Florida.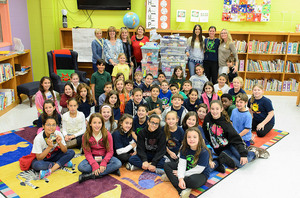 Jennifer Einhorn and Laura Reiss wanted to provide their children in Boca Raton, Florida with opportunities to be of service to others. They created The Samaritians365 Foundation, an after-school educational program that has allowed more than 500 children to experience the satisfaction that comes from acts of charity and kindness to others. "Our goal is that children of all ages and backgrounds become active and engaged members of their communities and ultimately grow into service-oriented community leaders and global environmentalists for today and generations to come," said Jennifer.
Bringing Light to Liberia. Three months ago, community leader and Liberian-born American, LeRoy Boikai shipped solar kits to two families in Liberia. These families live in the capital city of Monrovia, where nearly 80 percent of residents have no electricity. "Eliminate the Darkness" was created to provide solar lanterns to three small villages in Bomi County in western Liberia. The goal is to replace kerosene lamps, candles and wood for energy with solar lanterns for 49 huts, plus a solar streetlight per village to be erected at the center of each village. This project will serve as a model for government and NGOs to help reduce the overwhelming energy poverty for rural citizens of Liberia.
Celebrating Foster Youth in Philadelphia. With Philadelphia's orphan population on the rise, Yasmin Kahan-Groves, a college campus organizer, founded Love, Philadelphia, a collaborative project inviting college student volunteers, local foster agencies and community organizations to come together to bring joy into children's lives. The kick-off event for Love Philadelphia will focus on celebrating the children, nurturing connections and filling the kids' personal care and grooming needs. Eventually, this initiative hopes to expand across the US.
Spreading Compassion in Alabama.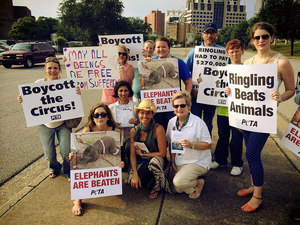 With a long history of living a cruelty-free lifestyle and volunteering with animal rights organizations, Tracey Glover decided to start her own animal welfare organization. Operating out of Mobile, Alabama, the mission of Awakening Respect and Compassion for all Sentient Beings (ARC) is to raise awareness about human-caused animal suffering, to inspire compassion for all sentient beings, and to create a more sustainable and compassionate world. Rooted in the principles of inter-being, interconnection and compassion as taught by the Buddha, ARC recognizes the values of right speech and looking deeply to see the root causes of cruelty, suffering, and ignorance.
Guiding Youth in Ohio. Thell Robinson, III comes from a rough background. He writes, "I made it out of that thug life. I've been there and done that on that thug life. It takes some one that has been through it all and made it out to show the at risk youth that the other side of life is real. Not to mention to navigate around the snares and temptation that at-risk youth need to adjust as normal citizens." After turning his life around, working as a mentor and conflict mediator to gang members and at-risk youth in central Ohio, Thell founded Moral Therapy to help local youth avoid repeating his experience. By encouraging skill building and job readiness, he hopes this will lead to college or trade school enrollment, and a subsequent reduction in gang violence in local communities.
From Farms to Health in Baltimore. With a mission of ending malnutrition in Baltimore, Maryland's lowest income neighborhoods, Grace Griffin founded the Desert Farm Initiative. The Desert Farm Initiative will assist neighborhoods in developing and cultivating community farms that will grow and provide fresh, healthy produce in their own back yards. Through a combination of urban farms, educational classes, and after school programs about nutrition, the Desert Farm Initiative hopes to ignite a healthy eating revolution that will address some of the United States' most pressing health problems.
Nurturing Young Naturalists in California.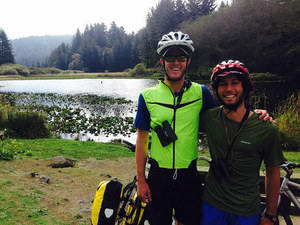 To Kevin Condon and Darrow Feldstein, are following the southern migration of birds and visiting schools along the California coast during this year's fall bird migration. They're calling their journey the Bird School Project (BSP). Their goal with every mile is to create a more ecologically literate population by teaching students about birds and empowering them to explore the natural beauty of their hometowns. The BSP curriculum involves everything from field sketching and bird identification, to geography and data recording using ebird.org, a global bird data collection project.
Want to be part of the joy of giving? Join our Daily Giving Community, or simply create your own giving practice. It will change your life!