Did you know that the modern U.S. Mother's Day is rooted in community building? During the years before the Civil War, Ann Reeves Jarvis of West Virginia helped start "Mother's Day Work Clubs" to teach the women in her community how to care for their children. These clubs later became a unifying force in a region of the country divided over the Civil War. In 1914, Mother's Day became an official holiday in the U.S., although later, Jarvis denounced the holiday's commercialization and spent the latter part of her life trying to remove it from the calendar!
This weekend, to honor the community roots of Mother's Day, we are celebrating moms who build, nurture and heal their communities. All four of these extraordinary projects were funded by The Pollination Project and our community of Daily Givers.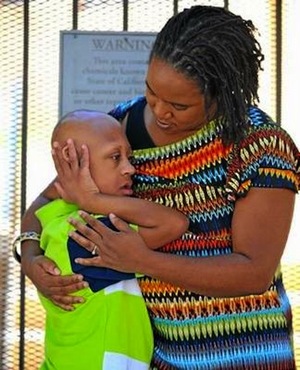 DeJuana Golden: The Supermom who Breaks Down Barriers
Raising a child with autism or other brain-based behavioral challenges can be an isolating experience, and DeJuana Golden knows all about it. Her 12 year old son CJ has a dual diagnosis of autism and downs syndrome. DeJuana transformed her many long dark isolated nights of the soul, into a gift for all moms raising children with special needs. She created Special Shades of Color to share her story, and stories of many other moms and their children, in bite sized pieces.
On her Special Shades of Color video blog, she talks about the sleepless nights, the challenging trips to the store, the real everyday experiences that reassure her viewers they are not alone. DeJuana says:
A lot of parents either feel lost in the maze of the special education and disability world or think that resources are out of reach or too expensive. Parents often don't see everyday families with accessibility to the best in resources.

I aim to make every family, no matter their ethnic background or economic status aware of what is out there for their special little one.
Part of what makes DeJuana really special: She keeps it real. She shared with us why it is imperative for parents to talk to each other:
In the special needs community, there are so many professionals offering advice, but the real people who are in the trenches, like parents, have just as much knowledge if not more. As a special needs parent, I found the value in parents -- their stories, their advice, their resources and their encouragement and support of one another.
Valerie Goodloe: The Relationship Healer
Valerie Goodloe fought to save her daughter who had joined a gang in Los Angeles, and then in 2011, Valerie produced an acclaimed film about the experience, Gang Girl, which has been screened across the U.S. She used this film as a launchpad to start a nonprofit- W.I.N.D.O.W. -- that creates positive, peaceful, consistent and healthy experiences for mothers and daughters. "The mother and daughter relationship is a challenge even in the healthiest of homes," Valerie shared. "It is, and can be one of the most fruitful and rewarding friendships around. If damaged or broken down, it can be one of the most destructive."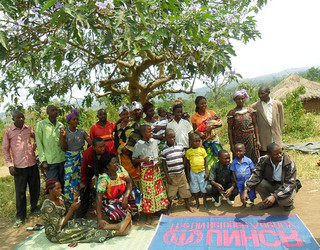 The Nakivale Refugee Widows Association: Mothers With Hope
On the border or Rwanda, in Western Uganda, Nakivale Refugee Camp is home to over 60,000 people, most of whom are Rwandan, Somali or Congolese. To say that life is difficult would be a gross understatement. Despite having come from different countries and cultures, The Nakivale Refugee Widows Association supports women and children to live in peace, as one family. The members are mostly moms who have lived in the Camp for over eight years and endured circumstances such as rape, abuse, extreme poverty and the loss of their husbands in war. They have little for themselves and their families, and yet, as one of the members, Madina Dusabe, shared, "We reach out in compassion to our vulnerable young girls, orphans and widows in the camps that lost their parents." Together the Nakivale Widows overcome the myriad of daily challenges they face, making crafts to earn money for their families and others.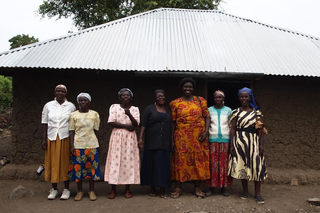 The Live Long Self Help Cooperative: When it Takes A Village
A group of thirty five women, all widowed from HIV/AIDS and malaria, have joined hands with US-based The Village Cooperative, to transform their community of Mbita, Kenya. Together they are have created the Live Long Self Help Cooperative, a constellation of economic programs such as income-generating organic gardens and a sewing cooperative. With funds generated from their businesses, these women are lifting themselves out of poverty and also providing housing, food, and shelter to the 60+ orphans in their village.
Kelly Campbell, founder of the Village Cooperative, shared:
I have learned that women just need an opportunity and they can completely change the course of their life. A simple sewing machine can provide an income to feed, clothe and shelter her family. It can give her extra spending money to vaccinate her children and protect them against malaria, and make sure they are given proper medical care.

It is exciting to see women start to save for their future, something they never would have been able to do just last year. Strong women hold up this world, and we have to love, support, and care for each other to make this world enjoyable.
All of these moms have taught us, regardless of the obstacle -- be it extreme poverty, gang violence, managing children with special needs or even living in a refugee camp -- that there is nothing that a mom can't do when it comes to nurturing her community.
This Mother's Day, we honor the women who are taking a stand for their communities and showing us the real meaning of motherhood. May your life be touched by women as strong as Valerie, DeJuana, the Nakivale and the Mbita Widows. May their stories inspire us all to know that the source of our greatest challenges is often the source of our greatest gifts.