We arrive on this planet empty handed,
We will all soon leave empty handed.
So then, how and in what spirit do we want to spend the time in between? - Nimo, Empty Hands Music
In 2013, I began giving a seed grant every single day of the year to a social change visionary with a practical plan to make their community and the world a better place. Now others have joined me, each of them giving $1 or more a day to inspiring projects led by extraordinary individuals all over the world. The Pollination Project facilitates this practice of daily giving and continues to make daily grants of up to $1000 every day of 2014 and beyond. Please join us as a daily giver, or simply create your own giving practice. It will change your life!
Here are the extraordinary people and projects that we are honored to support this week.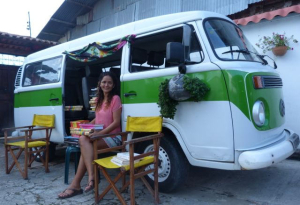 Books on Wheels for Indigenous Colombians. Adrianna Bueno started The BiblioVan, a library on wheels which will make rounds among rural indigenous villages. Adrianna hopes to "close the gap between the opportunities of the most vulnerable and the most privileged sectors of the population." The BiblioVan "also promotes a positive engagement of the community around reading circles and movie clubs, giving people a constructive alternative for the use of their free time and reducing their exposure, particularly of kids and young people, to alcohol, drugs and violence," she explains. The brightly painted auto will host a collection of available books and educational games, along with movie nights and discussions on topics relevant to the community.
Breaking the Cycle of Impoverishment in Florence, AL. Melissa Hargett is a successful business woman who launched the Shoals Area Families Foundation to assist temporarily impoverished families with making ends meet. Families that request assistance also sign up as part of an innovative "give back program," where in exchange for support, they agree to volunteer at start-up local thrift shop.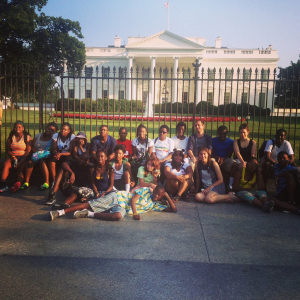 Becoming the Changemakers of Tomorrow in Detroit, MI. Nikhita Navani is a school teacher in Detroit, MI who explains, "It is a tremendous struggle to watch my students leave school at the end of the day, knowing that they are in danger the second they step foot out of the school doors. It is heartbreaking to hear story after story about arson fires that destroy my students' homes, murders that took my students' siblings, and abandoned houses that my eleven-year-olds have made their home. Yet, I know these situations will never change unless my students are the change-makers." To this end, Nikhita and her students have raised the funds to take 50 middle school children on a life-altering trip to Washington DC to speak to their congressman about the issues that affect them, to see the Lincoln Memorial, visit the Museum of African American History and Culture, and talk about what it means to be a real leader.
Addressing Asthma in the Bahamas. Olivia Curry is looking to help the asthmatic children of Freeport, Grand Bahama breathe easier. One of the first of its kind in the area, her program, Grand Bahama Childhood Asthma Management Project, is educating families on how to cope with the disease and working to make asthma a priority in the community. "A project of this type has never been tried in the Bahamas. It is the first of its kind and because of this we are up against enormous odds," Olivia said. "I would really like to not just make childhood asthma a priority here but all respiratory diseases."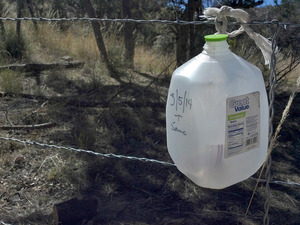 Humanitarian Aid at the Dangerous Border Crossing near Tuscon, AZ. Each year, thousands of migrants attempt to make the very dangerous, harsh border crossing between Mexico and the US. To date over 6,000 people have died in the southlands border area as border protection efforts have forced migrants into more and more dangerous crossing routes. Tucson Samaritans is an all-volunteer humanitarian effort to provide water, medical aid, socks, to migrants crossing the harsh borderlands near Tucson, AZ. Volunteers walk the trails on the border on a daily basis, looking for migrants in distress. They leave humanitarian aid such as bottled water at border crossing areas. These efforts help save lives as people seek opportunity in the US. The Pollination Project grant was able to support all the water they will need for an entire year.
Female Genital Mutilation is widespread even in the US. An estimated 200,000 girls in the US are at risk for undergoing Female Genital Mutilation. For activist Jaha Dukureh, a woman who herself experienced this practice first hand, the practice must stop. Jaha's Campaign to End Female Genital Mutilation holds educational workshops with families affected and at risk of FGM, and they lobby decision makers in Washington D.C. To date, the campaign's Change.org petition has collected more than 200,000 signatures and United Nations Secretary-General Ban Ki-moon has signed onto the campaign as a supporter.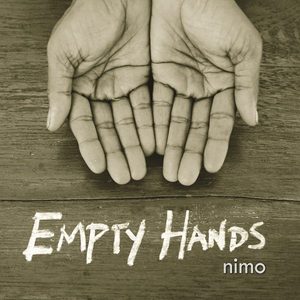 Music and Love, all over the US and UK. At the pinnacle of a dizzying career, Indo-American rapper Nimesh "Nimo" Patel was haunted by an unshakeable sense of emptiness. In his mid-twenties, he abandoned the limelight and found himself meditating in the foothills of the Himalayas. There an inner voice nudged him to radically simplify his life and find his purpose in service of others. He moved to the Gandhi Ashram in India and dedicated himself to the children in the surrounding slums. Nimo has most recently embarked on a project to bridge selfless service, love and music through Empty Hands Music. Over the last year, Nimo has produced a new genre of hip-hop that ignites the values of kindness, gratitude, service, love, and joy. The 2014 Empty Hands Music Tour is a 7-month pilgrimage across the US and UK to share and engage communities along the way in the themes embedded in his heart and music. To download Nimo's Empty Hands album for free, and find tour dates near you, visit the Empty Hands Website.
Congratulations to our grantees this week for their outstanding work to bring justice, peace, health and compassion to their communities. These are just a few examples of what a little seed money can do when put in the hands of someone with a vision and a plan to change the world. Want to see some more examples? See our short grantee video to see just how far $1000 can go.
Are you our next grantee? Please go to our website at www.thepollinationproject.org for funding guidelines and application.