Every day of the week, The Pollination Project (www.thepollinationproject.org) provides $1000 in seed funding to individuals working to make the world -- or just their own communities -- a better, more peaceful and more sustainable place.
This weeks' grantees show us that often the best person to solve a global problem is a person who has experienced it firsthand. These people -- from rural Kenya, Uganda, Nigeria and the U.S. -- are all taking on human rights, personal development and environmental challenges. Here are the extraordinary people and ideas changing the world this week: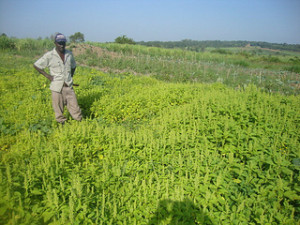 Vincent Atitwa faced malnutrition throughout his childhood and became determined to work on solutions for others in the rural Western regions of Kenya lacking access to nutritious food. His project, Fortified Staple Flours, involves recruiting and training young farmers to grow healthy grains that are fortified with nutrients, and make them accessible and affordable to rural populations.
Juan Miguel and the Ecotapatío collective including Martin Krabbe, Selene Gonzalez Carrillo and Katy Harris, know that the sprawling urban jungle of Guadalajara, Mexico is full of hidden eco gems like organic farmers' markets. Their project, Ecotapatío, will develop a free magazine and website compiling their city's sustainable options, with a dual focus on introducing these services to low-income residents, and inviting tourists to explore the "green" side of Guadalajara.
Berry Esoot planted 1400 trees in Uganda in 2012 alone. His Ngora Youth Agro Forestry Project aims to educate local communities about the environmental benefits of trees including their impact on rainfall, agriculture and food security. His youth-driven team will perform widespread tree planting, teach environmental protection and energy-saving techniques.
DeJuana Golden had a wake-up call when her son CJ was diagnosed with both Down Syndrome and autism. Realizing that many parents felt lost in a maze of disability and special education, she started Special Shades of Color, a user-friendly video blog, and plans to develop user-friendly online resources and tools for families with special-needs children, which will ultimately affect their development in a positive way.
When it comes to happiness, Laura Lavigne is the undisputed champion. Her 90-Day Gratitude Challenge will consist of a book of exercises and daily practices to inspire people to live a rich, fulfilling, giving and happy life. The book will be available on a unique "pay it forward" model, meaning they cannot be purchased for yourself, only as a gift for someone else.
Olubusola Ajayi is a filmmaker, youth and women's advocate and educator at Parsons the New School for Design. Her Public Art Project empowers Nigerian artists to enrich the lives, esteem and community engagement of Nigerian youth. In addition to art education, the Public Art Project will offer workshops in art, design and media in two schools in Lagos to foster the development of community-based projects.
Gordon Piper's Oakland Pollinator Gardens Project, part of The Oakland Landscape Committee is a community-based volunteer landscape team that works on greening projects in the North Oakland, CA area. They maintain four public gardens, and intend to add several thousand plants to attract pollinators, whose local populations have declined recently due to the widespread use of pesticides. Working with the County of Alameda Probation Department's Weekend Training Academy program, the committee partners with at-risk high school students to plant and care for the gardens on weekends.
Congratulations to our grantees this week for their outstanding work.
These are just a few examples of what a little seed money can do when put in the hands of someone with a vision and a plan to change the world.
If you were given $1000, how would YOU seed the change in the world?
The Pollination Project makes $1000 grants every day, 365 days a year to individual changemakers. Please go to our website at www.thepollinationproject.org for funding guidelines and application.