Changing ourselves changes the world. In 2013, a group of daily givers, myself included, committed to provide seed funding to a fledgling social change project every single day of the year. At the Pollination Project, we are continuing this practice of daily giving every single day of 2014 and welcome you to join us in your own way! Here are the extraordinary people and projects that the Pollination Project Daily Giving Community supported this week.
Brie Goldberg is an elementary school teacher in Worcester, Massachusetts who, along with a team of committed volunteers, founded VegWorcester. VegWorcester produces their local VegFest, an annual free vegetarian food festival that brings the local community together to celebrate and learn about the environmental, health, and social benefits of a vegetarian lifestyle. VegWorcester has been organizing the family-friendly VegFest for over five years, with the most recent event hosting over 6,000 attendees. With Brie's focus on appealing to a diverse audience, and maintaining free admission, Worcester VegFest encourages accessible and real changes that individuals can make to empower themselves and their local community.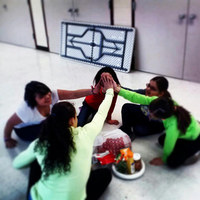 Sophia Horwich is an undergraduate at DePaul University in Chicago, IL wanting to do something about the lack of encouragement for exercise and self-expression provided to public school students. Sophia partnered with the nonprofit organization, Everybody Dance Now!, to form a Chicago chapter.  EDN!C's mission is to transform the lives of youth through dance, leadership and community involvement. They provide free weekly dance classes, nutrition education, service learning and cultural programs to underserved youth. Sophia and her team already serve over 260 students a week, and note that it takes just thirty dollars for each student in the EDN!C program to participate for an entire year. Sophia vows they have "squeezed every cent from each dollar earned, and intend to continue to do this so we can offer our program to as many students in need in Chicago as possible."
Abraham Mwaura launched Spring Forward Network, a community network for climate change resilience based in Gandhi's teachings of nonviolence. Based in Joilet, Illinois, The Spring Forward Network understands climate change as "a convergence of intersecting issues, rooted in an unjust economic system and patriarchy [that forms] a nexus where action can be taken as one whole". They recruit and train leaders in underserved communities to respond strategically to immediate crises, and to build the fabric of long-term resilience. Abraham's team will contribute to local strategic planning by joining forces with other community groups and facilitating the creation of a resilience-based alliance following the Spring Forward Network model.
Wendy Lord, a career advisor from Presque Isle, Maine, has worked with migrant worker and immigrant communities for over ten years. Wendy believes that language is a human right, and thus she started Survival English Lessons using no-cost content provided by Fluenz.  With the limited time and resources of migrant laborers, Wendy plans to distribute 500 free CD-based courses that will allow busy people to take the lessons with them to their next work site as well as share with family and friends. In her experience, Wendy has found that migrant workers in the United States are highly motivated to learn English, however, it is very difficult for workers to obtain transportation and stay in one area long enough to finish a class. This no-cost, share-encouraged template will benefit not only the workers, but their families and the communities they work in.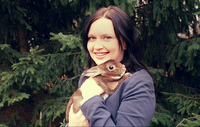 Approximately one year ago, Dobroslawa Karbowiak started Animal Rights Workshops in Warsaw, Poland. These workshops will be offered in the ten largest cities in Poland in an effort to spread animal rights throughout the country. The workshops will introduce the idea of systemic social change, documenting the conditions of factory farming and education to promote positive attitudes toward animals. Dobroslawa explains, "We want to increase our impact by multiplying it. Our aim is to empower new activists with knowledge and skills, and to bring about a bigger and more professional animal rights movement in Poland."
Melina Lingondo is a teacher in Busia County, Kenya and founded the Green Schools project, Our Trees, Our Future, which promotes environmental conservation and awareness in local schools and community centers. By incorporating educational programming and tree planting into the everyday fabric of these communities, Melina hopes to bring attention to the deforestation crisis sweeping the country, and replenish some of what has been lost. Melina points out there is no single cure to climate change, but hopes by planting trees, she will make a lasting impact on the next generation, as well as teach the importance of forests to water catchments, and the connection between forests and climate.
Angela Graf, in partnership with Open Door Youth Services, is starting a children's youth choir in New Albany, Indiana. The Choir will be free to join, and will provide educational, as well as musical skills, and promote positive community events and holidays. Having taught music for many years, Angela knows and has seen the positive effects that music and singing can have. "Music inspires people and offers opportunities they may not normally have," Angela says. With her outreach efforts focusing on youth who don't have access to after school enrichment activities, she is creating a greater community of care and connection through music.
Congratulations to our grantees this week for their outstanding work to bring justice, peace, health and compassion to their communities. These are just a few examples of what a little seed money can do when put in the hands of someone with a vision and a plan to change the world.
Are you our next grantee? Please go to our website at www.thepollinationproject.org for funding guidelines and application.