Crank & Groove: a Go-Go Love Story had a single band: BE'LA DONA, an all-female ensemble who rocked original tunes and the genre's classic medleys. Intermixed with musical interludes people shared their personal 'Go-Go' stories. SpeakeasyDC, a non-profit "dedicated to the art of autobiographical story performances" and the Atlas Performing Arts Center produced the event. It was directed by Jessica Solomon, former artistic director of The Saartjie Project-an innovative black women's theatre collective, and current director of Art in Praxis, a "social practice laboratory" exploring the intersections of community, art, and change.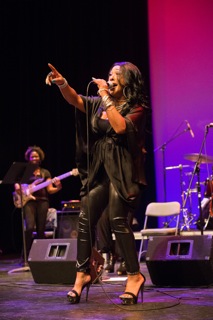 (Karis Hill of Be'la Dona, photo credit-Alexander Morozov)
What they cooked up Friday and Saturday night was an examination of a local musical form that masterfully captured the pulse of Washington, D.C. Christylez Bacon, a Grammy-nominated progressive hip-hop artist, told the audience the 'true tale' of when he first heard Go-Go. His story encompassed a geographical cultural memory of the city: "On this street... behind an alley... older guys... kneebending"... and the audience was right there with him, captivated as a curious boy in the early '90s discovers a treasure in his own backyard. Nina Angela Mercer was a dancer in the 80s and remembered dancing on stage with EU (Experience Unlimited Band) at GoGo Live at the Capital Center and experiencing "35,000 people lifted".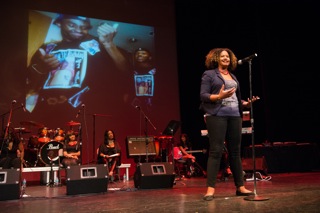 (Natalie Hopkinson with image of Slush in back, photo credit Alexander Morozov)
Natalie Hopkinson, a former reporter for the Washington Post, discussed the summer she covered youth issues for the paper and routinely visited go-go clubs. She placed the genre in a larger context of West African musical and dance forms, but focused on the specific song and dance, "Beat Ya Feet." This story delved into an undercurrent of contemporary go-gothrough the anecdote of Marvin "Slush" Gross, a teenager who was gunned down shortly after her Washington Post story ran on him naming him as the creator of the 'Beat Ya Feet' dance. After her story, two members of "Da Originalz" -- a dance collective who have mastered the form -- brought her narrative to life, and the audience went wild.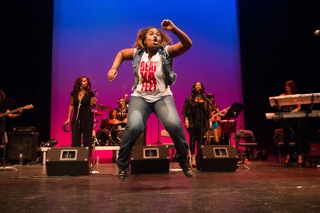 (Portia from "Da Originalz" doing Beat Ya Feet dance, photo credit Alexander Morozov)
Black Picasso and Kato Hammond, both go-go musicians, told stories of validation: this world provided a sense of accomplishment, pride, and acceptance. Witnessing how deep it went for parts of my city was a revelation. I also confronted my own biases: Go-go is very much alive and while the events themselves may attract an element of violence, there is something else happening in that space; something that requires enormous discipline, practice, and commitment, as "Da Originalz" demonstrated.
Crank and Groove confirmed what I've always loved about cities: the existence and proximity of so many super-rich, hyper-local stories. Crank & Groove added itself into the history of go-go this past weekend, but also accomplished something else. City officials working towards "One City" should take note. Crank & Groove brought an intergenerational, multicultural, establishment/indy scene together to experience stories, culture, and music. They accomplished it with respect for history, love for city, and yes, to a go-go beat.