Last night, Jay-Z rapped for six hours in Chelsea's Pace Gallery to an audience of art insiders and culture-ites for his upcoming video "Picasso Baby." All flow and skinny jeans and gold chained, he lit up the gallery space (and blogosphere) with his performance art homage, even getting his dance on with the queen herself, Marina Abramovic.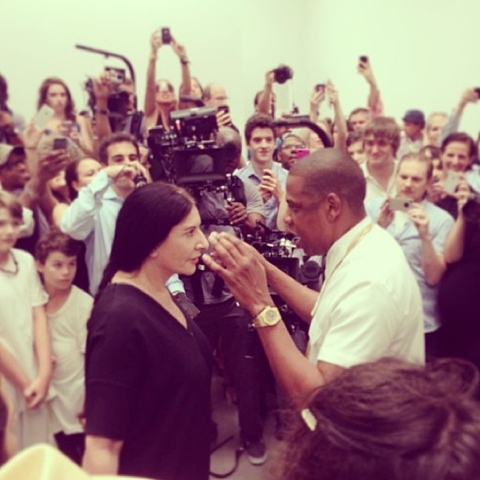 (via @lifewithv)
The lyrics from "Picasso Baby" reveal a light understanding of the world of visual art:
It ain't hard to tell
I'm the new Jean Michel
Surrounded by Warhols
My whole team ball
Twin Bugattis outside the Art Basel
It's kind of an Art 101 list, but you know what: no one understands contemporary art. I took a seminar class this semester at Harvard on "Contemporary Art in a Globalized World." We poured over scholarly work trying to define, explain, and contextualize contemporary art from China to Mexico. We discussed the opinions of artists, curators and academics in E-Flux, October, and Third Text. When is it? Who defines it? Is curating its own distinct art form? Are the cosmopolitan art fairs and biennales presided over and attended by a select few a positive force for the art world? And guess what; there were a thousand different answers. Contemporary art is exactly what you want it to be; flexible time period and mediums, begins and ends at the border you see fit.
Kanye West took an art world cue himself a few weeks back with that very "contemporary" form; the video projection. As part of a mass-marketing campaign for his album, the artist projected visuals onto 66 buildings around the world. As Jon Caramanica credited him with in the much-buzzed about NY Times interview, Kanye West has for hip-hop, "widened the genre's gates, whether for middle-class values or high fashion and high art dreams."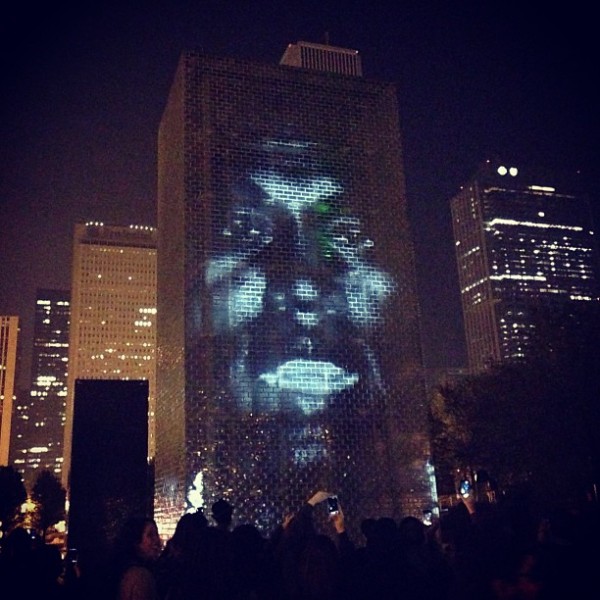 Both of their forays into the visual arts represent the collapsing of boundaries that so many artists seek and the "widening of the gates" that cultural institutions claim to be after. There are countless non-profits, festivals, and events designed to connect a broader public audience with the riches of high art and culture.
Jay-Z was not an awkwardly invited guest last night. He took charge of the gallery space, curated it, and recorded it. Most visual artists focus on a single projection; demanding quality over quantity, but Kanye West spread his reach far. Buildings, cities, and countries felt his presence. They may not be the gods they envision themselves to be, but there are certainly no artists that embody the contemporary, the global, and the contradictions of commerce, celebrity, and the creative world more than these two.
At this very moment.