In this week's issue, Joy Resmovits looks at how our new national education standards came to be, and explains why the system is only now showing cracks.

The Common Core State Standards Initiative set out to make sure American public school students are learning the proper skills to help them compete in a global economy. This meant establishing guidelines for schools in every state -- from placing a greater emphasis on fractions and fluency in arithmetic to assigning more non-fiction texts.
"The standards were quietly drafted and implemented over the last five years by a relatively small group of experts and officials around the country and with limited public input," Joy writes, noting that only about a third of Americans are even aware of the Common Core. "This meant the process went fairly smoothly -- initially, creators were able to secure the backing of 48 governors, from red and blue states alike."
Now that the program has been implemented in 45 states, however, it has drawn critics of all stripes. Some say the new standards are too rigorous, others say they're not rigorous enough. Some argue that the federal government was too involved in developing the standards, while others feel the states should have had more say. Just last weekend, the board of the New York State teachers union unanimously withdrew its support for the Common Core as it currently stands.
"It had all happened fast," Joy writes. "Maybe, in hindsight, a little too fast."

In our Voices section, Canadian politician and journalist Chrystia Freeland posits that 2013 was the year a revolt against our society's plutocrats began. We as a culture, she writes, are finally recognizing income inequality as a critical political issue, thanks in part to Pope Francis' critique of an "economy of exclusion."

"You see it in the U.S. in the election of Bill de Blasio as mayor of New York, in California Governor Jerry Brown's successful tax increase on the rich; in the emergence of Elizabeth Warren as one of her party's leaders," Freeland writes.

Elsewhere in the issue, Rebecca Adams brings attention to a pressing women's health concern: the dangers of Spanx, whose iron grip could lead to compressed bowels and blood clots. Based on her conversations with a gastroenterologist, a dermatologist and a chiropractor, Rebecca lays out everything you should know before slipping on a piece of shapewear.
And finally, as part of our continued focus on The Third Metric, we explain why 2014 will be the year of mindful living.
Watch a timelapse video of how last week's "Military Winter" cover was made, and check out this week's cover below:
Huffington magazine, Military Winter from Josh Klenert on Vimeo.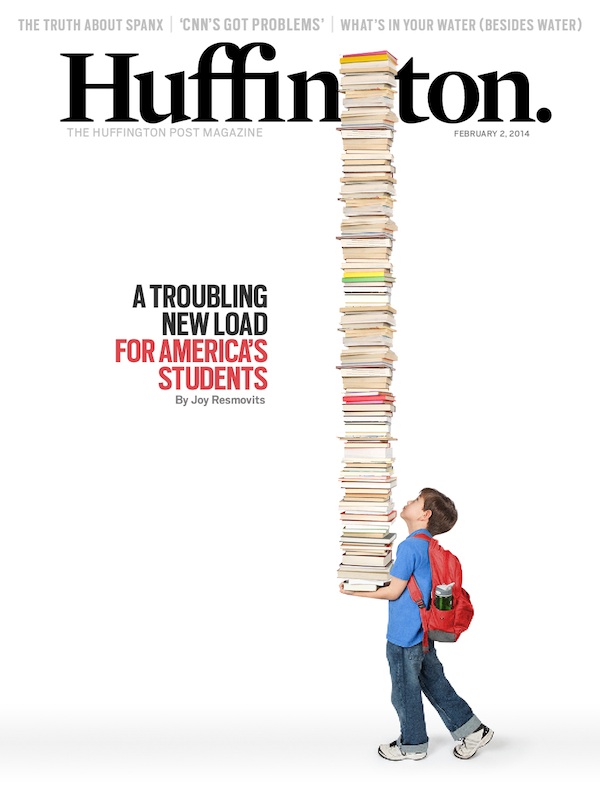 This story appears in Issue 86 of our weekly iPad magazine, Huffington, available Friday, Jan. 31 in the iTunes App store.