My story is just one of millions. I'm a first generation U.S.-born citizen, who came from a struggling family seeking a better life outside of the Cuban dictatorship. My family always supported me in anything I wanted to do, even choosing a career in racing, which led to becoming one of 43 race car drivers in the NASCAR Sprint Cup Series, the premier series in all of American motorsports.
My good fortune to date can be traced to good family, good decisions and a great country. While I was growing up, my parents and grandparents instilled in me a sense of pride for our country and at the same time appreciation for my Cuban heritage. This was a result of a passion that extended back to 1966, when my paternal grandparents Ralph Almirola Sr. and Eneida emigrated from Cuba in search of the American dream.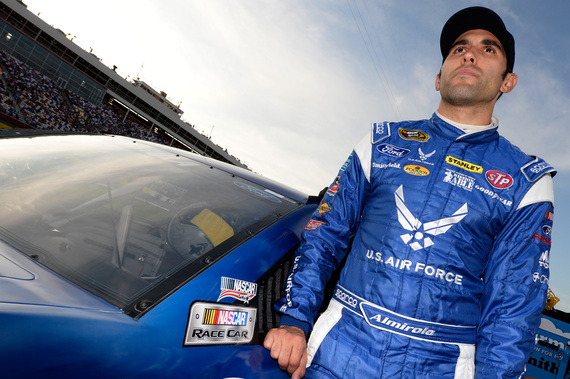 It was at a time when Fidel Castro was offering freedom flights to Miami, Fla. But if you wanted to go, you had to give all your personal belongings to the Cuban government. They fled Havana with only the clothes on their backs and their two children. My dad Ralph Jr., was four years old and my uncle, Roberto, was only two. This was the country that accepted them, welcomed them and presented an opportunity for a better life.
Mymaternal grandfather -- my abuelo -- was a highly successful Sprint Car racer of note, a three-time Tampa Bay Area Racing Association champion who helped me embark on a career as a go-kart driver at the age of 8, and I was instantly hooked. So, you could say that racing was a family passion. I grew up playing baseball and racing, but racing always won. I also studied mechanical engineering at the University of Central Florida, but got a major break in racing when I was 19 when Joe Gibbs signed me to participate in the Joe Gibbs Racing/Reggie White Driver Diversity Program.
My father was in the Air Force, serving as an environmental control specialist before joining the Hillsborough County Fire Department. I was born on Elgin Air Force Base in Fort Walton Beach, Fla., and now, it's come full circle with my opportunity to represent the Air Force as a racecar driver. I get to meet members of the Air Force and participate in Delayed Entry Program (DEP) swear-ins where young men and women make a commitment to protect our country. Raised by an Air Force veteran, I understand what they are committing to, which makes each of those swear-ins a very special moment for me.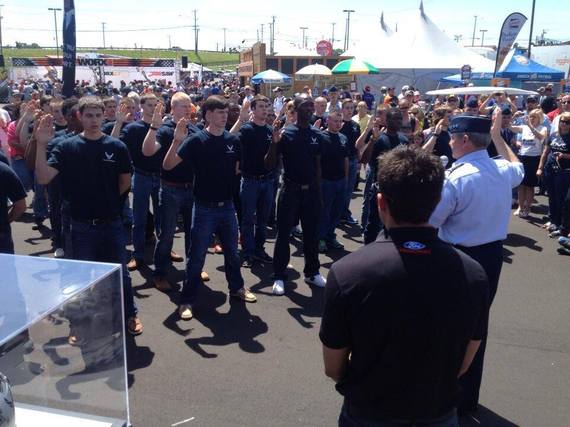 We live in a country that allows each of us to follow our dream of doing what we love -- and it's because of our brave military members that this is possible. I'm thankful for the men and women who put their lives on the line to make sure we, as Americans, get to wake up and pursue those dreams. It's one thing to live in a country that's so inviting -- a place where people want to be. But I also get to drive a racecar for a living and support my family. As blessed as I feel about my career and my beautiful wife Janice and kids Alex and Abby, I feel equally fortunate about my ability to give something back.
During the "NASCAR: An American Salute" period from Memorial Day Weekend to Independence Day Weekend, I will meet many troops and their families who will be hosted by NASCAR through Troops to the Track, a season-long program that hosts active duty military, veterans and military families to races across the country, in addition to the Air Force, members of the Paralyzed Veterans of America and Eckrich's Operation Inspiration. Some will be wounded warriors. Some will be family members who have lost a loved one.
I look forward to each weekend of racing and competing for my first victory in the NASCAR Sprint Cup Series. During Memorial Day weekend when I get to meet even more brave military members and their families, I will be racing, first and foremost, to demonstrate my love of my country.