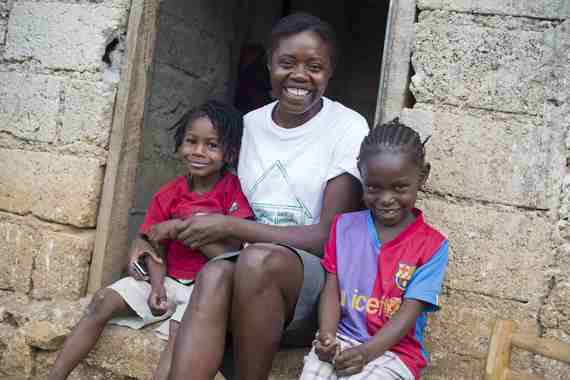 Every January, the passing of another year brings a time for reflection and resolutions.
For the U.S. Agency for International Development (USAID) and the broader global health community alike, 2015 was a momentous year. Today, I reflect back on some of the highlights and key moments from the past 12 months of our work to increase access to quality health care for the world's poorest and most vulnerable individuals and communities.
Globally, 2015 will be viewed as a turning point for international development. In September, world leaders gathered at the United Nations General Assembly to adopt a set of updated targets -- the Sustainable Development Goals (SDGs) -- to guide development efforts over the next 15 years. I was pleased to see the inclusion of specific, quantifiable targets for health that will hold us all accountable in our efforts.
Alongside the SDGs, the UN Secretary General launched an updated Global Strategy for Women's, Children's, and Adolescents' Health. As a supporter of and contributor to this document, USAID is confident this strategy will help align global action and galvanize progress for the health of women, children, and adolescents around the world.
As a US Government Agency we support these global targets through three priority goals: ending preventable child and maternal deaths, creating an AIDS-free generation and protecting communities from infectious diseases.
These are ambitious goals, but reflecting on some of our highlights from the past year alone gives me confidence that we, together with our friends and partners in the international community, can achieve them.
Ending Preventable Child and Maternal Deaths
To start off the year, the U.S. Government announced an historic pledge of $1 billion to Gavi, the Vaccine Alliance, to help reach 300 million children with lifesaving vaccines by 2020. This will contribute to further reduce under-five child mortality rates, which according to data released by UNICEF in 2015 went from 6.3 million to 5.9 million.
In April, new results released in The Lancet and The Lancet Global Health showed that simple antibiotic regimens for newborns can effectively manage serious infections, such as sepsis or pneumonia, when hospitalization is not possible.
2015 marked a decade of USAID leadership of the President's Malaria Initiative (PMI). PMI released its 2015-2020 Strategy at a White House event in February and its Ninth Annual Report to Congress in April. An estimated 4.3 million malaria-related deaths were averted from 2001 to 2013, thanks in part to our efforts through PMI.
At the Financing for Development Conference in July, USAID and government and NGO partners announced the launch of the Global Financing Facility, an innovative, country-driven financing platform that has already mobilized $12 billion to accelerate efforts to end preventable child and maternal deaths.
At the Call to Action Summit in August, Prime Minister Narendra Modi of India released USAID's 2015 Acting on the Call report, which details progress to end preventable child and maternal deaths in our 24 priority countries and how we will reach 38 million women worldwide with increased access to care during delivery by 2020.
The Saving Mothers, Giving Life partnership, of which USAID is a founding partner, released its Mid-Initiative Report at the first-ever Maternal Newborn Health Conference in October, announcing a nearly 50 percent reduction in maternal mortality in target facilities in Uganda and Zambia.
In November, Family Planning 2020, supported in part by USAID, published in its 2014-2015 Progress Report that an unprecedented 290.6 million women in the world's poorest countries use modern contraception.
We are constantly accelerating our efforts to end preventable child and maternal deaths, and I know 2016 will be no different.
An AIDS-Free Generation
As we celebrated World AIDS Day on December 1st, we looked back on the progress thus far in working toward an AIDS-free generation and recognized challenges that remain.
In fiscal year (FY) 2015, through the U.S. President's Emergency Plan for AIDS Relief (PEPFAR), USAID and our implementing partners supported 9.5 million men, women and children with lifesaving antiretroviral treatment and over 68 million individuals with HIV testing and counseling. We supported the training of nearly 200,000 new health workers to deliver HIV and other health services, and provided testing and treatment for nearly 15 million pregnant women. We also launched a new initiative intended to foster sustainable financing through domestic resource mobilization in the health sector.
Going forward, our efforts will be equally as ambitious. In September, President Obama announced the 2016 and 2017 targets for PEPFAR, including support for nearly 13 million people on antiretroviral treatment. Our efforts in 2016 will support these targets as well as the WHO's "treat-all" guidelines, released in September, recommending antiretroviral treatment for all individuals diagnosed with HIV.
Additionally, PEPFAR will reduce HIV incidence by 40 percent among adolescent girls and young women within high-burden areas of 10 Sub-Saharan African countries through its DREAMS Partnership, which helps girls develop into determined, resilient, empowered, AIDS-free, mentored and safe women. New partners were announced on World AIDS Day.
Protecting Communities from Infectious Diseases
This year, tuberculosis became the leading infectious killer in the world, despite a 47 percent reduction in global tuberculosis mortality since 1990. In March, the U.S. Government TB Strategy was released, formulating a tripartite "reach-cure-prevent" approach, and the White House released in December the National Action Plan for Combating Multidrug-Resistant Tuberculosis (MDR-TB), a growing threat in the world of infectious diseases. A partnership between USAID and Johnson & Johnson to donate lifesaving MDR-TB medicines to patients in more than 100 countries was launched in October.
As a medical doctor myself who spent years working on MDR-TB among the homeless population in New York City and later leading WHO's first global MDR-TB report, I am particularly excited about these recent developments because I know how critical it is to stay focused on TB.
The Ebola epidemic has demanded a rapid and thorough international response, and USAID continues to support countries in bringing the number of new infections to zero. USAID also works alongside affected countries to restore primary health services and to strengthen health systems to prevent future epidemics. In July, the U.S. Government announced its intent to invest more than $1 billion through the Global Health Security Agenda (GHSA) to prevent, detect and respond to future infectious disease outbreaks.
Our Vision for Health Systems Strengthening 2015-2019, describing our goal to partner with countries to provide sustained, equitable access to essential, affordable, high-quality health services, was released in September.
Looking Ahead in 2016
We must recognize that many of these global health milestones have been achieved thanks to bipartisan support in Congress and the support of many public and private implementing partners around the world.
With the start of the new year, we have officially entered the era of the SDGs. I am encouraged by our successes over the past 12 months, and I look forward to reaching new global health milestones in 2016. I am confident that by 2030, the new target date set for the SDGs, the health and well being of people will be even better than what it is today.