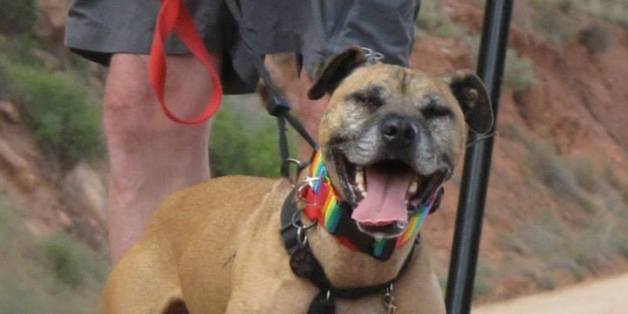 Ray was one of the former Michael Vick dogs -- a Vicktory dog, as this troupe is known.
And like so many of the dogs rescued out of the horrific Bad Newz Kennels in 2007, Ray went from the worst kind of cruelty to the sort of bliss only known to spoiled dogs who get to sleep in their indulgent humans' beds.
Ray died last weekend, after surgery to have his spleen removed.
If you'd like your heart broken a little, go read this beautiful blog post by his mom, Jacqueline Johnson, whose love Ray is so great she and her husband Kevin picked up and moved from a place where Ray wasn't legally able to be someplace where they could live together, in order to adopt him.
Jacqueline is also a champion for dogs like Ray. She's written extensively about her work educating the public about pit bulls, and dogs rescued out of fighting. About how Ray's very existence helps change minds about what these dogs are capable of; what they deserve.
"I never, ever felt as if Ray were just our dog," Jacqueline writes. "From the very beginning he showed that he was more than just a pet. It was as if he felt he had a mission to meet and touch as many people as he could."
They say the personal is political. In Ray's case, that's indisputably true. His sweet home life is something that's helped change the world.
Ray getting his happy ending wasn't a foregone conclusion.
At the time his fate was being decided by a federal judge, the standard outcome for a dog rescued out of fighting would have been death. The dogs were thought to be too vicious, too broken, to be saved. And some groups, like People for the Ethical Treatment of Animals, indeed asked the court for Ray and his cohort to be killed.
In 2008, a small group of advocates convinced U.S. District Judge Henry E. Hudson that the dogs should be given a second chance -- evaluated one by one, and, when possible, rehabilitated and adopted into loving homes.
In the end, just one of the dogs was euthanized for aggression. One was euthanized due to poor health. The others were allowed to live.
"It was important to me that each dog be considered as an individual," writes Valparasio University law professor Rebecca Huss, who was appointed legal guardian of the dogs, in a law review article about the process.
After Ray died, I asked Huss and some others, who'd worked so hard on behalf of these dogs, back in the beginning -- among them, Scotlund Haisley, now of Animal Rescue Corps, then of the Washington Animal Rescue League; Donna Reynolds of BAD RAP; Randall Lockwood of the ASPCA; and Francis Battista of Best Friends Animal Society -- what they thought had improved in the years since Ray's fate was in the judge's hands, and what was still left to be done.
A lot, on both counts, they told me.
19 states now have laws in place prohibiting or restricting local jurisdictions from regulating or banning dogs by breed.
More and more states are also officially giving dogs seized from dog fighting the opportunity to be evaluated, and then, when appropriate, rehabilitated and adopted.
The ASPCA's Randall Lockwood, who helped evaluate the dogs, says that the high-profile nature of the Vick case raised awareness about dog fighting with the public -- and that what happened to the dogs after that changed how Vick's victims, and other dogs like them, have come to be viewed.
"The evaluation, rehabilitation, appointment of a special master and eventual placement of the Vick dogs definitely marked a turning point in viewing fighting dogs as victims and as individuals, rather than instruments of the crime of dogfighting," he says.
Laws against dog fighting have also been strengthened in the years since Ray and the others won their freedom, both federally and at the state level.
"We really had no idea that the Vick dogs' lessons would run so strong in the hearts of the public," says Donna Reynolds, of the group BAD RAP, which helped evaluate the Vick dogs, and then took in 10 of them for placement in homes, "and even in animal welfare policy in our country."
But untrue, negative stereotypes about pits persist. And, in turn, hundreds of cities around the country still have laws banning or otherwise restricting pit bull ownership.
"Extensive misrepresentation of the nature of pit bulls is not merely unfair, but also has regrettable consequences," says Scotlund Haisley, who was charged with caring for and helping to rehabilitate 11 of the dogs, as then-director of the Washington Animal Rescue League. "Safety isn't achieved by clumsy, blanket restrictions on broad classes of dogs."
And if it's more common now for dogs rescued out of fighting to be given the chance for a better life -- them not getting that chance far from entirely a thing of the past.
"Until every animal rescued from a cruelty situation, including dog fighting, is individually evaluated and treated with compassion, the work is not over," says Huss.
I got to meet Ray once. Last fall, he, Jacqueline and I had lunch at the Best Friends Animal Society cafeteria, at the group's sanctuary in southern Utah.
Best Friends took in 22 of the Vick dogs. Ray was among them. He still went back every day, even after his adoption, because Jacqueline works at the sanctuary. (Full disclosure: my brother now works for Best Friends, too. He didn't at the time. Our parents are amazed they have two kids whose professional lives involve pit bulls.)
I hear it's very exciting to meet a movie star or musician, for some people. In my waggy world, it's big shot dogs. And Ray is a titan.
As we sat on the deck, looking out at the stunning red rock mountains on the sunny day, eating mac and cheese and talking about animals, Ray was mobbed by fans. One after another, folks came by to pay their regards to the little brown dog whose huge smile was so well-earned.
Ray took it in stride. He seemed used to being adored.