Not all adoptees grow up with a feeling of disconnectedness and loneliness, but Debbie Siegel Leonardo often felt that way as she was growing up in the 1960s in the northeast section of Philadelphia.
As an only child living with her adoptive parents, adoptive grandmother and uncle, Debbie never knew what it was like to be a sibling or have a sibling. Understanding that she was adopted from early on, instead of feeling special, at times she thought her mother really didn't want her.
Little did she know while growing up that a sister lived just blocks away from her in the same section of Philadelphia, and few miles south in the Olney section of Philadelphia, still another look-alike sister was being raised, also as an adopted only child.
As an adult, Debbie searched through the internet and Philadelphia Orphan's Court, and through her tireless effort, she hit the sibling jackpot. Aside from finding the two sisters that weren't very far away all those years ago, she found four siblings in total, all but one adopted out to different families.
Amazingly too, Debbie's timing was perfect. She received her birth mother's name, Florence Reidstein, shortly after the woman's death, as relatives insist Florence would never have agreed to release that information to the children she gave up for adoption.
From her birth mother's name, Debbie found that five children were born to Reidstein (listed in birth order) Kenny (adopted name Razen) born in 1949, Barbara (adopted name Kay, now Bromberg) in 1951, Joan (adopted name Spivack and now Panofsky) born in 1957, and then Debbie (adopted name Siegel and now Leonardo) in 1960 and finally Wendy Loeb (now Hibbs) in 1972.
In September, after the fifth and final sibling was located, all five siblings reunited in a joyous day of swapping photos and histories.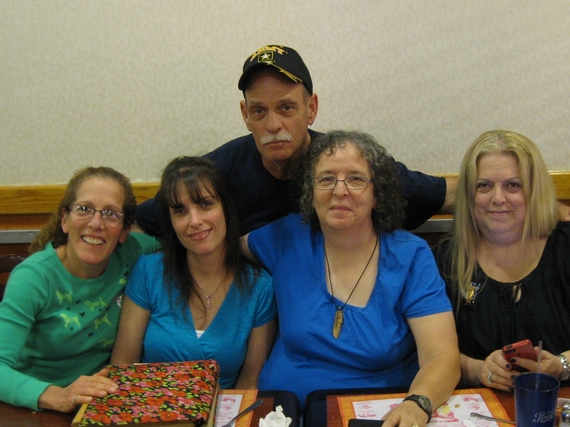 (L-R Debbie, Wendy, Joan, Barbara and Top - Kenny)
Kenny through Debbie were all adopted by private adoption or through a social service agency called Jewish Family Service. Florence Reidstein was unmarried through all of those pregnancies.
In 1972, pregnant with Wendy, Florence Reidstein married a man named Walter Loeb and raised daughter Wendy in this marriage.
Florence never disclosed any information about Wendy's siblings. The others, the four siblings, didn't try to discover their roots until adulthood, mostly to find out medical information. It was Debbie who was hoping for something more.
Determined, Debbie worked through a tedious process with the Philadelphia Orphan's Court to get records released. After years of paperwork, she got a name Florence Reidstein. In 2005 she visited a website for adoption searches and when she entered the surname Reidstein, she got a hit -- Joan Panofsky.
Joan had not been on the website for long before Debbie found her.
"After I was married, and gave birth, I was anxious to know my medical history so I eventually signed up on a website," Joan said. "I had asked my mother for information and she said for me to look in her safe deposit box when she passed away. In 2003, she passed away and I found the name Reidstein written on an envelope so I put that name up on the adoption website."
Joan and Debbie met for the first time in 2005, and recognized features in one another and from photos saw an even more remarkable resemblance when they were younger. An instant bond was formed and they became fast friends.
"At first, I didn't know how I was going to deal with all of this, but it has flowed so easily," Joan Panofsky said. "I always wondered what it would be like to have siblings and I now have more of a sense of who I am."
Debbie continued corresponding with the Orphan's Court to find out about her other siblings and found youngest sibling Wendy in 2008. Wendy was shocked but happy and was willing to meet Debbie and Joan. They shared photos and found that Joan and Debbie strongly resembled their mother Florence from the photos of her that Wendy shared with them.


(Florence Reidstein Loeb on her wedding day in 1972)
The three remained in contact, but Debbie knew there were others and she continued to search.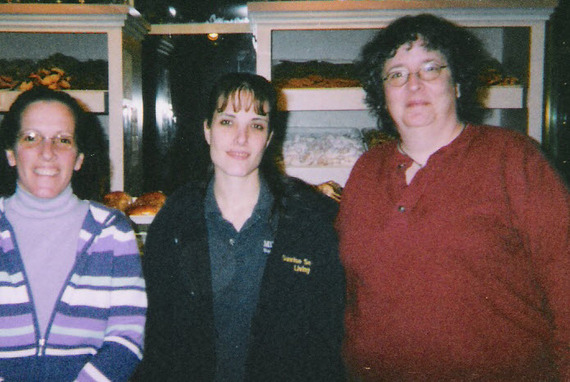 (When there were just 3 - L-R Debbie, Wendy, Joan)
In 2013, Debbie found the last two siblings, Kenny Razen, and finally Barbara Bromberg. They started corresponding through Facebook, and in September they had a joyous reunion of all five siblings. They all plan to keep in touch, share some family occasions and try to get all of the cousins together.
They believe they all had different birth fathers and they may do DNA testing at some point.
From sharing their histories, they found out in that coincidentally, in the early 1980s several of them lived in the same neighborhood as each other, along with their birth mother and Wendy. They frequented the convenience store where their birth mother worked. Living among one another, they probably crossed paths at many points, never knowing their relation.
Barbara Bromberg, the last to be found, had never pursued discovering her past, as she said she hit the "parent jackpot" with her adoptive parents. She was at first worried how her mother would react, but her mother is thrilled with Barbara knowing her siblings, and Barbara is happy as well.
One by one, Debbie found all of her siblings, all living in the area of New Jersey and Pennsylvania. Once strangers, now they are family.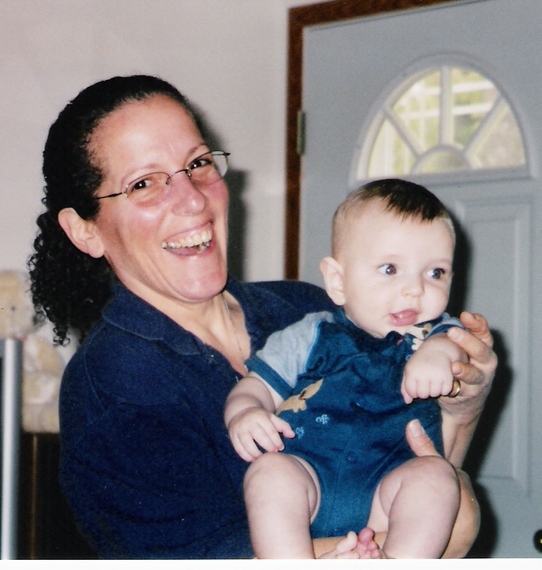 (No longer an only child, Debbie not only has siblings now, but has nieces and nephews, and even great-nieces and nephews. Here holding her great nephew, the first grandchild of her sister, Joan)
"Regardless of how far we live from each other or how often we talk, I now feel that I am connected to something," Debbie Leonardo said. "I feel an incredible sense of gratitude."
For Debbie, who never had children of her own, her feeling of being alone in the world is finally gone for her, never to return.