The Tarahumaras have been known for their superhuman physical stamina and strength in long-distance running. The celebrated National best-seller novel, Born to Run, has attracted the attention of many to this indigenous population hidden within the Copper Canyon of Mexico.
This time, however, the race is not as favorable.
Since the beginning of 2012, the worst drought that Mexico has endured in the past 70 years has devastated many lives of the Tarahumara population living in the state of Chihuahua. Crops desiccated before the harvest season; livestock perished in the semi-arid pastures; people struggled to keep their families alive. Numerous organizations, including One Heart World-Wide, joined hands to support a relief program for the community isolated by its geographic barriers.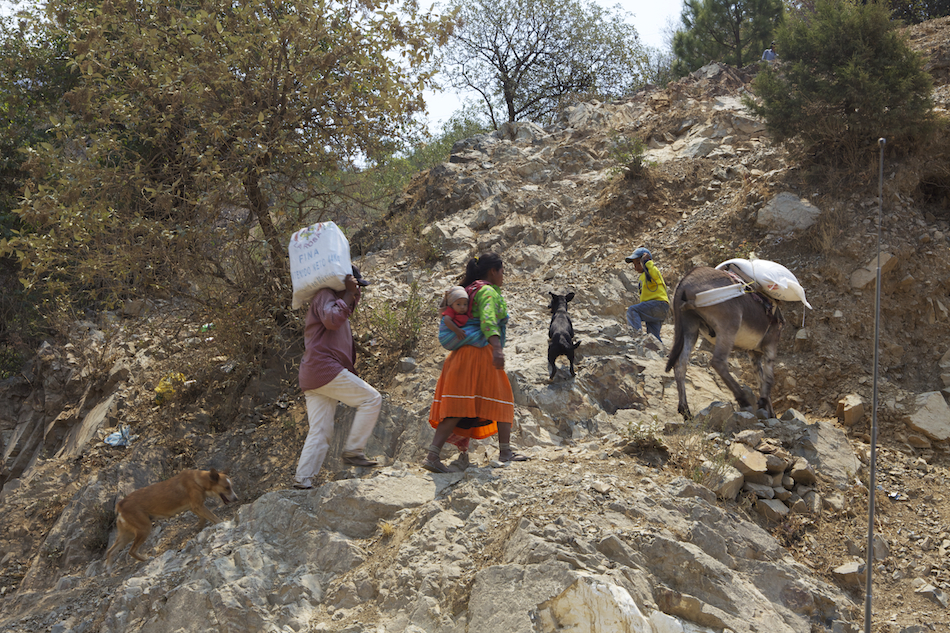 Transport of food up the jagged path
One Heart World-Wide is a nonprofit organization that strives to reduce maternal and infant mortality in remote communities, and the Tarahumaras have been one of the communities we work with since 2009. In instances of food shortages, pregnant woman and infants are the most susceptible to the risk of malnutrition and starvation. Proper nutrition during pregnancy and infancy are necessary for healthy development, and a lack of basic nutrients contributes to increased rates of illness and even death.
The two-year drought has brought tremendous stress to the people. In order to alleviate this issue, One Heart World-Wide has successfully raised funds from the Dorothea Haus Ross Foundation and other generous donors to purchase food packages that constitute a typical Tarahumara diet of corn, rice, beans, milk, cooking oil, noodle soup, sugar, corn dough, salt and coffee. Each food package is sufficient to nourish a family for a month. We found a local vendor and distributor, Diconsa S.A. that delivers the food packages in a timely and efficient manner.
Diconsa S.A. delivered the food to two central locations, one at the municipal clinic of Urique and the other on the opposite end of the canyon, in a village called Cerocahui. The perilous transport of the food packages from these central locations to the more remote communities would not have been possible if it were not for One Heart-Mexico volunteers and members of the Health Service Authorities. They assembled and distributed these food packages to families with either a pregnant woman or a nursing mother.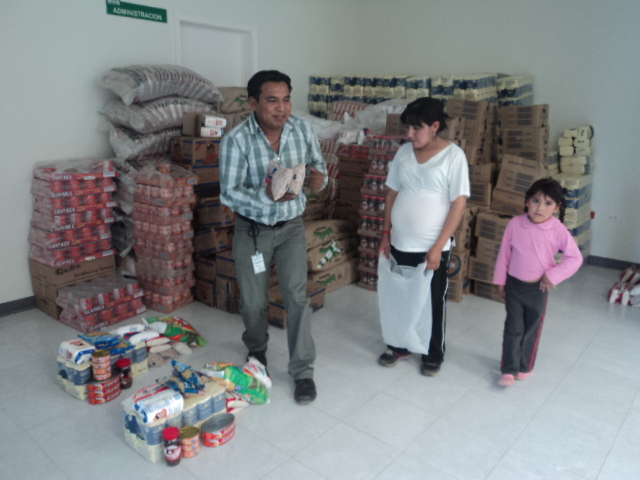 Our Mexico team manager distributing food to a pregnant Tarahumara woman and her child
Unfortunately, the devastation brought by the drought and the food shortages have led the Tarahumaras to seek other resources for income. Some, out of desperation, resort to becoming "burros" (illegally transporting marijuana on foot in very dangerous situations) between the US and Mexican borders. Camillo Villegas-Cruz, a Tarahumara, explained his conflicting situation in a Newsweek report issued in June 2012. When strangers offered them him to be a burro for $1500, he quickly accepted and found himself in jail when the US border patrol caught him.
No one knows when the hunger race will end. Regardless, as public crowds cheer and encourage marathon runners during a race, so should we support the Tarahumaras in whatever way possible.
With determination and hope, there is no doubt that the Tarahumaras will finish this race strongly.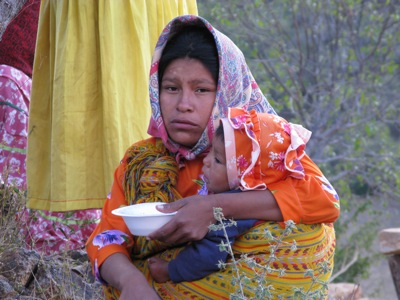 Tarahumara woman and her baby