REIMS -- "Soft Work," Sterling Ruby's first solo show in France, opened last week at the Champagne-Ardenne FRAC in Reims. It focuses on several new pieces in an ensemble first conceived in 2005, and marks a departure for the artist, who previously worked primarily with more solid materials. Here, as the title indicates, softness predominates through the use of stuffed fabric -- but the ideas are hard-hitting.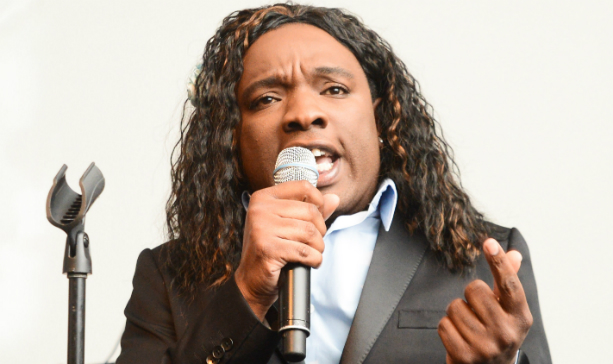 Installation view of Sterling Ruby's exhibition, "SOFT WORK," at the FRAC Champagne-Ardenne/ Martin Argyroglo

The exhibition was curated by FRAC director Florence Derieux -- a different version of it was presented at the Geneva Contemporary Art Center earlier this year. It includes works resembling vampire mouths that hang from the rafters, red dripping from their teeth like cushy metaphors for consumerism. The series "Husband & Child" consists of beanbags shaped like buttocks and was inspired by the beanbag chairs found in typical American TV rooms of the 1980s. Other pieces are more vertical, like a set of thin, intertwined sausages that recall the bars of a prison. "This generation of artists, especially in the United States but not only there, has stopped believing in this opposition between abstraction and formalism," Derieux told ARTINFO France. "There is a sort of reusing of these strategies."
The sculptures in "Soft Work" -- which is on view through August 26 -- have been sewn with various stuffed and colorful fabrics, some of which are recycled, while others were purchased. Certain pieces are covered with dripped paint à la Jackson Pollock, while others feature recognizable patterns, like the American flag. At first glance the installation is fun and funny -- a big cushiony playground. But there's really nothing so soft about this show; its thinking is quite radical. Erotic but not vulgar, political but peaceful, the installation touches on four major subjects: the United States, feminism, economic liberalism, and the penal system.
"'Soft Work' is only a didactic term. It's not hard, it's not solid, it's malleable," Ruby told ARTINFO France. "This term refers to what the installation is. It's a fiber sculpture but it's also in reference to several centuries of art using textiles, to art therapy, and to feminism, especially. In America, there is a domesticity that is not associated with masculinity -- or if it is, it's usually associated with a difference, a contradiction." Ruby, who studied French theory in college, cites the incluence of Foucault's writings on the penal system, heterotopias or spaces on the margins of society, sexual norms, domesticity, and societal constraints on the individual.
Born in 1972 to a Dutch mother and an American father, Ruby chose to work in Los Angeles, where he was an assistant to the late Mike Kelley, who became a close friend. Derieux said that some of the works are an homage to Kelley, who committed suicide earlier this year. "The universe of 'Husband & Child' is quite close to that of Mike Kelley," she said. "Why certain practices, certain human activities are ascribed to women, for example, sewing, etc. -- they had talked about this a lot."
-Juliette Soulez, BLOUIN ARTINFO
More of Today's News from BLOUIN ARTINFO:
See Newfound Photos of Marilyn Monroe, With the Tragic Actress's Edits, at Steven Kasher
Spike Lee To Direct Mike Tyson's Broadway Play
Mary-Kate and Ashley Olsen, Billy Reid, and Reed Krakoff Take the Top Honors at the 2012 CFDA Awards
Preview the Austere Highlights of This Week's MadridFOTO
Designers of New York: The MoMA Design Store Wants You
Like what you see? Sign up for BLOUIN ARTINFO's daily newsletter to get the latest on the market, emerging artists, auctions, galleries, museums, and more.