As the attention of the international art crowd whips from Frieze to FIAC, Canadian connoisseurs will also have their own market event coming to town next week with the opening of the Toronto International Art Fair, Canada's one and only annual modern and contemporary art bazaar.
Visit ARTINFO for a visual preview of some of the works on view in TIAF's aisles.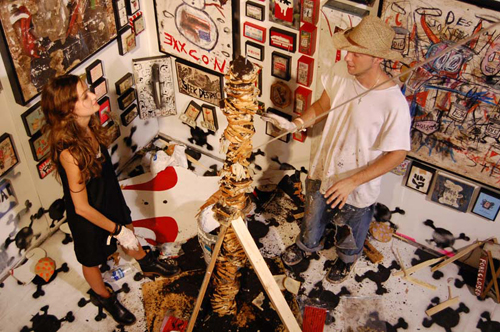 An installation by Greg Haberny at the booth of New York gallery Lyons Wier / Courtesy Toronto International Art Fair
Swinging wide its doors to the public on October 28, the fair focuses on Canadian art but will gather over one hundred galleries from 13 countries, with an increased presence of younger exhibitors -- like New York's Lyons Weir and Mike Weiss galleries -- reflecting the resurgent market for mid-range works by untested talents. The United States and Germany are both better represented than previous years as well. (See full list of exhibitors, visit TIAF's Web site.)
Art Toronto features special exhibitions in addition to gallery booths, including a display curated by fashion designer Jeremy Laing -- called "Everything Must Go" -- that explores the relationship between art and fashion, display, and salesmanship. Another exhibition, called "Next Section," exclusively features emerging galleries and showcases the works of up-and-coming artists. Canadian art gallery Power Plant will host lectures by New York art adviser Thea Westreich, influential contemporary art scholar and critic Thomas Crow, and Vancouver-based artist Ian Wallace. Expert guides will also be on hand to provide tours of the fair with an emphasis on Canadian art, pointing out to curious visitors the visual bounty of the Great White North.
As a preview of Art Toronto, ARTINFO has compiled images of some work that will be on view in the aisles next week. Visit our Toronto International Art Fair slide show to see what will be on offer.
-Natalie Shutler
Follow ARTINFO on Foursquare: http://foursquare.com/artinfo