The dog days of summer have arrived in New York City, which means one thing: It's time to get out. To help with this end, our staff has put together our own idiosyncratic list of day trip destinations for the art lover. Some are obvious, some more obscure. All of them you can do in a day, and though we've calculated the driving distance (all times are calculated from Manhattan, and minus traffic), we of course recommend taking public transportation when you can, for the most aesthetically pleasing experience. Enjoy!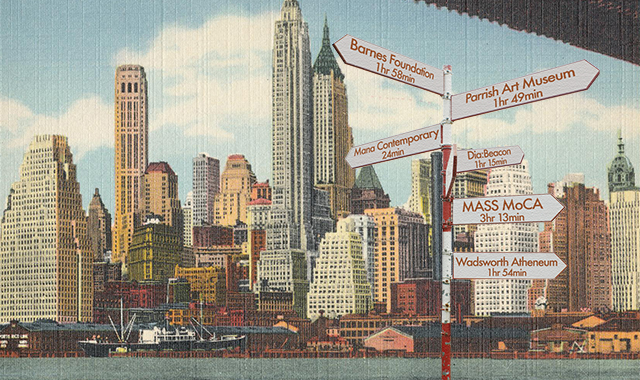 Illustration by ARTINFO

1. Mana Contemporary
Jersey City, New Jersey
24 minutes by car
Just across the river from Manhattan, Mana Contemporary is a sprawling -- and still growing -- 1.8 million-square-foot art center. Summer highlights in the converted warehouse include the largest exhibition in the United States of works by Japanese photographer Nobuyoshi Araki and a video installation of works by Palestinian women living in Israel. As part of its mission to bring artists together in a community, Mana is also home to more than 70 artist studios, many of which keep their doors open for visitors while a glass-walled dance studio allows the opportunity to watch contemporary dance rehearsals.
2. Edward Hopper House Art Center
Nyack, New York
35 minutes by car
Nestled in the riverside town of Nyack, New York, the birthplace and childhood home of Edward Hopper pays homage to the realist painter with exhibitions, readings, live jazz in the garden, and more. Currently on display at the house are 29 letters written from Alta Hilsdale, a secret lover Hopper had between 1904 and 1914. The letters, which remained undiscovered until 2009, offer a new context for understanding his earlier works and are accompanied by an exhibition of original and reproduced Hopper paintings. A concurrent summer exhibition presents works by Great Depression photographer Dorothea Lange, while an installation by multimedia artist Tony Oursler is slated for the fall. The Hopper House is also just a few blocks from downtown Nyack and it's plentiful restaurants, shops, and bars.
3. Phillip Johnson Glass House
New Canaan, Connecticut
53 minutes by car
In addition to being a transparent expression of modernist ideals, late architect Philip Johnson's 1949 Glass House provides an idyllic setting for architectural discussions, exhibitions, and live performances. On view now at its 49-acre campus in New Canaan, Connecticut are installations by Tauba Auerbach and E.V. Day. As a bonus, the gift shop features a selection of design objects curated by Murray Moss -- but, really, the house itself is the main attraction. It's a veritable Mecca for young architects, as director Henry Urbach once told Architectural Digest: "It's not uncommon for tears to well up in their eyes as they approach," he said.
4. Aldrich Contemporary Art Museum
Ridgefield, Connecticut
1 hour 6 minutes by car
The only institution in Connecticut dedicated to contemporary art, the Aldrich presents work by internationally renowned artists like Robert Longo, Jane South, and Allison Smith -- all of whom have exhibitions at the museum through the summer. The third Saturday of each month, the museum curates a series of family-friendly art experiences with workshops and summertime picnics in its wonderful sculpture garden.
5. Storm King Art Center
New Windsor, New York
1 hour 7 minutes by car
Storm King's current show, Thomas Houseago's "As I Went Out One Morning," is just one more reason to make it out to this sprawling outdoor sculpture park in the lower Hudson valley. Houseago's distinctive sculptures dot the peak of Museum Hill through November. While you're there, you can also hike across the fields, have a picnic (the café offers box lunches for this purpose), or hop on a tram, which zips around the property making pick-ups every half hour, to check out the permanent collection spread out across 500 acres of rolling hills. There are over 100 works, including those by Louise Bourgeois, Sol LeWitt, Claes Oldenberg, Linda Benglys, Zhang Huan, and Maya Lin, not to mention a 75-foot America's Cup boat painted with a mermaid graphic by Pop artist Roy Lichtenstein. See our video tour of Storm King's new exhibitions HERE.
6. Dia:Beacon
Beacon, New York
1 hour 15 minutes by car
This sprawling post-industrial cathedral on the banks of the Hudson is devoted to the gods of Minimalism and Conceptual art, with sprawling, sun-filled galleries dotted with works by the big boys (and they are nearly all boys) of post-war art including Dan Flavin, Donald Judd, Sol LeWitt, Michael Heizer, John Chamberlain, Richard Serra, and Robert Ryman. There is also an incongruous but not less delightful mezzanine packed with Louise Bourgeois sculptures. In addition to its deep, deep, deep permanent collection, Dia organizes special exhibitions, including current shows devoted to Alighiero e Boetti and Imi Knoebel.
7. Grounds for Sculpture
Hamilton, New Jersey
1 hour 18 minutes by car
Sculptor and Johnson & Johnson heir Seward Johnson (famed for his giant statue of Marilyn Monroe in Chicago) has transformed the former grounds of the New Jersey State Fair into a 42-acre art complex. The outdoor summer exhibition presents works by French Conceptual artist Bernar Venet alongside the park's collection, which includes works by Red Grooms, Kiki Smith, and Robert Mangold, among dozens of others, while the indoor galleries are exhibiting works by Latino multimedia artist Pepón Osorio, Jason Peters, Jonathan Shahn, and Jo Yarrington through the fall. Three on-site establishments offer food, wine, and beer, and picnic baskets are available at the café, so all you need to pack is a blanket.
8. Yale University Art Gallery
New Haven, Connecticut
1 hour 26 minutes by car
The Yale University Art Gallery, the country's oldest university art museum, has never really lacked for attention or accolades. But a widely praised expansion and renovation that culminated in its re-opening late last year, make a trip to New Haven a must. The gallery grew from one-and-a-half buildings -- the 1953 Louis Kahn-designed building, plus half of the old Yale Art Gallery -- to three. And the encyclopedic collection that was accumulated over 180 years offers something for everyone.
9. Parrish Art Museum
Water Mill, New York
1 hour 49 minutes by car
Established in 1898, the Parrish has had plenty of time to amass a superb collection, one that it has finally been able to showcase properly since moving into its new Herzog & de Meuron-designed building in Water Mill, where seven of the largest galleries are devoted to exhibitions drawn from its permanent collection. Its lineup for summer includes solo shows of Josephine Meckseper and Michelle Stewart, as well as a historical exhibition juxtaposing works by Jackson Pollock, Alfonso Ossorio, and Jean Dubuffet.
10. Wadsworth Atheneum
Hartford, Connecticut
1 hour 54 minutes by car
In 1842, founder Daniel Wadsworth opted for an "atheneum," a 19th-century term for an institution with art and a library, rather than a "gallery of fine arts." Now the oldest public art museum in the U.S., Connecticut's Wadsworth Atheneum boasts a collection of nearly 50,000 works of art from 5,000 years of art history, though they are known for their accumulation of Hudson River School paintings. More recently, the Atheneum has embarked on rather contemporary programming, emblematized in their two summer exhibitions -- one a viewing of a recently acquired video piece, "Ascension," by Bill Viola, and the other, "Media Rewind 1963," looking back at the intersection of media and art during the ascent of Pop Art.
11. Dan Flavin Art Institute
Bridgehampton, New York
1 hour 56 minutes by car
Since 1983, this century-old former firehouse in Bridgehampton has housed nine permanent fluorescent light installations that Dan Flavin created between 1963 and 1981. The intimate institution, which is operated by the Dia Art Foundation, also hosts temporary exhibitions, like the current show of John Chamberlain's rarely seen quasi-minimalist paintings on metal.
12. Barnes Foundation
Philadelphia, Pennsylvania
1 hour 58 minutes by car
The recent lengthy legal struggle over the ultimate home of collector Albert C. Barnes's blockbuster Impressionist art collection will undoubtedly go down as one of art history's most contentious. But for now, the collection, thick with Renoirs and Cezannes, is drawing crowds and critical praise at its new home on Benjamin Franklin Parkway in Philadelphia. The design of the new space, by architects Billie Tsien and Tod Williams, has drawn kudos from observers for maintaining the intimate nature of the original galleries while allowing for greater access to the collections and programming.
13. BOFFO Art Camp
Fire Island, New York
Less than 2 hours -- but no cars allowed on the island
Art-loving New Yorkers no longer have to choose between lounging at the beach and cultural enrichment, thanks to the Boffo Fire Island Art Camp. From June through early September, the Manhattan-based non-profit sets up shop in the Pines of Fire Island, bringing daily programming and artists in residence to their idyllic oceanfront locale. Coming up this summer, artist/designer Item Idem and musicians The Black Soft will each spend two weeks at Boffo participating in sunset performances, exhibitions, film screenings, and other experimental, participatory community projects. Head out on August 3rd to celebrate Andy Warhol's birthday with diving and cannon ball contests.
14. Olana
Hudson, New York
2 hours by car
Hudson River School painter Frederic Church's spectacular estate outside the town of Hudson is a splendid gesamtkunstwerk, like one of his cinematic paintings made real, with its strange Persian-style palazzo plopped atop a hilly, 250-acre property with spectacular views of the river below. His incongruous home houses a treasure trove of objects from his journeys all over the world, plus a selection of his epic paintings, while the surrounding estate makes for lovely walks in the spring, summer, and fall.
15. LongHouse Reserve
East Hampton, New York
2 hours 13 minutes by car
Buckminster Fuller's Fly Eye Dome sits in the center of the Longhouse Reserve, surrounded by lush gardens and the contemporary art collection of Jack Lenor Larson, a world-renowned textile designer and writer. Scattered throughout 16-acres are works by Sol LeWitt, Lynda Benglis, and Willem de Kooning, among many other artists. Pieces by Ai Weiwei, Alice Aycock, and Jack Youngerman are on view through October.
16. OMI International Arts Center
Ghent, New York
2 hours 14 minutes by car
Sited on 300 acres in upstate New York, Omi began as an art prize -- the Francis Greenburger Prize, named for its founder -- and then a residency program hosting visual artists, writers, musicians, dancers, and more, before adding the Fields Sculpture Park in 1998, which includes permanent installations and an annual temporary exhibition (the current one features works by Paula Hayes, Erwin Wurm, Allan McCollum, and more). The center also boasts educational programming, an architecture initiative, and an indoor gallery that hosts exhibitions year-round.
17. Pollock-Krasner House and Study Center
East Hampton, New York
2 hours 18 minutes by car
Whether you're tired of hobnobbing with the same Hamptonites you run into in Manhattan all week, or just need an excuse to get out of the city, make a break for it and head to the Pollock Krasner House & Study Center in Springs, an East Hampton hamlet where the famed Abstract Expressionist and his artist wife lived and worked after moving there in 1945. The house is filled with the artist's personal belongings, while on the floor of the small barn that housed Pollock's adjacent studio, you'll see ample evidence of his unique process of creating drip paintings. Following the artist's death in a car crash in 1956, Krasner also painted many of her major canvases in the barn studio, and before her death in 1984, she herself laid out the plans to convert the space into a public museum and library.
18. CCS Bard Galleries and the Hessel Museum
Annandale-on-Hudson, New York
2 hours and 23 minutes by car
The Hessel Museum, part of Bard College's Center for Curatorial Studies, brings together over 3,000 works by 20th- and 21st-century artists, presented alongside shows curated by students in the center's prestigious program. The summer schedule includes the first U.S. museum exhibition of work by British artist Helen Marten; multimedia works by Haim Steinbach; and a student show of work by Gilda Davidian, curated by Sarah Higgins. After visiting the museum, make sure to check out Olafur Eliasson permanent outdoor installation, "The Parliament of Reality."
19. Worcester Art Museum
Worcester, Massachusetts
2 hours 53 minutes by car
What began as a tract of land on the Salisbury Farm in 1898 in Worcester, Massachusetts, is now the second largest museum in New England with a large and diverse collection of art objects, including the first works by Monet and Gauguin to be purchased by a U.S. museum. WAM has free admission during the summer, Wednesday through Sunday, and has nine exhibitions currently on display, dedicated to subjects ranging from Japanese prints by Yoshida Tōshi, Nancy Spero's feminist art, and ancient statues from southern Italy.
20. MASS MoCA
North Adams, Massachusetts
3 hours 13 minutes by car
If you're looking for an astounding large-scale art experience, Mass MOCA is worth the car ride. Its current series of shows offers a good sampling of this young museum's mission of presenting new art of the highest quality. For instance, Xu Bing's "Phoenixes" -- two 100-foot-long mythical creatures composed of construction materials from Beijing like hard hats, shovels, and bamboo scaffolding -- are currently commanding the gargantuan main gallery space. While new shows change things up regularly at this Berkshires institution, Sol LeWitt's long-term installation of wall drawings (which is on loan for 25 years), and Anselm Kiefer's show, which opens in September, are reason enough to treat Mass MOCA as a site of pilgrimage.
To see images of all 20 of our day trip art spots, click on the slideshow.
-BLOUIN ARTINFO, ARTINFO
Like what you see? Sign up for ARTINFO's daily newsletter to get the latest on the market, emerging artists, auctions, galleries, museums, and more.