Though last week's pair of art world missed connections were conspicuously free of encounters at gallery openings, just such items dominate this week's set. They include a Frenchman's flirtations with an Etsy worker at a Chelsea opening, a woman taken with an unnamed painter who might be Macaulay Culkin, a North Brooklyn photographer's poorly written note to a cute artist, and more.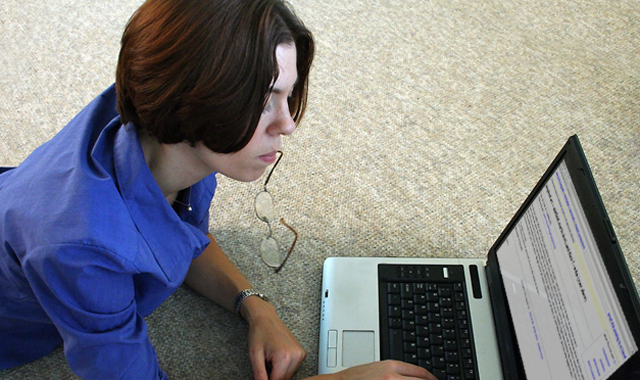 Photo courtesy stock.xhng/ Illustration by ARTINFO
In this week's juiciest post, a young woman invites an artist with a winning smile whose exhibition of Pop art paintings she visited on opening night to go biking and picnicking in Brooklyn. Her post, "inspired art -- seinfield, mario, kurt, and then ? - w4m (your show)," goes like so:
it was your gallery show and dj thing. a guy took me there on a first date. i was not cool enough to be there. he certainly wasn't. that's besides the point. there was a canvas painting on the back wall with a safety pin in the man's shirt. i couldn't stop thinking about that damn safety pin and when you smiled. it wouldn't have been right for me to approach you then. but maybe you want to go on a bike ride in brooklyn sometime or we can picnic before the weather turns. no expectations. just to see you smile again. maybe even at me. i carried a light blue bowling bag across my chest. nothing weird or creepy here, just, i don't know.. thought maybe the cosmos wanted this put out there. so, now that's done. let's see what happens next?
It took us a second, but we're fairly certain that the exhibition the author is referring to is the Macauley Culkin, Adam Green, and Toby Goodshank (aka 3 Men and a Baby, aka 3MB) show at Le Poisson Rouge, which opened on Thursday night. (If so, this would be our second hypothetical celebrity-implicating art world missed connection.) In a video interview before the opening, the trio explained the process behind their collaborative, nostalgia-excavating paintings. But, the multi-million-dollar question (literally, seeing as Culkin is worth many millions more than his cohorts) is, which of the three artists has the winning smile that so captivated this young woman? In any case, we'd recommend foregoing the picnic-bike ride plan and holding out to go together to the Brooklyn Museum's upcoming Mickalene Thomas exhibition. We imagine it might help 3MB reach the next level.
Another, much more vague opening night missed connection comes to us from the charming Frenchman who wrote "Any , you work at Etsy - m4w - 28 (Chelsea)." In sweetly broken English, he says:
Bonjour, your name is Any. I am the French man who chat with you and your two friends roommates who lives in Clinton hill. We met Thursday evening in a Chelsea art gallery after the performance/concert.
You have red hair, a green dress and a piercing on your nose. You told me that worked for Etsy. I wish I asked your phone number for a drink before you left:(
For the record, we're pretty sure that the emoticon for "sad French man" looks like this: /:-( . That said, we feel your pain, monsieur. Given that Etsy's offices are in DUMBO, and that you are most likely a tourist, we'd recommend spending some time in that most photogenic neighborhood in hopes of running into this mysterious Any-woman. If you do, invite her to the DUMBO Arts Festival at the end of the month.
A similarly garbled message -- though less affectingly so because penned by a purported anglophone -- was written by a resident of North Brooklyn. In "girl in yellow with portfolio and glasses - m4w - 29 (metropolitan ave)," he writes:
We were walking into Williamsburg down Metropolitan next to each other, you tuned and smiled at me... I have to say I wish I said hello, you looked really rad. Me; I was unshaven, brown curly hair, gray shorts, shirt with rolled up sleeves. I'm a photography and art girls always make me melt. I think I like the idea of beaming out a message like the voyager satellite more than the chance you'll read this.
From the nonsensical punctuation to the hilariously confusing closing metaphor, there's a lot to love about this post, our favorite thing being this pretty telling Freudian slip: "I'm a photography." Clearly, he just wants to get into her portfolio.
Lastly, least interestingly, and just across the street from the ARTINFO offices, we have "You walked into a gallery on 26th between 10th and 11th - m4m - 26 (Chelsea)":
You were wearing a blue'ish button down and going to work maybe. I was walking behind you in a pink shirt and tie. You're adorable. I thought you were headed my way until you turned into a gallery on 26th Street. Just thought I'd say you have the kindest eyes I've seen in a long time.
Not to get all Sherlock Holmes-y on you, Pinky, but how did you get such a good look at this man's glorious eyes if you were walking behind him? Regardless of which of his features really caught your attention -- distracting you enough to not even register which gallery he went into! -- why not meet up back on 26th Street for Thursday night's Jenny Scobel opening at Thomas Erben Gallery?
-Benjamin Sutton, BLOUIN ARTINFO
More of Today's News from BLOUIN ARTINFO:
The 10 Best Booths of Art Berlin Contemporary 2012
Canvasses on the Catwalk: Art-Inspired Looks at New York Fashion Week
"Imagining the Lowline" Sheds Light on the Potential for an Underground Park
Asian Buyers and a Hot Air Balloon Lift Paris's Biennale des Antiquaires
13 Questions With Artist and Sonic Youth Cofounder Kim Gordon
Like what you see? Sign up for BLOUIN ARTINFO's daily newsletter to get the latest on the market, emerging artists, auctions, galleries, museums, and more.