New York City devotes a week out of the year to art to coincide with the annual behemoth Armory Show -- and this year a second for Frieze New York -- and two more to clothing for the stylish set to crowd the catwalks during Fashion Week. It's only fair to devote some time to the latest in furniture and lighting accessories, which brings us to New York Design Week. Scheduled to coincide with the International Contemporary Furniture Fair, NYDW is only four days long, but packs plenty of sights and sounds to keep furniture lovers satisfied. ARTINFO rounds up highlights from the main event, as well as the smaller satellite programs around town to entertain normal people and design wonks alike.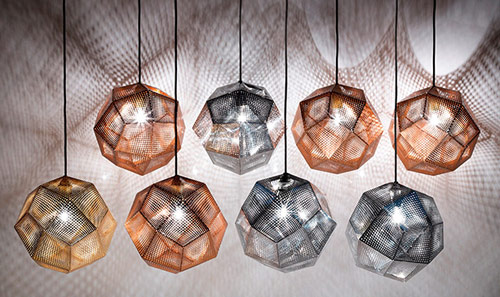 Tom Dixon's light fixtures at NoHo Design District / Courtesy the Artist and NoHo Design District
International Contemporary Furniture Fair

The main event is the ICFF at the Javits Center, a presentation of all that is new and huge in design. More than 500 exhibitors come out to present the latest products in living, dining, kitchen, and bath, including Bernhardt Design, which will unveil industrial icon Charles Pollock's first chair in 30 years. The venerated trade show opens to the public on its last day, Tuesday, the 22nd, but the ICFF invites you to kick off the festivities at the Opening Night Party at the Park Avenue Armory amid Tom Sachs's interstellar "Space Program: Mars" installation. For best results, get your tickets now.
Jacob K. Javits Convention Center, Eleventh Avenue at 38th Street; May 19-22; http://www.icff.com/
NoHo Design District
Online design and lifestyle magazine Sight Unseen is once again taking over the vaguely delineated (does Astor Place count?) NoHo neighborhood for a weekend packed with exhibitions, product launches, and plenty of parties. The new Standard East Village serves as a central hub for all the goings-on: see groundbreaking work from the West Coast during "Hotel California," or the intersection of architecture and design at "SCALE," a showcase of irreverent works by Snarkitecture, Studio Dror, and more. The building at 22 Bond Street is also going to be chock-full of exhibitions, including experimental Brooklyn designers Chen Chen and Kai Williams's "$99 Store."
Storefronts across the neighborhood are also in on the act. On Great Jones Street, the Future Perfect is unveiling new pieces from the likes of hand-blown lighting maven Lindsey Adelman and Dutch expert woodworker Piet Hein Eek. British manufacturer Tom Dixon is taking over the basement of the Bleecker Street Theater with "London Underground," a collaboration between Surface magazine and Fab.com featuring Dixon's Luminosity lighting collection, a '60s-inspired broadcasting station, and a pop-up shop from the online design destination.
Various locations; May 18-21; http://www.sightunseen.com/
Wanted Design
Seeking a communal space where fair-goers could escape the formality and fluorescent lighting of the Javits Center, founders Odile Hainaut & Claire Pijoulat founded Wanted Design in 2011 as a casual, interactive lounge for the design-minded. Their second annual event is even bigger and broader than the past, showcasing more global designs like the Brazilian jewelry, graphics, and furniture featured in "Fresh From Brasil." Experts will be on hand to host panel discussions on architectural glass and international design collaborations. Fashion designer Jason Wu is showing off his collection of bathroom fittings for Brizo in a special installation by architect and designer Tommy Zung, while Manhattan Neon hosts a workshop on what to do with those brightly colored lights. Oh, and everyone gets free coffee.
The Tunnel, 269 Eleventh Avenue; May 18-21; http://2012.wanteddesignnyc.com/
Moss Bureau
The venerated tastemakers Franklin Getchell and Murray Moss, freshly relocated from their former SoHo showroom, invite you to check out their new Midtown digs. To properly ring in the occasion, they've invited multimedia artist Cathy McClure to install "Midway," a kinetic, zoetropic installation of ferris wheel proportions, embellished with music, flashing strobe lights, and silver and bronze "bots." Nearby, animals taxidermied in the traditional Victorian method by Kelly McCallum will also be inhabiting the space. Getchell and Moss promise it will be madcap.
Moss Bureau, 256 W 36th Street; May 18-20; http://bloss.mossonline.com/
Model Citizens

This launchpad for emerging designers features a diverse set from all over the globe. While there will be plenty of prototypes to ponder and products to buy in the pop-up shop, we're intrigued by the presentations, which bear titles like "Cosmic Quilt," and "Design for the End of the World."
52 Mercer, 4th floor; May 19-21; http://www.modelcitizensnyc.com/
Love it or Leave It
Gallery R'Pure presents the work of 10 New York-based designers, including industrial hot shots David Weeks, Sebastian Erraturiz, Josee Lepage, and Paul Loebach, whose works examine classic features of American life from different perspectives, be it celebratory or cynical.
Gallery R'Pure, 3 E 19th Street; May 19-June 1; http://loveitorleaveitnyc.com/
To see more objects from New York Design Week, click the slide show.

-Janelle Zara, BLOUINARTINFO
More of Today's News from BLOUIN ARTINFO:
Architects Versus Economists: The Battle for the Future of Urbanism, From Honduras to Upstate New York
Paging Dr. Barnes: New Downtown Philadelphia Foundation Works Overtime to Stay True to Its Founder's Vision
MOCA Cleveland's New $27-Million Building Relaunches the Institution as a Cutting-Edge Kunsthalle
ARTINFO Does Design Week: 6 Highlights, From a Pirate Radio Station to Apocalyptic Furniture
Model Agyness Deyn's Acting Career Takes Off With a Starring Role in Terence Davies's "Sunset Song"
Like what you see? Sign up for BLOUIN ARTINFO's daily newsletter to get the latest on the market, emerging artists, auctions, galleries, museums, and more.