VENICE-- The 2011 iteration of the Venice Biennale, that art-world exhibition that combines the Olympic thrill of awards -- the Golden Lion for best in show and the Silver Lion for best emerging artists -- with World's Fair-style pavilions, is opening in June. With 11 more countries participating than at the last edition, the 54th Biennale di Venezia will be the largest and most inclusive iteration to date, with 88 nations represented -- including, for the first time, Andorra, Saudi Arabia, Bahrain, Bangladesh, Haiti.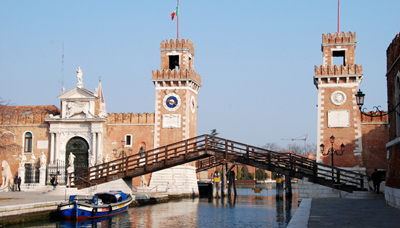 The Venetian Arsenale, one of the sites of the 2011 Venice Biennale / Courtesy Flickr
Now that the vast majority of international picks for the main show have been announced, ARTINFO here provides a list (to be updated as new information emerges) of the ivy-garlanded artists who will be representing their countries in Venice's famed Giardini and Arsenale, as well as other locations around the city. For the roster of artists being featured in Biennale curator Bice Curiger's official "ILLUMInations" exhibition, which runs parallel to the national pavilions, click here.
The Full List (in Alphabetical Order)
Argentina
Argentine artist Adrián Villar Rojas will represent his native country at the Biennale. At the tender age of 31, Rojas has already exhibited widely and currently works with galleries in Sao Paulo, Paris, Bogota, and Buenos Aires. He will show at the central Arsenale space alongside artists from Chile and Turkey. Rojas is known for large-scale multimedia installations that combine cement, clay, mirrors, and auto parts. Curator Rodrigo Alonso has called Argentina's choice of Rojas represents "a bet on the future," describing the artist as "young, strong, with solid work that experiments and builds a very personal narrative."
Australia
The Australia Council for the Arts has tapped the Egypt-born sculptor Hany Armanious for its pavilion at the 2011 Venice Biennale. Armanious is known for a wide variety of sculptural work, ranging from sizable installations involving mud, dirt, and bricks to small, handcrafted objects made out of polyurethane, clay, plastic, and foam. He has had recent shows at the Contemporary Art Museum in St. Louis, castillo/corrales gallery in Paris, and Foxy Production in New York. Australia has participated in the biennale since 1954. Its recent artist representatives include Shaun Gladwell in 2009; Callum Morton, Susan Norrie, and Daniel von Sturmer in 2007; Ricky Swallow in 2005; and Patricia Piccinini in 2003. The nation's pavilion was designed by Australian architect Philip Cox and opened in 1988.
Austria
As Austria's representative at the 2011 biennale, artist Markus Schinwald plans to transform the pavilion into a performance space. Schinwald will work closely alongside pavilion curator Eva Schlegel, who exhibited her own work at the biennale in 1995. Schinwald was born in Salzburg, Austria in 1973 and now lives and works in Vienna and Los Angeles. His multidisciplinary practice, which ranges from sculpture to film to printmaking to performance, focuses on the human body. He has had solo shows at the Aspen Art Museum and the Augarten Contemporary in Vienna, and is represented in the collections of Tate Modern, the Musée d'Art Moderne in Paris, and Kunsthaus Zürich.
Azerbaijan
Azerbijan will host two generations and six artists in its pavilion, curated by Cinghiz Farzaliev. The artists -- Mikayil Abdurahmanov, Zeigam Azizov, Khanlar Gasimov, Aga Ousseinov, Altay Sadikhzade, Aidan Salakhova -- will all exhibit work in some way inspired by Baku, the nation's capital. The selection is interdisciplinary: London-based artist Zeigam Azizov's work is largely text based, while Khanlar Gasimov is best known for sculpture (his large, Anish Kapoor-like stainless steel bowl is currently on display at Rockefeller Park in Cleveland). Sculptor Aga Ousseinov is one of the few pavilion artists with ties to New York: she exhibits with Christopher Henry Gallery in New York. Aidan Salakhova, by contrast, has exhibited largely within Russia; a curator, gallerist, and teacher at the Surikov Art Institute, Salakhova founded an eponymous gallery in 1992. Painter, designer, and architect Altay Sadikhzade is best-known for designing Baku's Museum of Modern Art -- and for being married to the first lady of Azerbaijan's sister, Nargiz Pashayeva.
Bangladesh
Bangladesh has selected five artists -- Mahbubur Rahman, Kabir Ahmed Masum Chisti, Imran Hossain Piplu, Promothesh Das Pulak, and Tayeba Begum Lipi -- to represent the nation at its inaugural pavilion. The country has tapped two high-profile figures to curate the space: Paulo W. Tamburella, who represented the Comoros Islands in the 2009 biennale, and Mary Angela Schroth, the American founder of Sala 1, one of the first galleries in Rome to showcase international contemporary artists.
Belgium
Artist Angel Vergara will team up with Belgian art star Luc Tuymans to represent the nation at the 2011 biennale. Vergara's project, which will take over the entire pavilion, is inspired by the seven deadly sins. His interdisciplinary practice ranges from painting to sculpture to new media and often confronts social, political, and economic issues. Tuymans has been the focus of several retrospectives of his own, including at the Museum of Contemporary Art in Chicago and at Haus der Kunst in Munich. Although famous for his figurative paintings of important contemporary figures, he has curated several shows, including "The State of Things: Brussels/Beijing," an exhibition comparing Belgian and Chinese artwork, and the inaugural Bruges Central art festival in Belgium.
Canada
America's northern neighbor has selected multimedium artist Steven Shearer for the 2011 biennale. Born in 1968, Shearer has exhibited infrequently in recent years, recently being paired with Daniel Guzmán in a 2008 show at New York's New Museum. In a statement to press, National Gallery of Canada director Marc Mayer said, "Under its pop cultural surface, Steven Shearer's work is surprisingly complex and insightful." An alumnus of American Fine Arts, the storied New York gallery run by the late Colin de Land, Shearer is represented by Galleria Franco Noero in Turin and Galerie Eva Presenhuber in Zurich. The Canadian pavilion was designed by the Milan-based architecture firm BBPR and was first used at the 1958 biennale. The nation has been participating in the international exhibition since 1952.
Brazil
Rio-based artist and Portugal native Artur Barrio will represent Brazil at this year's Venice Biennale. Barrio is best known for his interactive installation pieces that employ unappetizing materials-animal bones, entrails, bodily fluids. (In the late 1960's, he would sometimes place what he referred to as "bloody bundles"-animal parts wrapped in white cloth-on the sidewalks of Rio and record the responses of passerby on videotape and with photographs. Although Barrio is extremely well established in Brazil and Europe -- he was the spotlighted in 2005 in the exhibition "Barrio-Beuys" at the Museum of Contemporary Art Belgium -- he didn't have an exhibition in the United States until Moore College of Art and Design showed his work in 2006.
Chile
The Chilean Cultural Council tapped Fernando Prats, the Chilean-born, Barcelona-based artist, to represent the South American nation at the 2011 biennale. Prats was awarded a prestigious Guggenheim fellowship in 2007 and has since worked with a number of significant European curators, including Jorge Díez, Paul Ardenne, and Fernando Castro Florez, with whom he will collaborate again for the 2011 biennial exhibition. Of his nomination, Prats said, "My work is closely related to Chile and its territory is the central geography that has occupied me for some time: the natural arch of Antofagasta, the geysers of Tatio, the salt flat of Atacama, the mines in Chuquicamata and Lota." He is a partner at Galeria Joan Prats, one of Barcelona's pioneer galleries of international contemporary art. He has exhibited at the Institut Valencia d'Art Modern, Galeria Animal in Chile, and Museo Moderno in Buenos Aires.
Denmark
This year, Denmark may boast honor of being the pavilion with the most artists represented. The exhibition, organized by the Belgium-based Greek curator Katerina Gregos, will feature 18 artists ranging in age from 77 to 29. Big names include the Czech film-maker Jan Svankmajer, American cartoonist Robert Crumb, Dutch net artist Ha Hoogerbrugge, and multidisciplinary Chinese artist Zhang Dali. American artists Sharon Hayes and Taryn Simon will also be featured. Only two Dutch artists, Lilibeth Cuenca Rasmussen and Thomas Poulson, will be included in the display. The majority will present new works made specifically for the exhibition, which will focus on freedom of speech. "My aim with this exhibition is precisely to create a space that brings together different considered artistic reflections and insights into a subject, which is so often discussed in a very polarized or simplistic way," Gregos said in statement.
France
Christian Boltanski will represent France in an exhibition curated by Jean-Hubert Martin, a former director of the Centre Pompidou. The artist is best known for his haunting, dimly-lit installation often featuring children and acerbic world view. He once told an interviewer, "We are a subject one day, with our vanities, our loves, our worries, and then one day, abruptly, we become nothing but an object, an absolutely disgusting pile of shit." France will be celebrating nearly a century in its pavilion, which was designed by Faust Finzi in 1912.
Germany
Germany's pick for the Venice Biennale, director, actor, and artist Christoph Schlingensief died of lung cancer earlier this year at the age of 49. His plans for the pavilion were unfinished, according to its curator, Susanne Gaensheimer, director of Frankfurt's Museum of Modern Art, who has confirmed that he will still be the featured artist in the show. Gaensheimer told the Art Newspaper that she considered leaving the pavilion empty, but will instead present his work in some form. "It might be an option to curate his work like a retrospective," she said. A publication will document his initial plans for the pavilion, which will not be realized. "There are so many questions and no one knows what Schlingensief would have done," she said. Schlingensief's selection earlier this year had been viewed as a somewhat unusual choice since he was better known as a director than as an artist. At the time he described the honor as "a fantastic surprise," noting that he had "worked in many areas, as a film, theater and opera director, as a producer, as a stand-up entertainer, as a person, and that includes as a sick person and Christ, not to mention as a politician and performer." The pick had attracted criticism from many quarters, with artist Gerhard Richter calling the selection "a scandal." Following Schlingensief's death, Gaensheimer noted, "Now, we have to discuss things calmly and then see." Germany's pavilion was designed by Ernst Haiger and inaugurated in 1938 by the ruling Nazi government, a fact that has inspired artistic responses from some presenters. Hans Haacke's 1993 exhibition, for example, included a large photograph of Hitler.
Great Britain
The British Council has selected installation artist Mike Nelson to fill the nation's Edwin Alfred Rickards-designed pavilion. Nelson, who is known for gigantic-scaled installation work, has been shortlisted twice for the nation's Turner Prize and appeared in a group exhibition at the 2001 Biennale. In 2008 the Tate acquired one of his large pieces, "The Coral Reef," 2000, which was put on display at Tate Britain last May. Nelson's selection could augur a more complicated presentation than the relatively compact works the pavilion has displayed in recent years, such as the contributions by Steve McQueen in 2009 and Tracey Emin in 2007.
Iceland
Libia Castro & Ólafur Ólafsson (not to be confused with artist Olafur Eliasson, who represented his native Denmark in 2003) will be handed the keys to the pavilion in 2011. The two have collaborated on projects since 1997. Castro also has distinction of being one of the rare artists picked to represent a country of which he is not a citizen, a feat achieved last year by Briton Liam Gillick, who represented Germany at the exhibition. The humble island nation has been visiting the Biennale since 1960, back when it was held in even-numbered years -- this year marks their fiftieth anniversary.
India
India has announced that it plans to organize a pavilion at the biennale for the first time, to be curated by Ranjit Hoskote. Hoskote has not yet announced which artist or artists will be included in his show. Biennale organizers have reportedly invited the country, which boasts a burgeoning contemporary-art scene, to participate in past years, but the government has declined until now -- a decision attributed to a lack of communication between the culture ministry and the country's National Gallery of Modern Art. India may realize its inaugural pavilion for as little as 20 lakh rubles ($45,000), a pittance compared the hundreds of thousands of dollars typically spent by the United States and other nations.
Ireland
Ireland has named sculptor Corban Walker as its 2011 artist ambassador to Venice. Emily-Jane Kirwan, a director at the Pace Gallery who formerly worked as an arts officer of the South Dublin County Council, has been named the commissioner of the nation's pavilion. Known for large-scale sculptures and installations that often involve sheets of glass, Walker's work has recently been featured at LentSpace in downtown Manhattan and Shaquille O'Neal's "Size Matters" show at the FLAG Art Foundation in Chelsea, and "Reflective Reflexion" at the Winkleman Curatorial Research Lab, a show organized by by painter Joy Garnett. In 2009, the island nation was represented by artists Sarah Browne and Gareth Kennedy.
Israel
Artist Sigalit Landau has been picked by Israel's Ministry of Sport and Culture to represent the country. Landau earned a solo show (curated by Klaus Biesenbach) at the Museum of Modern Art in 2008, where she memorably presented a hypnotic, vibrant video of her floating alongside a stream of watermelons, and another of her hoola-hooping with a ring of barbed wire. In 1995 she won the Wolf Fund Anselm Kiefer Prize, which is devoted to young artists -- she was 26 at the time -- and the Israel Culture Minister's Prize. Designed by Zeev Rechter, Israel's 1952 pavilion has three exhibition floors (a somewhat unusual feature in the Giardini), and was refurbished in 1966 by architect Fredrik Fogh, who was responsible for a 1987 addition to Scandinavia's pavilion.
Italy
Italian culture minister Sandro Bondi has named Vittorio Sgarbi as curator of the nation's pavilion. While previously serving as Italy's undersecretary of culture, Sgarbi aroused controversy in 2002 when he attempted to have Australian-born art historian Robert Hughes named curator of the Venice Biennale. He has also made the news for his suggestion that contemporary art is a "dictatorship." Sgarbi once told a reporter, "I regularly attack what I call the 'art mafia'... I fight for minorities, I am for pluralism." The curator, who has not announced which artist(s) he will include in the pavilion, will also organize the biennale's adjunct "Padiglione Italia" show in the Arsenale.
Japan
Artist Tabaimo (given name: Ayako Tabata) has been selected as the artist to represent Japan at the biennale, under the direction of Yuka Uematsu, curator of the National Museum of Art in Osaka. A 35-year-old artist, Tabaimo is know for vast projections that turn traditional ukiyo-e ("floating world") woodblock-inspired illustrations into eerie, luminous environments. Working across various mediums, the artist also look to the aesthetics of manga and anime, luring viewers in with images that seem to promise domestic tranquility and order - a promise quickly proven false as Tabaimo's subversion of the genre becomes apparent. Her work for the festival will tackle the theme of the "Trans-Galápagos Syndrome," a phenomenon in which a country recedes into isolation in the face of encroaching globalization. In 2001, Tabaimo was the youngest artist ever to participate in the Yokohama Triennale, and in 2000 she received the prestigious Kirin Contemporary Award for her undergraduate thesis. Her selection as the artist to occupy Japan's 2011 pavilion was announced by James Cohan Gallery, which represents the artist in New York.
New Zealand
Michael Parekowhai has been picked to represent New Zealand, a selection that the country's National Business Review declared "the most appropriate [decision] that has been made in recent years." Parekowhai received the Arts Foundation of New Zealand Laureate Award in 2001 and works as an associate professor at Auckland University's Elam School of Fine Arts. His sculptures are often made from found objects -- previous works have involved a Volkswagen van and a grand piano -- which he alters to comic effect. Last year, New Zealand's exhibition, which drew 114,000 visitors, featured the work of Judy Millar and Francis Upritchard.
Russia
Philosopher and art critic Boris Groys, the curator of the Biennale's Russian pavilion, has selected the artist Andrei Monastyrsky and his art sestet Collective Actions to represent the country in the international exhibition. An artist who began working in the 1970s, Monastyrsky has pursued a practice that has thumbed its nose at Russia's ruling powers, from the ailing Soviet politburo to the rampantly capitalist regime that followed, through its very exuberant indifference to the prevailing fashion. Working with performances, sculptures, poems, photography, and other diverse mediums, Monastyrsky began collaborating with other artists in 1976 under the rubric of Collective Actions -- a group that today is composed of himself and Elena Elagina, Sabina Hensgen, Igor Makarevich, Nikolai Pantikov, and Sergei Romashko -- realizing 124 "actions" and compiling 10 books of texts stemming from their artworks. In a statement, Groys called Monastyrsky "a contemporary artist in the fullest sense of the word" who "does not restrict himself to any specific method or genre." The Russian pavilion will be produced by Stella Art Foundation, whose founder, Stella Kesaeva, the art-collecting wife of Mercury Group billionaire Igor Kesaev, is the exhibition's commissioner.
Scotland
Sculptor Karla Black is Scotland's pick for the Biennale, continuing the country's trend of selecting emerging and midcareer artists. The Scottish pavilion will be curated by Edinburgh-based nonprofit the Fruitmarket Gallery. Born in Scotland in 1972, Black's work often takes the form of bright or light colored sculptures and installations utilizing materials like sugar, paper, chalk, powder, paint, and plaster. She has showed work at Mary Mary in Glasgow, IBID Projects in London, and Inverleith House in Edinburgh. Earlier this year, Black was featured in a two-person show with Nate Lowman at Andrea Rosen gallery in New York, reviewed in Modern Painters magazine. Past Scottish representatives to Venice have included Martin Boyce (2009); Charles Avery and Lucy Skaer (as part of a six-artist group in 2007); Alex Pollard (as part of a four-artist group in 2005); and Claire Bishop, Jim Lambie, and Simon Starling (in 2003).
South Korea
Arts Council Korea has announced that it has tapped artist Lee Yong-baek for the exhibition. A graduate of Hongik University in Seoul and the Stuttgart State Academy of Art in Germany, he is known for videos, sculptures, paintings, and performances that focus on religious and political issues. "Lee Yong-baek's biggest strength is that he has a wide spectrum of works both in terms of genre and contents, based on his use of various technologies," said Yun Chea-gab, who has been picked as the commissioner of the country's pavilion. Yun previously served as executive director of the multinational Arario Gallery, which has shown Lee's work in New York. South Korea has participated in the Venice Biennale since 1995.
Sweden
The Scandinavian nation has picked artists Fia Backström and Andreas Eriksson to represent Sweden in the Biennale's Nordic pavilion, which this year will be curated by Moderna Museet head of exhibitions and collections Magnus af Petersens. Backström, who is based in New York, has seen her work -- performances that critique the institutions in which they are enacted -- displayed in the 2008 Whitney Biennial and the 2009 edition of Performa, and her piece "The Worker Through the Ages" was performed at this year's Moderna Exhibition. Eriksson, meanwhile, counts among his accolades the 2007 Art Balois Prize from the Art Basel "Statement" section and a 2008 solo show at Vienna's Museum Moderner Kunst Stiftung Ludwig. His paintings, sculptures, photographs, installations, and films address the rural province of Västmanland, where Eriksson lives and keeps his studio after having fled Berlin, where he suffered from electromagnetic hypersensitivity to the urban environment. In previous editions of the Venice Biennale, the Nordic pavilion has housed work from Sweden, Finland, and Norway, but for the next three years, the countries will take turns presenting their artists, with Sweden at bat first with a solo show in 2011.
Switzerland
Swiss officials announced that Thomas Hirschhorn and Andrea Thal have been picked to represent Switzerland at the biennale in 2011. Hirschhorn, a Paris-based artist who was born in Bern, Switzerland, is perhaps best known for large-scale installations patched together with duct tape and tinfoil that often concern issues of left-wing politics and globalization. His participation in past international exhibitions has sometimes taken the form of radical interventions, as at Documenta XI in 2002, when he built his installations in a town a few miles from the exhibition's home base of Kassel, Germany, forcing people to travel to see the work in a modest suburb. Thal is a comparatively lesser known figure. She runs Les Complices*, an artist-run gallery space in Zürich, and has organized show and projects focused on music and performance. In 2009, Switzerland sent Silvia Bächli and Fabrice Gygi to Venice, in 2007 Ugo Rondinone was tapped, and in 2005 Pipilotti Rist was picked alongside the artists Ingrid Wildi, Gianni Motti, Shahryar Nashat, and Marco Poloni. Despite its modest size and its supposed neutrality in international conflicts, Switzerland has proved to be a fierce competitor on the international art stage, hosting the world's most prestigious contemporary art fair (Art Basel) and rearing many of the art world's most formidable power players.
United States
The Puerto Rico-based multimedia duo Allora & Calzadilla has been announced as the United States' representatives to the 2011 Venice Biennale, marking the first time that an artist pair or collective has been picked by the nation to fill the prestigious role. The selection was made by the Indianapolis Museum of Art, which the U.S. State Department has entrusted to organize next year's pavilion. Lisa Freiman, the chair of the museum's contemporary art department, has been tapped as the commissioner of the pavilion, and will also curate the presentation. (Read a Q&A with her about the display here.) Bruce Nauman earned the Golden Lion in 2009 for U.S. pavilion installation. Before Nauman, the country was represented by Felix Gonzalez-Torres (posthumously) in 2007, Ed Ruscha in 2005, and Fred Wilson (who, given Allora & Calzadilla's political commitments, may be the closet to them in spirit) in 2003. While the U.S. has never selected a collaborative group as its Venice entrant, Britain named Gilbert & George to fill its pavilion in 2005. [Read ARTINFO's full report on the selection.]
Wales
Tim Davies, a multimedia artist whose work addresses political subjects, has been picked to represent the country at its pavilion in the 2011 biennale. A professor at Swansea Metropolitan University who has previously been included in such international exhibitions as Artes Mundi, Davies will show his work in a display organized by Tom Rolands. In the last biennale, Wales was represented by John Cale, a co-founder of the seminal band the Velvet Underground.
-ARTINFO, ARTINFO
The Garden of Eternal Women: Olivier Martel on His Uplifting Portraits Encircling Paris's Jardin du Luxembourg
Marked Down: 5 British Art Figures Respond to the New Dominance of the Chinese Market
A Chinese Vase Estimated at $800 Sells for a Staggering $18 Million at Sotheby's
L.A. Storytellers
Learn the World Again
Like what you see? Sign up for ARTINFO's daily newsletter to get the latest on the market, emerging artists, auctions, galleries, museums, and more.