The art world has always been filled with larger-than-life figures, and many of them dress the way they live. And now, with the industries of art and fashion so deeply intertwined, gallery openings and museum galas are where society's best-dressed players come out to show off their ensembles. But who among the artists, editors, curators, gallerists, and collectors have the best wardrobes? We present the 30 best-dressed people in the art world.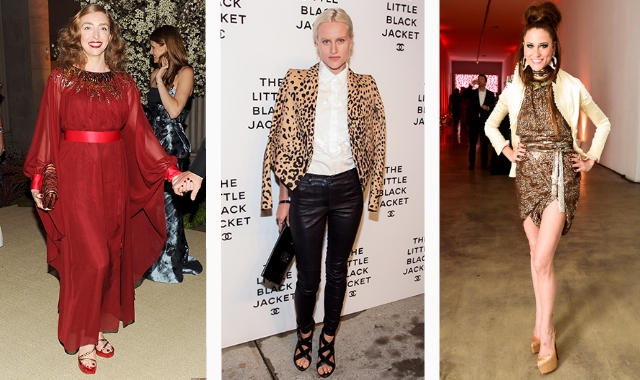 Rachel Feinstein, Olympia Scarry, and Stacy Engman made ARTINFO's best dressed list. / All courtesy BFAnyc.com
Click through the slide show to see who comes out most stylish.
BLOUIN Fashion is now on Twitter. Follow us!
- Ann Binlot, Nate Freeman, BLOUIN ARTINFO
More of Today's News from BLOUIN ARTINFO:
Hit or Miss: A Survey of Olympic Fashion Statements and Trends
Nude Australian Artist Trio Looks to Generous Berliners to Survive 10-Day Public Performance
DeviantArt Masterpieces: 20 Actually Interesting Works From the Teeming Art-Sharing Website
ARTINFO Reviews 10 Major Museum iPad Apps That You Can Download
The London Olympics' Built-to-Last Infrastructure Deserves a Gold Medal Too
Like what you see? Sign up for BLOUIN ARTINFO's daily newsletter to get the latest on the market, emerging artists, auctions, galleries, museums, and more.