Few museum exhibitions are ever visited by 4,000 people in one day, let alone a gallery show, and yet that has been a recurring attendance figure on Saturdays at Gagosian's 24th Street megaplex since its mini-retrospective devoted to Jean-Michel Basquiat opened on February 7 -- an opening that brought out thousands, who dutifully lined up down the block.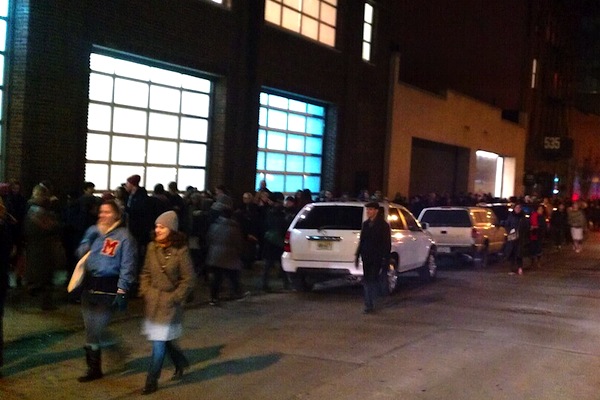 Photo by Shane Ferro
According to Art in America's Brian Boucher, the 50-plus painting exhibition has seen an average of more than 3,000 visitors on Saturdays. On weekdays, between 1,000 and 2,000 visitors have been passing through the exhibition, a Gagosian representative added. That number could go up this week, the spokesperson noted, in light of the number of art-lovers coming to town for Armory Week.
The most recent Basquiat exhibition of comparable size, mounted at the Musée d'Art Moderne de la Ville de Paris in 2010-11, averaged 3,924 visitors per day. Meanwhile New York City's most recent attendance record-pusher, the Metropolitan Museum's Alexander McQueen retrospective, wound up being seen by some 8,000 viewers every day, enough to make it the museum's eighth best-attended exhibition ever.
Though Gagosian doesn't publicize attendance figures for all its exhibitions, we're going to go out on limb here that the Basquiat show is bringing in bigger crowds than all of Damien Hirst's globe-spanning spot paintings exhibitions combined.
-Benjamin Sutton, BLOUIN ARTINFO
More of Today's News from BLOUIN ARTINFO:
IN THE STUDIO: Romanian Painter Adrian Ghenie's Sinister Mythology
"The Lebanese Rocket Society" Show in Paris Unveils a Buried Space Race History

7 No-Nonsense Twitter Tips for Galleries During the Art Fairs
Zooming in on the Trends That are Reshaping the Market for Photography
Fukiko Takase Dances with Thom Yorke in "Ingenue" by Atoms For Peace
Like what you see? Sign up for BLOUIN ARTINFO's daily newsletter to get the latest on the market, emerging artists, auctions, galleries, museums, and more.